'This is just a harmless card that helps me beat the system occasionally... being labelled a Scheduled Caste is another cup of tea altogether,' a man who has survived in Delhi for many years with an SC card tells a baffled Geetanjali Krishna.
Illustration: Uttam Ghosh/Rediff.com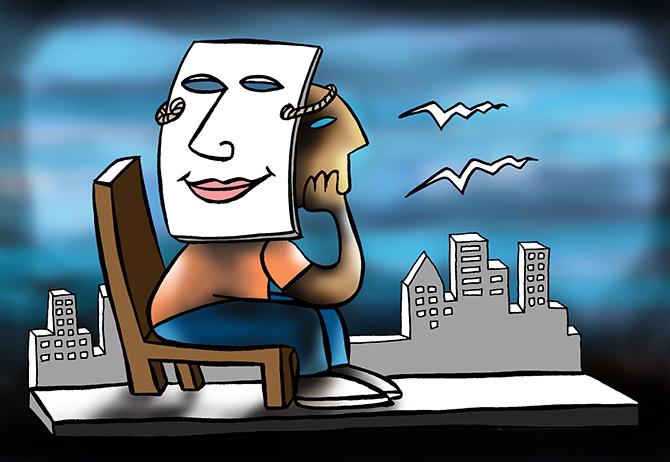 I've always had an instinctive mistrust of India's caste-based reservation policies.
While they were undoubtedly created with good intentions, I can't help but think that in the modern context, they tend to make people more aware of their allegiance to, what should have by now, been an outdated social structure.
I realised, however, that the issue is more complex than I had thought it to be when I met Ram Kumar.
He's a driver who has survived, by hook and often by crook, in Delhi for many years.
The one thing that has stood him in good stead is a card.
This is no run-of-the-mill debit or credit card, but one that proclaims his status as a member of a Scheduled Caste.
"With this one card, the whole world opens up for you," he told me.
"I have used it to get a government job for myself and my sons admitted to premium government schools. What's more, with this card, they'll get admission into a good Delhi University college afterwards."
"I'm a happy man, knowing that their future is set."
As I was beginning to wonder at how happy Kumar seemed about reaping the benefits of belonging to a lower caste, he dropped a bomb.
"Of course I'm not really a Scheduled Caste," Kumar said.
"I was simply able to get this card made about 15 years ago when I was applying for a government job."
Apparently, while things have now become more stringent, back then, getting a fake SC card was quite a simple exercise.
All Kumar had to do was contact a tout outside the district court in Mehrauli.
The tout had his card made for the princely sum of Rs 1,500.
"To think," he said, "it wasn't even my idea to start with."
Apparently, when Kumar had applied for a government position, he was told he was ineligible as he was overage.
A cousin told him that the age limit for Scheduled Caste candidates for that position was higher, and urged Kumar to play a small bribe and get such a card made.
"I still didn't get the job," he recounted. "But the fake card helped ease my life in Delhi."
He compared his situation to higher caste neighbours, and found that it was much easier for him to gain access to health, education and myriad other services in Delhi.
"Although, of course, my family back home would be horrified if they came to know that I am happily masquerading as a Scheduled Caste in Delhi," he said, "it's been worth it."
Then, I asked him a question that has rarely occurred to me. What was his caste anyway?
He said proudly that he belonged to the Potter (Kumhar) caste of Madhya Pradesh.
Having read over the years about neighbouring state Uttar Pradesh's caste-based politics, I thought he'd be pleased to know that there had been a significant push to include his caste in the SC list, and in fact, Kumhars from certain areas were already in it.
He was horrified.
"We're a very respectable caste," he huffed. "It will be ridiculous to include us in the list."
Why was it, I wondered, that Kumar was okay with reaping the benefits of his fake SC card, but was averse to actually being labelled a Scheduled Caste, when doing so would allow him to reap the same benefits legally?
He had no answer for me at first. Then he said, "This is just a harmless card that helps me beat the system occasionally... being labelled a Scheduled Caste is another cup of tea altogether."
He left, leaving me feeling that I knew even lesser about the issue of caste-based reservations than I did before I met him.
DON'T MISS the features in the RELATED LINKS below...