Purnendu Maji and Srinivas Bhogle list IPL 2020's Most Valuable Player so far.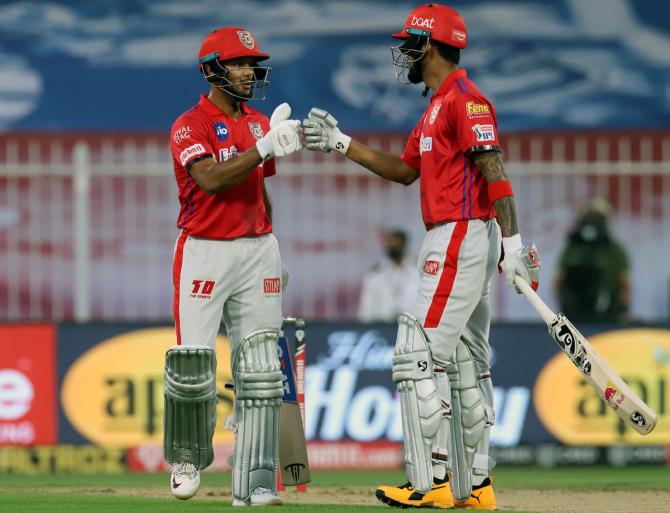 The IPL is back: much delayed, outside India, inside a 'bubble', and in front of empty stands.
But it's at least back, and we're trying to pretend that nothing has changed, although the canned crowd sounds are really awkward.
The Rediff.com performance indexes are also back: The Most Valuable Player Index (MVPI), that collapses a player's batting, bowling and fielding performance into a single index based on run equivalence, and the Paisa Vasool Index (PVI) that is calculated by dividing the player's cumulative earning by his cumulative MVPI.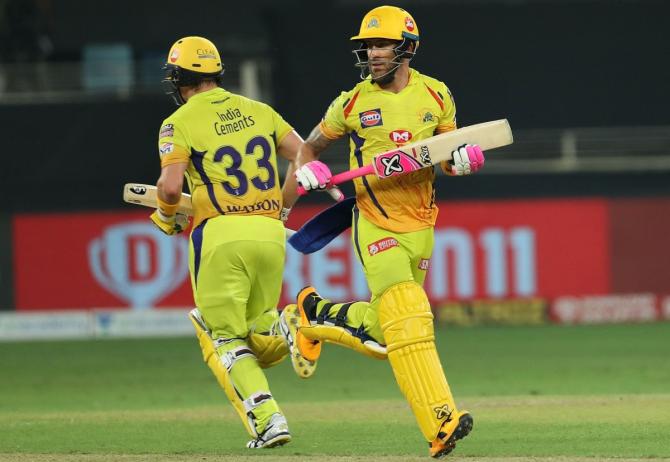 We can therefore think of MVPI as the equivalent of the total 'runs' that a player scores: The higher the MVPI, the better the player is performing.
On the other hand, the lower the PVI, the more value for money the player offers.
Currently, the three top players on the list are K L Rahul (MVPI: 344), Mayank Agarwal and Faf du Plessis;(MVPI: 333).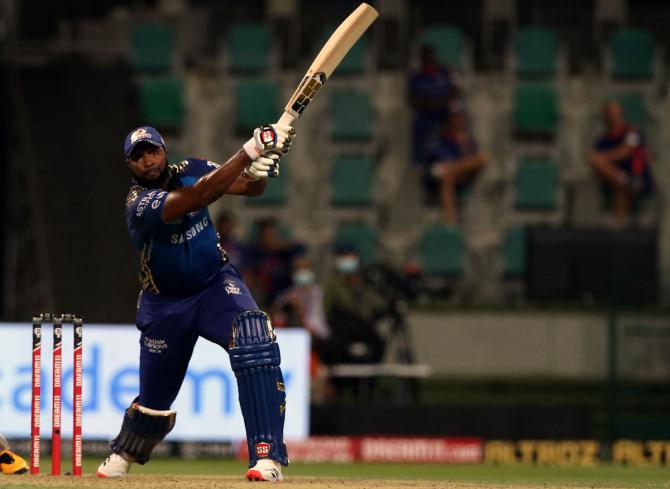 While both Rahul and Mayank Agarwal have the same MVPI, Mayank has a far better PVI.
For every 'run' that Mayank has contributed so far, KXIP only have to pay him $161. Rahul, who is much higher priced, will have to be paid $1.640 for every 'run' he has contributed so far.
IPL 2020: Best Performing Players so far (after Games 18 ending October 5, 2020)
Rank
Player's Name
Team
From
Runs
Top Score
4's
6's
Str Rate
W
Eco
M
MVPI
PVI
(US$)
1
KL Rahul
KXI
IND
302
132
31
10
141.8
0
-
5
344
1640
2
Mayank Agarwal
KXI
IND
272
106
27
11
162.9
0
-
5
333
161
3
Faf du Plessis
CSK
SA
282
87
26
8
150
0
-
5
333
368
4
Kieron Pollard
MI
WI
163
60
8
13
209
1
7.7
5
256
1088
5
Sanju Samson
RR
IND
171
85
7
16
198.8
0
-
4
251
1309
6
Rohit Sharma
MI
IND
176
80
13
11
144.3
0
-
5
197
3898
7
Shreyas Iyer
DC
IND
170
88
10
9
150.4
0
-
4
193
925
8
AB de Villiers
RCB
IND
146
55
13
7
178
0
-
4
191
2364
9
Devdutt Padikkal
RCB
IND
174
63
19
3
134.9
0
-
4
188
46
10
Jofra Archer
RR
ENG
62
27
1
8
248
4
6.8
4
179
1644
11
Rahul Tewatia
RR
IND
101
53
1
11
165.6
4
9
4
175
702
12
Jonny Bairstow
SRH
ENG
144
61
10
5
121
0
-
5
173
661
13
David Warner
SRH
AUS
175
60
14
5
123.2
0
-
5
169
3783
14
Ishan Kishan
MI
IND
158
99
4
12
139.8
0
-
3
169
1881
15
Rishabh Pant
DC
IND
134
38
15
3
136.7
0
-
4
165
2435
16
Eoin Morgan
KKR
ENG
136
44
6
10
151.1
0
-
4
164
2314
17
Kagiso Rabada
DC
IND
15
15
1
1
214.3
8
7.9
4
163
191
18
Sam Curran
CSK
ENG
51
18
2
6
268.4
5
8.7
5
161
69
19
Nicholas Pooran
KXI
WI
119
44
6
8
163
0
-
5
153
1401
20
Manish Pandey
SRH
IND
147
51
15
4
126.7
0
-
5
151
3737
21
Prithvi Shaw
DC
IND
137
66
14
5
139.8
0
-
4
151
412
22
Rashid Khan
SRH
AFG
9
6
1
0
75
5
5.2
5
150
3071
23
Mohammed Shami
KXI
IND
2
2
0
0
100
8
8.2
5
150
1643
24
Nitish Rana
KKR
IND
130
58
14
6
156.6
0
-
4
149
59
25
Yuzvendra Chahal
RCB
IND
1
1
0
0
33.3
8
7.2
4
143
1718
26
Quinton de Kock
MI
SA
115
67
10
4
140.2
0
-
5
141
1013
27
Shubman Gill
KKR
IND
152
70
13
4
117.8
0
-
4
140
3061
28
Steven Smith
RR
AUS
127
69
12
6
147.7
0
-
4
139
3679
29
Shane Watson
CSK
AUS
135
83
14
8
133.7
0
-
5
139
80
30
Hardik Pandya
MI
IND
105
30
7
8
159.1
0
-
5
138
4089
31
MS Dhoni
CSK
IND
91
47
6
4
135.8
0
-
5
129
86
32
Trent Boult
MI
NZ
0
0
0
0
0
8
8.1
5
128
1283
33
James Pattinson
MI
AUS
11
11
2
0
137.5
7
8
5
127
619
34
Marcus Stoinis
DC
AUS
70
53
9
3
194.4
3
9.7
4
123
5443
35
Andre Russell
KKR
WI
48
24
3
4
145.5
4
7.8
4
122
658
36
Shivam Dube
RCB
IND
46
27
1
4
153.3
4
7.4
4
120
1714
37
Suryakumar Yadav
MI
IND
101
47
16
1
142.3
0
-
5
115
1429
38
Rahul Chahar
MI
IND
2
2
0
0
50
6
7.9
5
104
962
39
Aaron Finch
RCB
AUS
109
52
13
3
121.1
0
-
4
102
1765
40
Jasprit Bumrah
MI
IND
5
5
0
0
166.7
7
8.8
5
102
3501
41
Ravindra Jadeja
CSK
AUS
73
50
8
2
143.1
3
9.6
5
102
2188
42
Anrich Nortje
DC
SA
6
3
0
0
200
5
7.9
4
97
250
43
Pat Cummins
KKR
AUS
50
33
3
4
192.3
2
9.3
4
95
93
44
Ambati Rayudu
CSK
IND
79
71
7
3
138.6
0
-
3
94
475
45
Priyam Garg
SRH
IND
71
51
7
1
154.3
0
-
5
93
1075
46
Shikhar Dhawan
DC
IND
95
35
9
3
125
0
-
4
93
909
47
Deepak Chahar
CSK
IND
0
0
0
0
-
5
7.8
5
91
918
48
Sheldon Cottrell
KXI
WI
0
0
0
0
-
6
8.4
5
89
4896
49
Axar Patel
DC
IND
11
6
0
0
73.3
2
4.6
3
84
796
50
Piyush Chawla
CSK
IND
0
0
0
0
-
6
8.9
5
81
4409