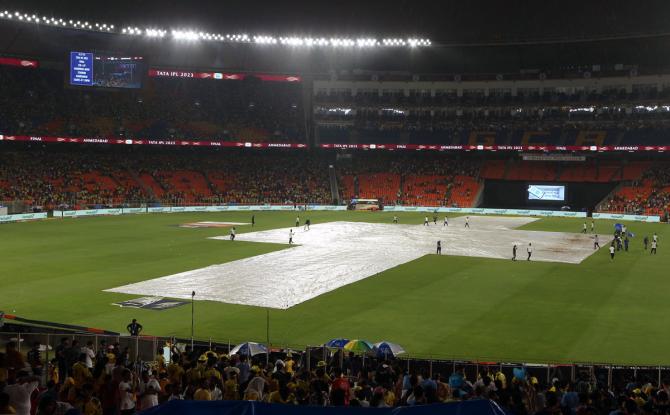 Gearing up to host the big-ticket ODI World Cup final in a few months' time, the gigantic Narendra Modi Stadium in Ahmedabad can take a cue and 'learn' from Eden Gardens' fully covered rain management system, said Cricket Association of Bengal (CAB) president Snehasish Ganguly.

Unprecedented rain for two consecutive days hit the IPL 2023 final between Gujarat Titans and Chennai Super Kings with rainwater seeping into the practice pitches from the covers as the Ahmedabad groundstaff struggled to dry the areas.

"The delay was because the side wickets got wet," Snehasish told PTI.
"It's a new stadium, and I'm sure it will be rectified in due course. It's not a big issue. If they cover the full ground, there won't be this issue anymore."

Kolkata's Eden Gardens is the only stadium in the country to have a full cover in place, the concept was introduced using local plastic during IPL 2008 when Snehasish was the assistant secretary under then president Prasun Mukherjee.

Later when former India captain Sourav Ganguly headed the CAB, he had the covers imported from England and since then the stadium has never witnessed a washout.

The Eden Gardens received rains for about two and half hours ahead of the India vs Pakistan T20 World Cup in 2016 but with the stadium fully covered the match started within an hour with reduction of just two overs.

The IPL final which was held on a reserve day on Monday, stretched to early morning on the third day after umpteen rain delays.

Put in to bat, Gujarat Titans scored 214 for 4 but with rains at the innings break play resumed at 12.10am on the third morning with a revised target of 171 in 15 overs.

As it turned out the Mahendra Singh Dhoni-led CSK lifted their fifth IPL title with the presentation ceremony getting over around 3am.

"It's a learning process. You are learning everyday. I am pretty sure they will have it before the World Cup," added Snehasish.

"Like Eden Gardens, if GCA have a provision for this (full cover), they will overcome this problem. They have got all the facilities.

"They have a sand-based ground, and a perfect drainage system in place to flush out water in quick time.

"But side wickets won't have sand and if rain percolates then there would be an issue. But if they get a full cover, it will be solved. It's not a big deal. You just need to employ 40-50 people extra to get it fully covered."

On the cost front, Snehasish said: "It cost them around Rs 80 lakh about two years' back when they got it replaced with a fresh set. It just a matter of two months' time and it would be in place if they decide on it. It will give them a double protection."

Snehasish further said the Eden Gardens was jointly voted as the Best Ground of the IPL 2023.

"I've come to know from reports that Eden Gardens is adjudged the best ground jointly, but I'm yet to receive an official confirmation."

The World Cup venues are yet to be decided and Snehasish strongly hoped that they would get big-ticket matches.

"I can only comment after the World Cup venues are announced. I don't think this is the time to talk about this.

"We are expecting to get good matches in the World Cup. We have in the past hosted some big matches -- the 1987 final, 1996 semi-final, and 2016 India vs Pakistan. We are capable of doing it this time too," he said.