Srinivas Bhogle and Purnendu Maji present Rediff.com's Most Valuable Player Index after Game 51 of IPL 10.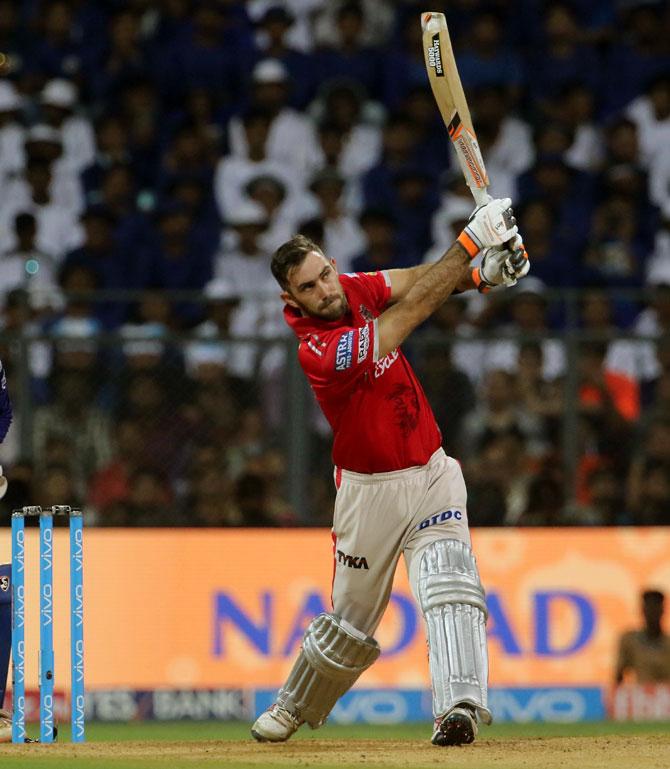 IMAGE: Kings XI Punjab Captain Glenn Maxwell in action. Photograph: BCCI
Kings XI Punjab Captain Glenn Maxwell's IPL is suddenly getting much better!
'Big Show' Maxwell is scoring more runs (as always, at a furious pace with a strike rate of 175+).
He has also started getting wickets (7 so far) at a very decent economy rate of 6.5.
After 51 matches in the ongoing 10th edition of the Indian Premier League, Sunrisers Hyderabad Captain David Warner continues to lead the MVP list with a MVPI rating of 631.
Not surprisingly, four of the top 10 players are all-rounders -- Maxwell (MVPI: 551) is second, followed by Ben Stokes (510), Axar Patel (500) and Sunil Narine (487).
The players in the top 50 offering the best value for money (having the lowest Paisa Vasool Index, PVI) are mostly Indian youngsters bought at rock bottom price: Nitish Rana (for every run he contributes, Mumbai Indians pay him just $15), Rahul Tripathi (Rising Pune Supergiant -- $29), Hardik Pandya (Mumbai Indians -- $36), Yuzvendra Chahal (Royal Challengers Bangalore -- $54), Jaydev Unadkat (Rising Pune Supergiants -- $123) and Axar Patel (Kings XI Punjab -- $206).
The other big 'steals' offering top value are: Hashim Amla (Kings XI Punjab -- $303), Kane Williamson (Sunrisers Hyderabad -- $298), Andrew Tye (Gujarat Lions -- $241), Aaron Finch (Gujarat Lions -- $351) and Chris Lynn (Kolkata Knight Riders -- $535).
With every team having to field seven Indians in their playing eleven, the established Indian players tend to be more expensive and among them the top-ranking Indian players are frightfully expensive.
Consequently, their value (Paisa Vasool Index, PVI) tends to be high as you can see some examples: Ajinkya Rahane ($4,958), Ravindra Jadeja ($5,022), Mahendra Singh Dhoni ($5,987), Rohit Sharma ($6,320) and Virat Kohli ($7,097).
This season's most expensive player, Ben Stokes has a very reasonable PVI of $3,637. He has offered great value in spite of his great cost.
The table below, updated after the 51st game in IPL10 match between the Mumbai Indians and Kings XI Punjab on May 11, summarises the big picture:
| Rank | Player's Name | Team | From | Runs | Top Score | 4's | 6's | Str Rate | W | Eco | M | MVPI | Money Offered (US $) | PVI(US$) | PVI(INR) | Age |
| --- | --- | --- | --- | --- | --- | --- | --- | --- | --- | --- | --- | --- | --- | --- | --- | --- |
| 1 | David Warner | SRH | AUS | 535 | 126 | 52 | 24 | 146.6 | 0 | - | 12 | 631 | 820000 | 1207 | 80937 | 30 |
| 2 | Glenn Maxwell | KXI | AUS | 310 | 47 | 19 | 26 | 176.1 | 7 | 6.5 | 13 | 551 | 895000 | 1508 | 101115 | 29 |
| 3 | Robin Uthappa | KKR | IND | 384 | 87 | 36 | 21 | 169.9 | 0 | - | 11 | 523 | 746000 | 1325 | 88774 | 31 |
| 4 | Suresh Raina | GL | IND | 440 | 84 | 42 | 13 | 145.7 | 1 | 8.5 | 13 | 519 | 1865000 | 3337 | 223644 | 30 |
| 5 | Ben Stokes | RPS | ENG | 283 | 103 | 19 | 13 | 144.4 | 10 | 7.4 | 10 | 510 | 2164000 | 3637 | 243697 | 26 |
| 6 | Axar Patel | KXI | IND | 205 | 44 | 10 | 10 | 144.4 | 14 | 7.6 | 13 | 500 | 111000 | 206 | 13929 | 23 |
| 7 | Sunil Narine | KKR | WI | 214 | 54 | 34 | 9 | 184.5 | 10 | 7.1 | 13 | 487 | 1417000 | 2702 | 181138 | 29 |
| 8 | Hashim Amla | KXI | SA | 420 | 104 | 40 | 17 | 145.8 | 0 | - | 10 | 456 | 149000 | 303 | 20363 | 34 |
| 9 | Shikhar Dhawan | SRH | IND | 450 | 77 | 48 | 9 | 127.8 | 0 | - | 12 | 451 | 1865000 | 3840 | 257365 | 31 |
| 10 | Gautam Gambhir | KKR | IND | 433 | 76 | 55 | 4 | 127.7 | 0 | - | 13 | 446 | 1865000 | 3883 | 260250 | 36 |
| 11 | B Kumar | SRH | IND | 4 | 4 | 0 | 0 | 100 | 23 | 6.9 | 12 | 446 | 634000 | 1320 | 88485 | 27 |
| 12 | Sanju Samson | DD | IND | 384 | 102 | 32 | 19 | 143.8 | 0 | - | 12 | 444 | 626000 | 1208 | 81081 | 22 |
| 13 | Dinesh Karthik | GL | IND | 361 | 65 | 30 | 11 | 139.9 | 0 | - | 13 | 422 | 343000 | 755 | 50609 | 32 |
| 14 | Rahul Tripathi | RPS | IND | 353 | 93 | 38 | 16 | 152.8 | 0 | 12 | 10 | 414 | 14000 | 29 | 2070 | 26 |
| 15 | Kieron Pollard | MI | WI | 349 | 70 | 24 | 20 | 142.4 | 0 | 16.4 | 13 | 404 | 1417000 | 3257 | 218352 | 30 |
| 16 | Chris Morris | DD | SA | 154 | 52 | 15 | 6 | 163.8 | 12 | 7.7 | 9 | 403 | 1044000 | 2220 | 148883 | 30 |
| 17 | Pawan Negi | RCB | IND | 131 | 35 | 7 | 7 | 123.6 | 13 | 6.2 | 11 | 403 | 149000 | 343 | 23041 | 24 |
| 18 | Rishabh Pant | DD | IND | 285 | 97 | 21 | 20 | 172.7 | 0 | - | 12 | 398 | 283000 | 609 | 40919 | 20 |
| 19 | B McCullum | GL | NZ | 319 | 72 | 29 | 18 | 147 | 0 | - | 11 | 397 | 820000 | 1918 | 128643 | 36 |
| 20 | Aaron Finch | GL | AUS | 297 | 72 | 25 | 19 | 167.8 | 0 | - | 12 | 394 | 149000 | 351 | 23568 | 30 |
| 21 | Manish Pandey | KKR | IND | 363 | 81 | 26 | 12 | 132 | 0 | - | 13 | 391 | 253000 | 601 | 40373 | 28 |
| 22 | Steven Smith | RPS | WI | 367 | 84 | 32 | 9 | 128.8 | 0 | - | 11 | 374 | 820000 | 1879 | 126050 | 28 |
| 23 | Parthiv Patel | MI | IND | 325 | 70 | 43 | 5 | 136.6 | 0 | - | 13 | 373 | 208000 | 518 | 34853 | 32 |
| 24 | Hardik Pandya | MI | IND | 225 | 35 | 10 | 18 | 161.9 | 4 | 8.6 | 13 | 361 | 14000 | 36 | 2572 | 24 |
| 25 | Rashid Khan | SRH | AFG | 11 | 6 | 0 | 1 | 122.2 | 14 | 6.5 | 12 | 357 | 597000 | 1553 | 104042 | 19 |
| 26 | Krunal Pandya | MI | IND | 136 | 37 | 11 | 5 | 137.4 | 10 | 6.7 | 9 | 343 | 298000 | 807 | 54144 | 26 |
| 27 | Shreyas Iyer | DD | IND | 303 | 96 | 34 | 9 | 145 | 0 | - | 10 | 339 | 388000 | 981 | 65740 | 22 |
| 28 | Chris Lynn | KKR | AUS | 259 | 93 | 22 | 16 | 186.3 | 0 | - | 4 | 337 | 194000 | 535 | 35820 | 27 |
| 29 | Nitish Rana | MI | IND | 333 | 62 | 24 | 17 | 126.1 | 0 | - | 13 | 330 | 14000 | 15 | 1082 | 23 |
| 30 | Kedar Jadhav | RCB | IND | 255 | 69 | 25 | 9 | 144.1 | 0 | - | 12 | 322 | 324000 | 934 | 62578 | 32 |
| 31 | Jos Buttler | MI | ENG | 272 | 77 | 27 | 16 | 153.7 | 0 | - | 10 | 312 | 567000 | 1688 | 113095 | 27 |
| 32 | Jaydev Unadkat | RPS | IND | 2 | 2 | 0 | 0 | 40 | 17 | 7.7 | 8 | 306 | 44000 | 123 | 8403 | 26 |
| 33 | Imran Tahir | RPS | SA | 0 | 0 | 0 | 0 | 0 | 18 | 7.9 | 12 | 300 | 716000 | 2046 | 137143 | 38 |
| 34 | Yuvraj Singh | SRH | IND | 243 | 70 | 28 | 8 | 144.6 | 1 | 11 | 11 | 292 | 1044000 | 3320 | 222603 | 35 |
| 35 | Chris Woakes | KKR | ENG | 46 | 18 | 4 | 1 | 97.9 | 17 | 8.8 | 13 | 291 | 626000 | 1998 | 134021 | 28 |
| 36 | Jasprit Bumrah | MI | IND | 0 | 0 | 0 | 0 | 0 | 15 | 7.7 | 13 | 291 | 179000 | 571 | 38292 | 23 |
| 37 | Andrew Tye | GL | AUS | 53 | 25 | 4 | 3 | 176.7 | 12 | 6.7 | 6 | 285 | 74000 | 241 | 16291 | 30 |
| 38 | Kane Williamson | SRH | NZ | 232 | 89 | 18 | 9 | 162.2 | 0 | - | 6 | 277 | 89000 | 298 | 20113 | 27 |
| 39 | Shaun Marsh | KXI | AUS | 254 | 84 | 34 | 5 | 140.3 | 0 | - | 8 | 275 | 328000 | 1108 | 74286 | 34 |
| 40 | Rohit Sharma | MI | IND | 255 | 67 | 22 | 7 | 125 | 0 | - | 13 | 274 | 1865000 | 6320 | 423618 | 30 |
| 41 | Sandeep Sharma | KXI | IND | 7 | 5 | 0 | 0 | 116.7 | 17 | 8.4 | 12 | 272 | 126000 | 430 | 29018 | 24 |
| 42 | Wriddhiman Saha | KXI | IND | 221 | 93 | 20 | 7 | 130 | 0 | - | 13 | 271 | 328000 | 1124 | 75382 | 32 |
| 43 | MS Dhoni | RPS | IND | 235 | 61 | 14 | 11 | 114.1 | 0 | - | 12 | 267 | 1865000 | 5987 | 401284 | 36 |
| 44 | Ravindra Jadeja | GL | IND | 138 | 28 | 11 | 4 | 139.4 | 5 | 9.4 | 11 | 262 | 1417000 | 5022 | 336696 | 28 |
| 45 | Moises Henriques | SRH | AUS | 273 | 55 | 27 | 4 | 135.8 | 1 | 10.3 | 11 | 262 | 149000 | 528 | 35442 | 30 |
| 46 | Manan Vohra | KXI | IND | 229 | 95 | 23 | 9 | 144 | 0 | - | 11 | 254 | 597000 | 2183 | 146232 | 24 |
| 47 | Ajinkya Rahane | RPS | IND | 248 | 60 | 24 | 7 | 119.8 | 0 | - | 12 | 244 | 1417000 | 4978 | 333724 | 29 |
| 48 | Virat Kohli | RCB | IND | 250 | 64 | 20 | 8 | 120.8 | 0 | - | 9 | 244 | 1865000 | 7097 | 475703 | 28 |
| 49 | Yuzvendra Chahal | RCB | IND | 13 | 4 | 0 | 0 | 50 | 14 | 7.6 | 12 | 242 | 14000 | 54 | 3837 | 27 |
| 50 | Pat Cummins | DD | AUS | 59 | 24 | 5 | 2 | 134.1 | 12 | 8.4 | 10 | 240 | 671000 | 2396 | 160714 | 24 |
Earlier MVP rankings: