After 30 games, Srinivas Bhogle and Purnendu Maji's most valuable player formula reveals that Chris Morris is still the Most Valuable Player in the Indian Premier League's season 10.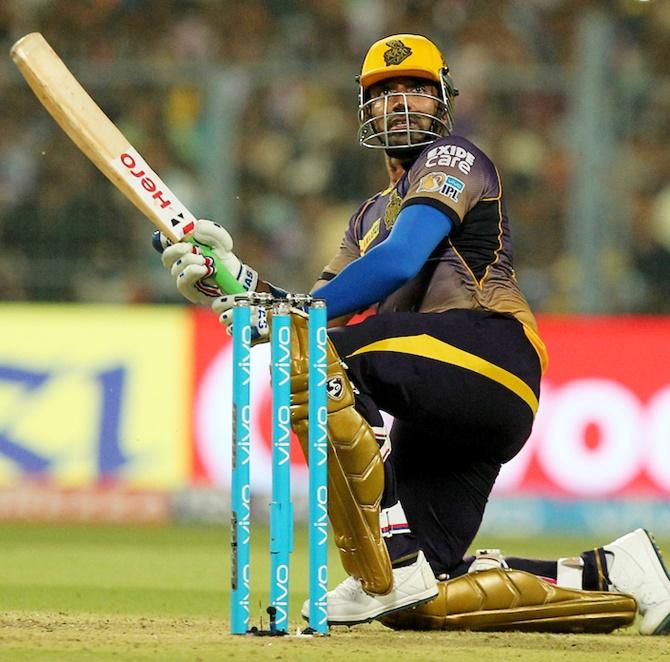 IMAGE: Kolkata Knight Riders' Robin Uthappa is vying for the top spot. Photographs: BCCI
Delhi Daredevils' campaign has been derailed following a string of shoddy batting performances.
The Daredevils have once again flattered to deceive, having lost four out of six matches. Their inexperienced batting line-up's ability to chase modest targets has come under the scanner.
Delhi are currently sixth in the table with just four points.
Chris Morris of the Delhi Daredevils continues to be the most valuable player with a MVPI of 388.
After Wednesday's game, Robin Uthappa of the Kolkata Knight Riders is emerging as a strong rival with a MVPI of 373.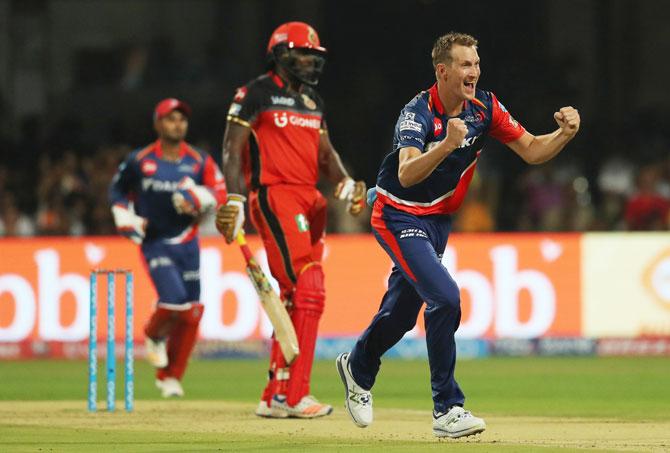 IMAGE: The Delhi Daredevils' Chris Morris is still on top. /strong>
MVP is the most valuable player index.
MVPI collapses every player's batting, bowling and fielding performance into a single 'run equivalent'.
To have the best MVPI, players must score a lot of runs at a high strike rate, and take a lot of wickets at a low economy rate.
More catches and run outs help even more.
PVI is the player's Paisa Vasool Index.
Consider, for example, the Paisa Vasool Index. The PVI tells you how much the franchise pays (in US$ or Rs) for every 'run equivalent' contributed by the player.
Check out Chris Morris (DD), Hashim Amla (KXIP), Mitchell McClenaghan (MI), Sam Billings (DD), Andrew Tye (GL), Moise Henriques (SRH), Aaron Finch (RPS) and Kane Williamson (SRH) among the foreign players.
Among the Indian players the following offer incredible value for money: Nitish Rana (MI), Rahul Tripathy (RPS), Hardik Pandya (MI), Yuzvendra Chahal (RCB), Kuldeep Yadav (KKR), Manoj Tiwary (RPS) and Axar Patel (KXIP).
PVI points to the massive inequality between Indian and foreign players on the one hand (with some exceptions), and 'established' Indian and 'emerging' Indian players on the other hand.
But the money is so big that everyone still wants to be in the queue.
Notice too that Indian players with the highest MVPI are often not regulars in India's regular T20 team.
This could be a freak occurrence (recall that Virat Kohli set MVPI levels last year that will be impossible to surpass), but there could also be a hidden story within. We also mustn't forget that many Indian first team players are injured.
There are more observations. The average strike rate (par assumed to be 133) of the best players is rising to 140+ levels.
The best bowlers have an economy rate of just around 6.5 (par assumed to be 8).
Leg spinners are taking a lot of wickets.
Fast bowlers with speeds over 135 km/h take many more wickets.
To succeed in the IPL you should probably have an age up in the 30s (probably no longer playing international cricket) or low in the 20s (trying hard to make your mark).
The table below tells the complete story"