David Warner's blazing century sent him on top of Rediff.com's MVP table, with KKR's wicketkeeper-batsman Robin Uthappa not that far behind.
Srinivas Bhogle and Purnendu Maji present the MVP rankings after Game 37.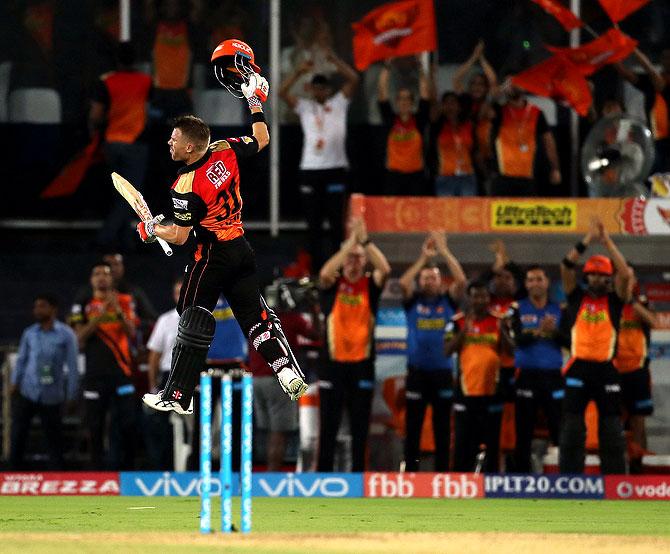 IMAGE: David Warner celebrates his century against KKR, April 30, 2017. Photograph: BCCI
David Warner's whirlwind century against the Kolkata Knight Riders in Hyderabad on Sunday, April 30, sent him zooming to the top of the MVPI table with a rating of 545.
MVPI, the most valuable player index, collapses every player's batting, bowling and fielding performance into a single 'run equivalent'.
To have the best MVPI, players must score a lot of runs at high strike rates, and take a lot of wickets at low economy rates. More catches and run outs help even more.
KKR's wicketkeeper-batsman Robin Uthappa (516) is not far behind, followed by his captain Gautam Gambhir (421) and Sunrisers Hyderabad pace bowler Bhuvneshwar Kumar (388).
The table below, updated after the 37th match of IPL 10 between Hyderabad and Kolkata on Sunday, April 30, tells the complete story.
The players with the best Paisa Vasool Index (PVI), not surprisingly, are young Indian players bought at the lowest IPL price of Rs 10 lakhs (about $14,000).
Recall that PVI tells you how much the franchise pays (in US$ or Rs) for every 'run equivalent' contributed by the player.
The PVI of players like Nitish Rana, Rahul Tripathi is ridiculously low; they will surely command at least a ten fold hike when the next IPL comes along.
Earlier MVP rankings: