Srinivas Bhogle and Purnendu Maji present Rediff.com's Most Valuable Player Index after game 47 of IPL 10.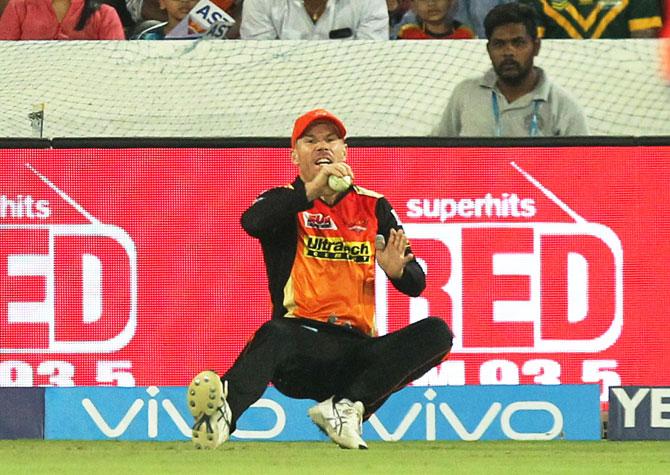 IMAGE: Sunrisers Hyderabad Captain David Warner takes a catch on the boundary line to dismiss Delhi Daredevils' dangerous batsman Rishabh Pant. Photograph: BCCI
After 47 IPL 10 matches, David Warner, who captains Sun Risers Hyderabad, remains the most valuable player with a MVPI of 623.
He has scored over 500 runs at a strike rate of almost 150. It will be very hard to unseat him especially if SRH qualify for the semi-final.
Robin Uthappa of the Kolkata Knight Riders with a MVPI of 516 is currently second. But he's fighting injury and Chris Lynn is back, so his opportunity to gain more points is diminishing.
Warner's strongest challenger is likely to be Ben Stokes of the Rising Pune Supergiant with a MVPI of 510.
Being an all-rounder, Stokes gives himself more options to gain points.
The table below, updated after the 47th match of IPL10 on May 7, tells the whole story.
| Rank | Player's Name | Team | From | Run | Top Score | 4's | 6's | Str Rate | W | Eco | M | MVPI | Money Offered (US$) | PVI(US$) | PVI(INR) | Age |
| --- | --- | --- | --- | --- | --- | --- | --- | --- | --- | --- | --- | --- | --- | --- | --- | --- |
| 1 | David Warner | SRH | AUS | 529 | 126 | 51 | 24 | 147.4 | 0 | - | 11 | 623 | 820000 | 1128 | 75671 | 30 |
| 2 | Robin Uthappa | KKR | IND | 384 | 87 | 36 | 21 | 170.7 | 0 | - | 10 | 516 | 746000 | 1239 | 83056 | 31 |
| 3 | Ben Stokes | RPS | ENG | 283 | 103 | 19 | 13 | 144.4 | 10 | 7.4 | 10 | 510 | 2164000 | 3637 | 243697 | 26 |
| 4 | Suresh Raina | GL | IND | 434 | 84 | 41 | 13 | 146.1 | 1 | 8.5 | 12 | 498 | 1865000 | 3210 | 215146 | 30 |
| 5 | Hashim Amla | KXI | SA | 420 | 104 | 40 | 17 | 145.8 | 0 | - | 10 | 456 | 149000 | 257 | 17231 | 34 |
| 6 | Gautam Gambhir | KKR | IND | 425 | 76 | 55 | 4 | 132.4 | 0 | - | 12 | 454 | 1865000 | 3521 | 235997 | 36 |
| 7 | Axar Patel | KXI | IND | 178 | 44 | 10 | 9 | 149.6 | 13 | 7.5 | 11 | 444 | 111000 | 196 | 13272 | 23 |
| 8 | Sunil Narine | KKR | WI | 196 | 54 | 30 | 9 | 184.9 | 9 | 7.1 | 12 | 444 | 1417000 | 2736 | 183398 | 29 |
| 9 | Sanju Samson | DD | IND | 374 | 102 | 30 | 19 | 143.8 | 0 | - | 11 | 433 | 626000 | 1136 | 76212 | 22 |
| 10 | Rahul Tripathi | RPS | IND | 353 | 93 | 38 | 16 | 152.8 | 0 | 12 | 10 | 414 | 14000 | 29 | 2070 | 26 |
| 11 | B Kumar | SRH | IND | 4 | 4 | 0 | 0 | 100 | 21 | 6.9 | 11 | 407 | 634000 | 1335 | 89505 | 27 |
| 12 | Chris Morris | DD | SA | 154 | 52 | 15 | 6 | 163.8 | 12 | 7.7 | 9 | 403 | 1044000 | 2035 | 136476 | 30 |
| 13 | Glenn Maxwell | KXI | AUS | 219 | 44 | 16 | 17 | 168.5 | 6 | 6.8 | 11 | 403 | 895000 | 1745 | 116980 | 29 |
| 14 | Pawan Negi | RCB | IND | 131 | 35 | 7 | 7 | 123.6 | 13 | 6.2 | 11 | 403 | 149000 | 343 | 23041 | 24 |
| 15 | B McCullum | GL | NZ | 319 | 72 | 29 | 18 | 147 | 0 | - | 11 | 397 | 820000 | 1770 | 118748 | 36 |
| 16 | Rishabh Pant | DD | IND | 281 | 97 | 20 | 20 | 172.4 | 0 | - | 11 | 393 | 283000 | 566 | 37986 | 20 |
| 17 | Shikhar Dhawan | SRH | IND | 388 | 77 | 44 | 7 | 126.8 | 0 | - | 11 | 388 | 1865000 | 4120 | 276141 | 31 |
| 18 | Manish Pandey | KKR | IND | 345 | 81 | 25 | 12 | 136.9 | 0 | - | 12 | 386 | 253000 | 562 | 37750 | 28 |
| 19 | Dinesh Karthik | GL | IND | 321 | 65 | 26 | 10 | 139.6 | 0 | - | 12 | 379 | 343000 | 776 | 52017 | 32 |
| 20 | Steven Smith | RPS | WI | 367 | 84 | 32 | 9 | 128.8 | 0 | - | 11 | 374 | 820000 | 1879 | 126050 | 28 |
| 21 | Krunal Pandya | MI | IND | 136 | 37 | 11 | 5 | 137.4 | 10 | 6.7 | 9 | 343 | 298000 | 683 | 45814 | 26 |
| 22 | Kieron Pollard | MI | WI | 294 | 70 | 23 | 15 | 138.7 | 0 | 16.4 | 11 | 338 | 1417000 | 3294 | 220837 | 30 |
| 23 | Rashid Khan | SRH | AFG | 11 | 6 | 0 | 1 | 122.2 | 13 | 6.6 | 11 | 331 | 597000 | 1546 | 103582 | 19 |
| 24 | Hardik Pandya | MI | IND | 180 | 35 | 10 | 14 | 176.5 | 4 | 7.6 | 11 | 330 | 14000 | 33 | 2381 | 24 |
| 25 | Kedar Jadhav | RCB | IND | 255 | 69 | 25 | 9 | 144.1 | 0 | - | 12 | 322 | 324000 | 934 | 62578 | 32 |
| 26 | Nitish Rana | MI | IND | 312 | 62 | 20 | 17 | 129.5 | 0 | - | 11 | 319 | 14000 | 16 | 1120 | 23 |
| 27 | Jos Buttler | MI | ENG | 272 | 77 | 27 | 16 | 153.7 | 0 | - | 10 | 312 | 567000 | 1428 | 95696 | 27 |
| 28 | Aaron Finch | GL | AUS | 228 | 72 | 19 | 15 | 165.2 | 0 | - | 11 | 308 | 149000 | 415 | 27829 | 30 |
| 29 | Jaydev Unadkat | RPS | IND | 2 | 2 | 0 | 0 | 40 | 17 | 7.7 | 8 | 306 | 44000 | 123 | 8403 | 26 |
| 30 | Parthiv Patel | MI | IND | 264 | 70 | 35 | 4 | 133.3 | 0 | - | 11 | 300 | 208000 | 545 | 36667 | 32 |
| 31 | Imran Tahir | RPS | SA | 0 | 0 | 0 | 0 | 0 | 18 | 7.9 | 12 | 300 | 716000 | 2046 | 137143 | 38 |
| 32 | Yuvraj Singh | SRH | IND | 234 | 70 | 27 | 8 | 149 | 1 | 11 | 10 | 289 | 1044000 | 3096 | 207612 | 35 |
| 33 | Andrew Tye | GL | AUS | 53 | 25 | 4 | 3 | 176.7 | 12 | 6.7 | 6 | 285 | 74000 | 223 | 15038 | 30 |
| 34 | Kane Williamson | SRH | NZ | 232 | 89 | 18 | 9 | 162.2 | 0 | - | 6 | 277 | 89000 | 275 | 18566 | 27 |
| 35 | MS Dhoni | RPS | IND | 235 | 61 | 14 | 11 | 114.1 | 0 | - | 12 | 267 | 1865000 | 5987 | 401284 | 36 |
| 36 | Sandeep Sharma | KXI | IND | 7 | 5 | 0 | 0 | 116.7 | 16 | 8.2 | 10 | 265 | 126000 | 374 | 25202 | 24 |
| 37 | Jasprit Bumrah | MI | IND | 0 | 0 | 0 | 0 | 0 | 13 | 8 | 11 | 248 | 179000 | 567 | 38018 | 23 |
| 38 | Ajinkya Rahane | RPS | IND | 248 | 60 | 24 | 7 | 119.8 | 0 | - | 12 | 244 | 1417000 | 4978 | 333724 | 29 |
| 39 | Virat Kohli | RCB | IND | 250 | 64 | 20 | 8 | 120.8 | 0 | - | 9 | 244 | 1865000 | 7097 | 475703 | 28 |
| 40 | Yuzvendra Chahal | RCB | IND | 13 | 4 | 0 | 0 | 50 | 14 | 7.6 | 12 | 242 | 14000 | 54 | 3837 | 27 |
| 41 | AB de Villiers | RCB | SA | 216 | 89 | 12 | 16 | 132.5 | 0 | - | 9 | 239 | 1417000 | 5505 | 369097 | 33 |
| 42 | Chris Lynn | KKR | AUS | 175 | 93 | 14 | 13 | 201.1 | 0 | - | 3 | 238 | 194000 | 699 | 46819 | 27 |
| 43 | Chris Woakes | KKR | ENG | 38 | 18 | 4 | 0 | 92.7 | 15 | 9.2 | 12 | 235 | 626000 | 2283 | 153191 | 28 |
| 44 | Manoj Tiwary | RPS | IND | 199 | 44 | 21 | 6 | 147.4 | 0 | - | 11 | 234 | 74000 | 271 | 18315 | 31 |
| 45 | Shaun Marsh | KXI | AUS | 218 | 84 | 32 | 3 | 140.6 | 0 | - | 6 | 233 | 328000 | 1106 | 74188 | 34 |
| 46 | Harbhajan Singh | MI | IND | 13 | 7 | 0 | 1 | 144.4 | 8 | 5.8 | 9 | 224 | 820000 | 2876 | 192921 | 37 |
| 47 | Moises Henriques | SRH | AUS | 229 | 55 | 21 | 4 | 138 | 1 | 10 | 10 | 224 | 149000 | 570 | 38265 | 30 |
| 48 | Shreyas Iyer | DD | IND | 207 | 50 | 19 | 7 | 136.2 | 0 | - | 9 | 223 | 388000 | 1367 | 91608 | 22 |
| 49 | Manan Vohra | KXI | IND | 204 | 95 | 19 | 9 | 142.7 | 0 | - | 9 | 221 | 597000 | 2122 | 142211 | 24 |
| 50 | M McClenaghan | MI | NZ | 2 | 1 | 0 | 0 | 66 | 16 | 9.1 | 11 | 215 | 44000 | 161 | 10963 | 31 |
Earlier MVP rankings: