Srinivas Bhogle and Purnendu Maji present Rediff.com's Most Valuable Player standings after the 23rd game in IPL 10.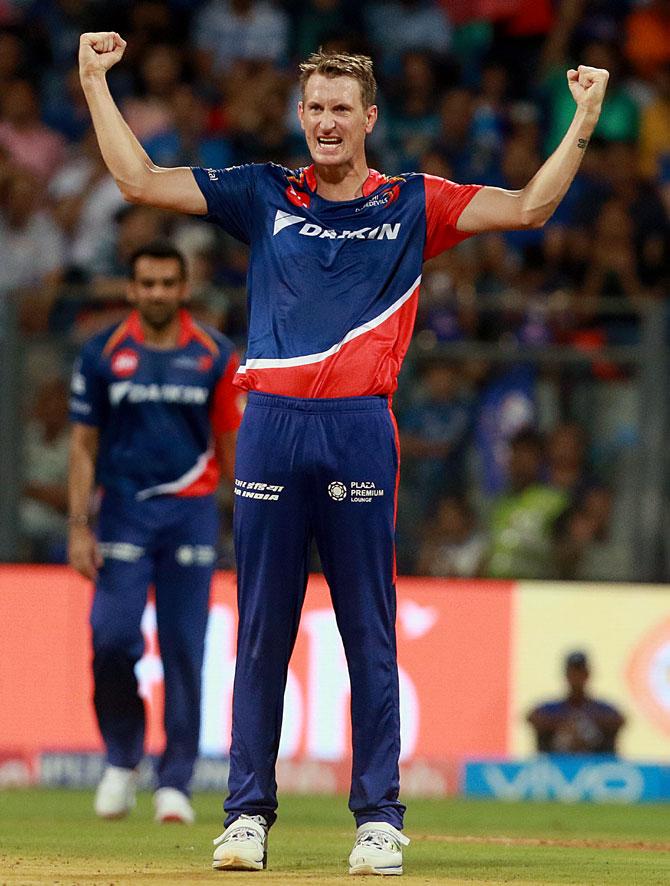 IMAGE: Chris Morris of the Delhi Daredevils celebrates a wicket. Photographs: BCCI
The Indian Premier League juggernaut rolls on...
Day after day, match after match!
So who is IPL's top performer at this stage? And at what price?
Currently, it is Chris Morris of the Delhi Daredevils with a MVP of 340 and a PVI of 1097.
MVP is the most valuable player index. MVPI collapses every player's batting, bowling and fielding performance into a single 'run equivalent'.
To have the best MVPI, players must score a lot of runs at a high strike rate, and take a lot of wickets at a low economy rate.
More catches and run outs help even more.
Morris has 12 wickets, at a better-than-par economy rate of 6.6 (the par economy rate is eight runs conceded per over) and scored 74 runs at a staggering strike rate of almost 240 (the par strike rate is 133 runs in 100 balls).
PVI is the player's Paisa Vasool Index.
If we look at Morris again, he was bought by Delhi for Rs 7 crores (approximately $1,044,000) to be available for at least 14 matches.
He has played five out of these 14 matches so far, and so earned 5/14th of the money equaling $372,857.
In return, Morris has offered the DD franchise 340 'runs'.
So, for every 'run' DD get from Morris they pay him $372,857/340 = $1,097. This is Morris' PVI.
Amongst the current top IPL performers the player with the best (lowest) PVI is Nitish Rana of the Mumbai Indians with a MVPI of 283.
Bought for just Rs 10 lakhs ($14,000), the franchise earns a 'run' from Rana for just $18!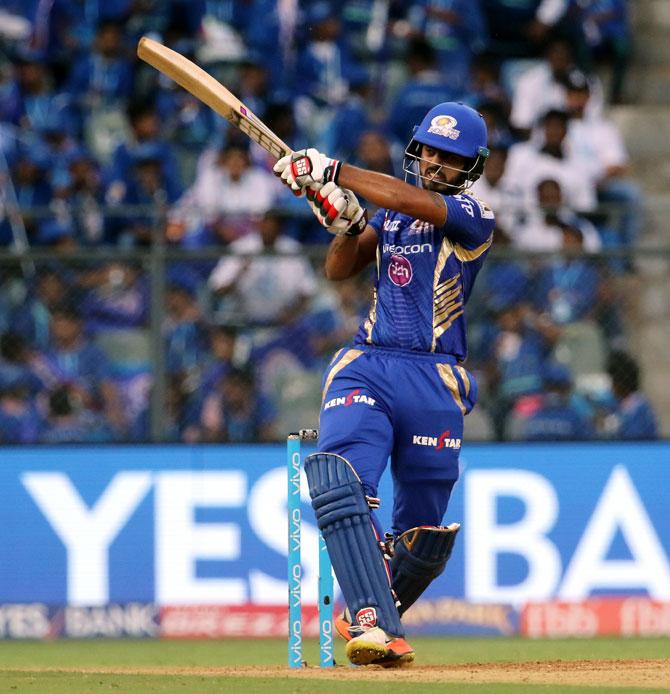 IMAGE: Nitish Rana in action.
Just to get a better feel for these numbers, Ajinkya Rahane of Rising Pune Supergiant has a MVPI of 127 and a PVI of 3985.
Rahane has offered RPS 127 'runs' so far and they have had to pay him $3,985 per 'run'.
The table below indicates the MVPI and the PVI for the top 50 players in IPL10.
This data was updated after the 23rd game on April 21, 2017.