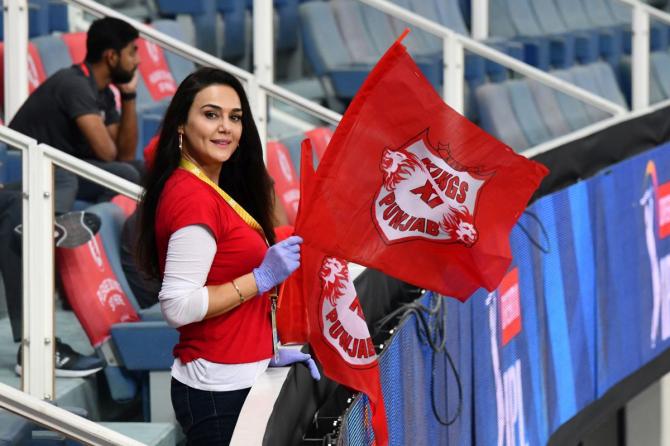 With a new name and a bolstered batting line-up, Punjab Kings, (formerly Kings XI Punjab), will hope for better fortunes this IPL season.
Last season, Punjab finished 6th, narrowly missing on the playoffs. But in the mini-auctions in February, the franchise made some good purchases to add much needed depth to their bowling attack and bolster their batting, the shaky middle-order in particular.
Punjab bought World No 1 T20 batsman Dawid Malan while the all-rounders column looks strong with the inclusion of Australian Moises Henriques and West Indies' Fabian Allen.
They have the ever-reliable K L Rahul at the top of the order with veteran Chris Gayle and Mayank Agarwal, another formidable force with the bat.
Punjab have roped in Australian speedsters Jhye Richardson and Riley Meredith who are likely to back bowling spearheads Mohammed Shami and Chris Jordan.
The spin department lacks foreign flavour, but with new face Jalaj Saxena, Murugan Ashwin and Ravi Bishnoi, who impressed last season, are likely to again spin a web around the opposition under Head Coach Anil Kumble's guidance.
Squad:
| | Age | Bats | Bowls | Role | IPL games |
| --- | --- | --- | --- | --- | --- |
| K L Rahul | 28 | Right-handed | | Captain/'keeper | 81 |
| Chris Gayle | 41 | Left-handed | Right-arm off-break | Batsman | 132 |
| Mandeep Singh | 29 | Right-handed | Right-arm fast-medium | Batsman | 104 |
| Mayank Agarwal | 30 | Right-handed | Right-arm off-break | Batsman | 88 |
| Sarfaraz Khan | 23 | Right-handed | Right-arm leg-break | Batsman | 38 |
| Dawid Malan | 33 | Left-handed | Right-arm leg-break | Batsman | 0 |
| Shahrukh Khan | 25 | Right-handed | Right-arm off-break | Batsman | 0 |
| Nicholas Pooran | 25 | Left-handed | | Wicket-keeper | 21 |
| Prabhsimran Singh | 25 | Right-handed | | Wicket-keeper | 3 |
| Deepak Hooda | 25 | Right-handed | Right-arm off-break | All-rounder | 68 |
| Moises Henriques | 34 | Right-handed | Right-arm fast-medium | All-rounder | 57 |
| Fabian Allen | 25 | Right-handed | Left-arm spin | All-rounder | 0 |
| Saurabh Kumar | 27 | Left-handed | Left-arm spin | All-rounder | 0 |
| Jalaj Saxena | 34 | Right-handed | Right-arm off-break | All-rounder | 0 |
| Utkarsh Singh | 22 | Left-handed | Right-arm off-break | All-rounder | 0 |
| Mohammed Shami | 30 | Right-handed | Right-arm fast-medium | Bowler | 63 |
| Chris Jordan | 32 | Right-handed | Right-arm fast-medium | Bowler | 20 |
| Arshdeep Singh | 22 | Left-handed | Left-arm fast-medium | Bowler | 11 |
| Riley Meredith | 24 | Right-handed | Right-arm fast | Bowler | 0 |
| Jhye Richardson | 24 | Right-handed | Right-arm fast | Bowler | 0 |
| Darshan Nalkande | 22 | Right-handed | Right-arm fast-medium | Bowler | 0 |
| Ishan Porel | 22 | Right-handed | Right-arm fast-medium | Bowler | 0 |
| Murugan Ashwin | 30 | Right-handed | Right-arm leg-break | Bowler | 31 |
| Ravi Bishnoi | 20 | Right-handed | Right-arm leg-break | Bowler | 14 |
| Harpreet Brar | 25 | Left-handed | Left-arm spin | Bowler | 3 |
Note: The players in bold are overseas players
Players bought at this year's IPL auction:
Dawid Malan
Shahrukh Khan
Moises Henriques
Fabian Allen
Saurabh Kumar
Jalaj Saxena
Utkarsh Singh
Riley Meredith
Jhye Richardson
Overall win-loss record in IPL:
| Played | Won | Lost | No Result | Win% | W/L ratio |
| --- | --- | --- | --- | --- | --- |
| 190 | 88 | 102 | 0 | 46.32 | 0.86 |
Note: The win/loss tally includes results in Super Over after a tie
Best finish in IPL:
Runner-up in 2014
How they fared in each edition:
| Year | Position |
| --- | --- |
| 2008 | SF |
| 2009 | 5th |
| 2010 | 8th |
| 2011 | 5th |
| 2012 | 6th |
| 2013 | 6th |
| 2014 | 2nd |
| 2015 | 8th |
| 2016 | 8th |
| 2017 | 5th |
| 2018 | 7th |
| 2019 | 6th |
| 2020 | 6th |
Top batsmen:
| | Games | Runs | Highest Score | Average | Strike Rate | 100 | 50 |
| --- | --- | --- | --- | --- | --- | --- | --- |
| S E Marsh | 71 | 2477 | 115 | 39.95 | 132.74 | 1 | 20 |
| K L Rahul | 42 | 1922 | 132* | 54.91 | 140.08 | 2 | 17 |
| D A Miller | 79 | 1850 | 101* | 34.25 | 138.78 | 1 | 9 |
| G J Maxwell | 65 | 1294 | 95 | 24.41 | 158.77 | 0 | 6 |
| C H Gayle | 31 | 1146 | 104* | 40.92 | 146.73 | 1 | 10 |
| W P Saha | 57 | 1115 | 115* | 24.77 | 131.95 | 1 | 5 |
| Mandeep Singh | 61 | 1058 | 77* | 23.00 | 122.88 | 0 | 4 |
| K C Sangakkara | 37 | 1009 | 94 | 31.53 | 129.52 | 0 | 8 |
| Yuvraj Singh | 51 | 959 | 58* | 22.30 | 127.69 | 0 | 3 |
| M Vohra | 45 | 957 | 95 | 24.53 | 132.73 | 0 | 3 |
Top bowlers:
| | Games | Wickets | Average | Runs Per Over | Best | 4W |
| --- | --- | --- | --- | --- | --- | --- |
| P P Chawla | 87 | 84 | 26.63 | 7.52 | 4-17 | 1 |
| S Sharma | 56 | 71 | 22.35 | 7.77 | 4-20 | 2 |
| A R Patel | 68 | 61 | 28.93 | 7.52 | 4-21 | 1 |
| I K Pathan | 42 | 47 | 24.80 | 7.79 | 3-24 | 0 |
| P Awana | 33 | 39 | 26.38 | 8.26 | 4-34 | 1 |
| Mohammed Shami | 28 | 39 | 23.76 | 8.60 | 3-15 | 0 |
| M M Sharma | 37 | 33 | 34.51 | 9.19 | 3-23 | 0 |
| P Kumar | 44 | 31 | 37.16 | 6.96 | 2-10 | 0 |
| Azhar Mahmood | 22 | 29 | 22.72 | 7.61 | 3-20 | 0 |
| M G Johnson | 26 | 28 | 31.64 | 8.83 | 2-19 | 0 |
Feature Presentation: Rajesh Alva/Rediff.com