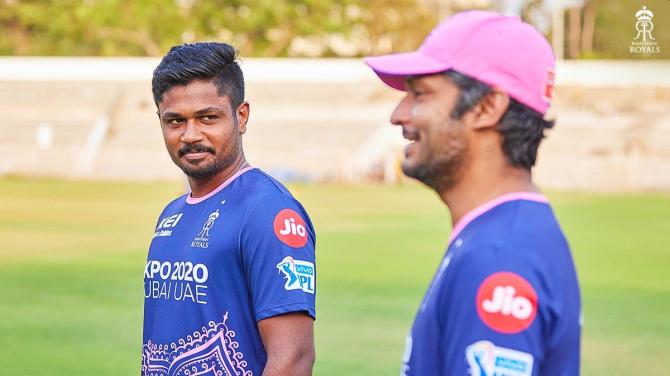 Rajasthan Royals have to make amends this IPL season.
Four months ago, they played dismally in IPL 2020, finishing at the bottom of the table but now with a new captain at the helm -- Sanju Samson replacing Steve Smith, who is no longer part of the franchise -- the Royals will hope for better.
Rajasthan have the ever-dependent Jos Buttler and bought all-rounder Chris Morris -- the most expensive player in IPL history with a price tag of Rs 16.25 crore (Rs 162.5 million) -- this season.
Then the talented Rahul Tewatia, who turned a couple of games Rajasthan's way with his big-hitting last season, is expected to perform in the same vein.
With South Africa's David Miller and England's Liam Livingstone -- set to make his IPL debut -- in the mix, big runs are assured.
In the absence of pace spearhead Jofra Archer, who is out with injury, Jaydev Unadkat gets a shot to lead the attack and finally deliver on the trust the Royals team managemen has invested in him over the years. He has the immensely talented Kartik Tyagi for company as well as another left-arm pcer Chetan Sakariya.
The Royals' new Director of Cricket Kumar Sangakkara is confident that the team's young Indian fast bowlers will rise to the challenge in IPL 2021.
'It's about keeping them focussed on what their job is and get them trained and prepared to execute different deliveries, scenarios and match plans for the opposition but at the same time, giving them confidence about their own strengths,' Sanga says.
Squad:
| | Age | Bats | Bowls | Role | IPL games |
| --- | --- | --- | --- | --- | --- |
| Sanju Samson | 26 | Right-handed | Right-arm medium | Captain/'keeper | 107 |
| David Miller | 31 | Right-handed | Right-arm off-break | Batsman | 80 |
| Manan Vohra | 28 | Right-handed | Right-arm fast-medium | Batsman | 49 |
| Liam Livingstone | 27 | Right-handed | Right-arm off-break/leg-break | Batsman | 4 |
| Shreyas Gopal | 27 | Right-handed | Right-arm leg-break | All-rounder | 45 |
| Ben Stokes | 29 | Left-handed | Right-arm fast-medium | All-rounder | 42 |
| Rahul Tewatia | 27 | Left-handed | Right-arm leg-break | All-rounder | 34 |
| Riyan Parag | 19 | Right-handed | Right-arm off-break | All-rounder | 19 |
| Shivam Dube | 27 | Left-handed | Right-arm fast-medium | All-rounder | 15 |
| Mahipal Lomror | 21 | Left-handed | Left-arm spin | All-rounder | 7 |
| Yashasvi Jaiswal | 19 | Left-handed | Right-arm leg-break | All-rounder | 3 |
| Jos Buttler | 30 | Right-handed | | Wicket-keeper | 58 |
| Anuj Rawat | 21 | Left-handed | | Wicket-keeper | 0 |
| Jaydev Unadkat | 29 | Right-handed | Left-arm fast-medium | Bowler | 80 |
| Chris Morris | 33 | Right-handed | Right-arm fast-medium | Bowler | 70 |
| Jofra Archer | 25 | Right-handed | Right-arm fast-medium | Bowler | 35 |
| Andrew Tye | 34 | Right-handed | Right-arm fast-medium | Bowler | 27 |
| Mustafizur Rahman | 25 | Left-handed | Left-arm fast-medium | Bowler | 24 |
| Kartik Tyagi | 19 | Right-handed | Right-arm fast-medium | Bowler | 10 |
| Akash Singh | 18 | Left-handed | Left-arm fast-medium | Bowler | 0 |
| Chetan Sakariya | 23 | Left-handed | Left-arm medium-fast | Bowler | 0 |
| Mayank Markande | 23 | Right-handed | Right-arm leg-break | Bowler | 17 |
| KC Cariappa | 26 | Right-handed | Right-arm leg-break | Bowler | 11 |
| Kuldip Yadav | 24 | Left-handed | Left-arm medium-fast | Bowler | 0 |
Note: The players in bold are overseas players
Players bought at this year's IPL auction:
Liam Livingstone
Shivam Dube
Chris Morris
Mustafizur Rahman
Akash Singh
Chetan Sakariya
KC Cariappa
Kuldip Yadav (Jr)
Overall win-loss record in IPL:
| Played | Won | Lost | No Result | Win% | W/L ratio |
| --- | --- | --- | --- | --- | --- |
| 161 | 81 | 78 | 2 | 50.31 | 1.04 |
Note: The win/loss tally includes results in Super Over after a tie
Best finish in IPL:
Winner in 2008
How they fared in each edition:
| Year | Position |
| --- | --- |
| 2008 | 1st |
| 2009 | 6th |
| 2010 | 7th |
| 2011 | 6th |
| 2012 | 7th |
| 2013 | 3rd |
| 2014 | 5th |
| 2015 | 4th |
| 2016 | Did not play |
| 2017 | Did not play |
| 2018 | 4th |
| 2019 | 7th |
| 2020 | 8th |
Top batsmen:
| | Games | Runs | Highest Score | Average | Strike Rate | 100 | 50 |
| --- | --- | --- | --- | --- | --- | --- | --- |
| A M Rahane | 100 | 2810 | 105* | 34.26 | 122.65 | 2 | 17 |
| S R Watson | 78 | 2372 | 104* | 36.49 | 141.27 | 2 | 14 |
| S V Samson | 79 | 1907 | 102* | 28.04 | 136.21 | 1 | 10 |
| R Dravid | 46 | 1276 | 66 | 29.67 | 110.86 | 0 | 7 |
| J C Buttler | 34 | 1187 | 95* | 42.39 | 151.21 | 0 | 10 |
| S P D Smith | 50 | 1070 | 79* | 30.57 | 126.92 | 0 | 8 |
| Y K Pathan | 43 | 1011 | 100 | 26.60 | 161.24 | 1 | 6 |
| S T R Binny | 72 | 729 | 48* | 20.25 | 129.48 | 0 | 0 |
| GC Smith | 25 | 697 | 91 | 31.68 | 112.96 | 0 | 4 |
| B J Hodge | 33 | 639 | 54* | 35.50 | 137.41 | 0 | 1 |
Top bowlers:
| | Games | Wickets | Average | Runs Per Over | Best | 4W |
| --- | --- | --- | --- | --- | --- | --- |
| S K Trivedi | 76 | 65 | 29.29 | 7.58 | 4-25 | 1 |
| S R Watson | 78 | 61 | 27.88 | 7.49 | 3-10 | 0 |
| S K Warne | 55 | 57 | 25.38 | 7.27 | 4-21 | 1 |
| J P Faulkner | 42 | 47 | 27.06 | 8.41 | 5-16 | 2 |
| J C Archer | 35 | 46 | 21.32 | 7.13 | 3-15 | 0 |
| R Shreyas Gopal | 39 | 41 | 24.63 | 7.82 | 4-16 | 1 |
| M M Patel | 30 | 33 | 23.60 | 7.57 | 3-17 | 0 |
| K K Cooper | 25 | 33 | 22.93 | 7.88 | 4-26 | 1 |
| D S Kulkarni | 37 | 29 | 35.20 | 8.73 | 2-9 | 0 |
| Amit Singh | 23 | 28 | 22.14 | 7.86 | 4-19 | 1 |
Feature Presentation: Aslam Hunani/Rediff.com