Losing six in a row really hurt us: Kohli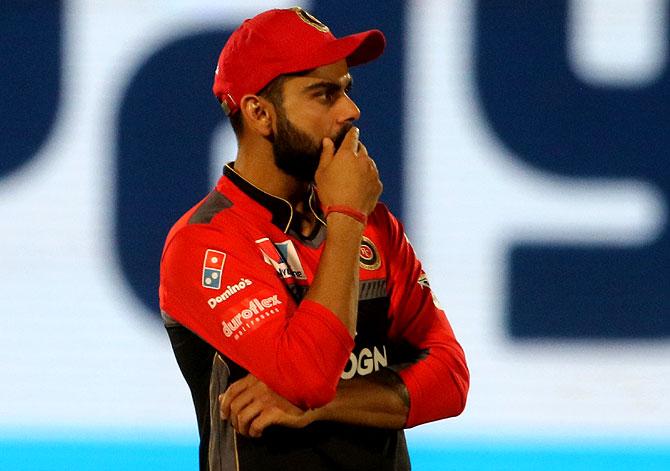 Losing half a dozen matches at a stretch did hurt his team but Royal Challengers Bangalore skipper Virat Kohli said the players have now decided to just enjoy the game and not take any pressure.
RCB beat Kings XI Punjab by 17 runs in an IPL encounter on Wednesday night, in Bengaluru, to keep slim chances of making the IPL play-offs alive.
"The only focus was to play well as a team. Losing six in a row really hurt us. Literally no one in the team has been part of such a streak. So we just refreshed, thought about just enjoying ourselves and the important thing now is not to take on any pressure," Kohli said at the post-match presentation ceremony.
RCB have won four out of their last five games and there is an outside chance of their play-off qualification if they can win the remaining three games.
"Yeah, we've won four of the five. Could have been five out of five. We were just looking to enjoy the cricket and tonight was a great example of having fun. We know how we play. The world knows how we play," Kohli said.
Man of the Match AB de Villiers, who scored an unbeaten 82 off 44, credited RCB bowlers for winning the match for the team.
"I really just try to stay calm. It's not easy. Game is happening quickly. But you have your team-mates around you to share the load (death-overs batting). We know our home ground pretty well. It hasn't been a great hunting ground at the start but if we can keep going with this momentum, we'll do well."
"And you can see it, lots of smiles on the faces. I still thought the par score was 180. I actually felt it was 160 but it got better to bat in the second innings. So the boys bowled really well," said de Villiers.
Kings XI Punjab captain Ravichandran Ashwin said his team failed to deal with the pressure moments.
"There can be so many places where we feel we lost the game. But at the end of the day, a T20 game is all about pressure moments and we haven't been able to do that in the last few games," said Ashwin.
KXIP have lost four out of their last five matches but Ashwin insisted that one win can change the course and his side can also get on a roll just like RCB.
"If we had more experience in the middle order, we could have done something. We are right into it (playoffs). It's all about getting one win and we'll get on a roll. Like RCB. It's important to keep trust in the players."
"We've held on to the same batting order through the tournament. Giving players a chance. It's really important to back the players. We were always in the game. We haven't been outplayed by any opposition," he said.
"The one area we need to work on is Powerplay bowling and the death others. It's time the bowlers stood up there," added Ashwin.