The world's biggest T20 spectacle is being played in India for the first time. As the country hosts the ICC's cricket carnival, here's a look at the eight grounds that will host the 58 matches over 27 days, from March 8 to April 3.
Eden Gardens, Kolkata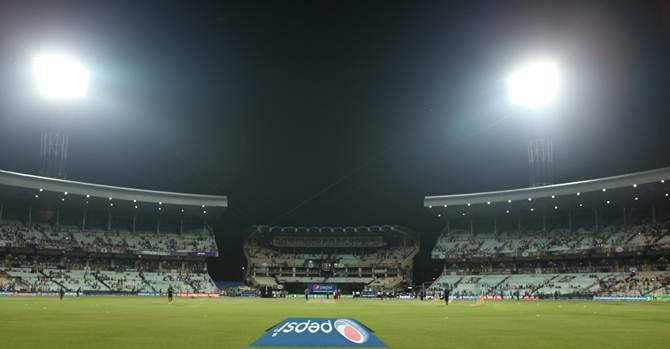 Considered one of the best cricket stadiums in the world, the Eden Gardens in Kolkata is the second largest stadium after the Melbourne Cricket Ground, with a capacity in excess of 65,000.
It was allotted the marquee India-Pakistan match on March 19 after the ICC decided against staging it at Dharmasala following security concerns.
For opposition teams the venue can be a very intimidating place to play in, what with a packed stadium acting as a 12th man supporting the home team.
- Schedule: ICC World T20 2016
Home of Indian Premier League side Kolkata Knight Riders, it witnessed fireworks in the very first match of IPL history, with Brendon McCullum smashing a quickfire 158 to set the tournament rolling.
However, the stadium is better-known for V V S Laxman's 281 and his partnership with Rahul Dravid against Australia, which scripted one of the greatest come-from-behind victories in Test cricket.
More recently, Rohit Sharma marked the 150th anniversary of the ground with a 173-ball 264, the highest ODI score.
The Eden Gardens will host five games of the ICC World T20 2016, including Pakistan v Group A topper (March 16), Sri Lanka v Group B topper (March 17), India v Pakistan (March 19), Group A topper v New Zealand (March 26) and the final on April 3.
It will also host the ICC women's World T20 final on April 3.
M Chinnaswamy Stadium, Bengaluru
With a capacity of 40,000 spectators, the stadium, located in Bangalore, Karnataka, is one of India's premier grounds.
The M Chinnaswamy Stadium made history by becoming the world's first solar powered cricket venue in 2015.
Home to batting-heavy IPL side Royal Challengers Bengaluru, the stadium recently enthralled cricket fans with thrilling sixes by Chris Gayle, AB de Villiers, Yuvraj Singh and Virat Kohli.
It was the venue for the debut of West Indies greats Viv Richards and Gordon Greenidge, as well as Sunil Gavaskar's last innings.
The cricket pitch at the stadium rarely follows the 'turning track' axiom that is followed by other venues in India.

The stadium will play host to the inaugural ICC women's World T20 2016 fixture between India and Bangladesh on March 15.
It will also host the England Women v Bangladesh Women (March 17), South Africa Women v New Zealand Women (March 26) and South Africa Women v Sri Lanka Women (March 30). Four warm-up games will also be held.
Featured men's matches include Sri Lanka v West Indies (March 20), and Australia and India against the topper from Group A (March 21 and 23 respectively).
Wankhede Stadium, Mumbai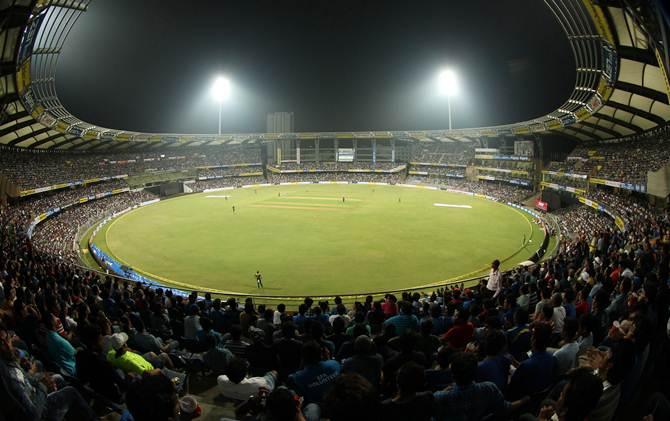 While it doesn't share the history or romance that older cricket grounds like the Eden Gardens, Feroz Shah Kotla or Chepauk Stadium do, the Wankhede stadium entered into folklore with the splendid straight six hit by skipper Mahendra Singh Dhoni, which sealed India's victory that crowned them World champions in 2011.
Born out of a dispute between the Bombay Cricket Association (now renamed Mumbai Cricket Association) and the Brabourne Stadium's caretakers - the Cricket Club of India, the Wankhede Stadium was built in 1975.
It has stands named after famous Indian cricketers, like Vijay Merchant, Sunil Gavaskar and Sachin Tendulkar.
The stadium also witnessed Tendulkar's emotional farewell.
The Wankhede will host West Indies v England (March 16), South Africa v England (March 18), South Africa v Group B topper (March 20), as well as the second semi-final on March 31.
It will also host the women's semi-final ahead of the men's.
PCA Stadium, Mohali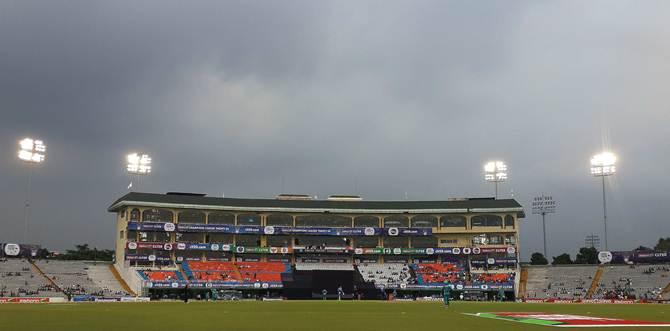 Two of the most memorable World Cup semi-finals were played on this ground, with Australia edging out the West Indies in 1996 in a nail-biting encounter, while the more recent India's semi-final victory over arch-rivals Pakistan in 2011 was attended by leaders of both countries.
With a capacity of 28,000 spectators, the ground boasts of unconventional lights compared to other cricket stadiums. The light pillars have been erected comparatively lower in height to avoid aircraft from the nearby airport colliding with it.
Pakistan will play two matches at the venue, against New Zealand (March 22) and Australia (March 25). Australia will also play India here (March 27).
Among the ICC women's World T20 2016 matches, Ireland Women will play New Zealand Women (March 18) and Sri Lanka Women (March 20), while West Indies Women take on India Women (March 27).
HPCA Stadium, Dharamsala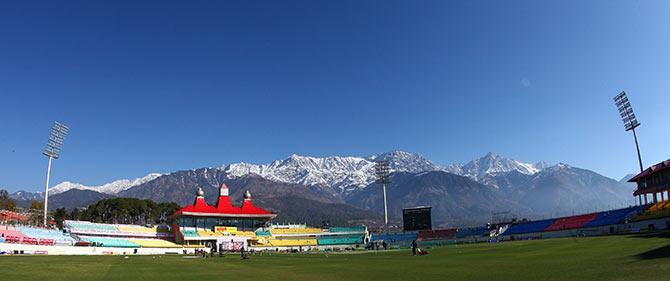 The stadium was in the news ever since the all-important India-Pakistan encounter in the upcoming World T20 was allotted to it.
However, after recent statements by Himachal Pradesh chief minister Virbhadra Singh, who opposed the March 19 match against India's arch-rivals, there were concerns about security at the venue and the International Cricket Council decided to move it to the iconic Eden Gardens, in Kolkata.
Unarguably the most scenic cricket ground in India, the HPCA Stadium in Dharamsala, set against the backdrop of the dramatic snow clad mountains, is perched on the high slopes 1317m above sea level.
Dharamsala has become synonymous to the Tibetan government in exile and the home town of Tibetan leader Dalai Lama along with the cricket stadium.
The first ODI played at the venue in January 2013 saw England beat India and Ian Bell scoring a hundred.
Dharamsala will host all Group A fixtures featuring Bangladesh, the Netherlands, Ireland and Oman. It will also host the Australia v New Zealand (March 18) match.
England women will play two matches here, against India Women (March 22) and West Indies Women (March 24).
Feroz Shah Kotla, Delhi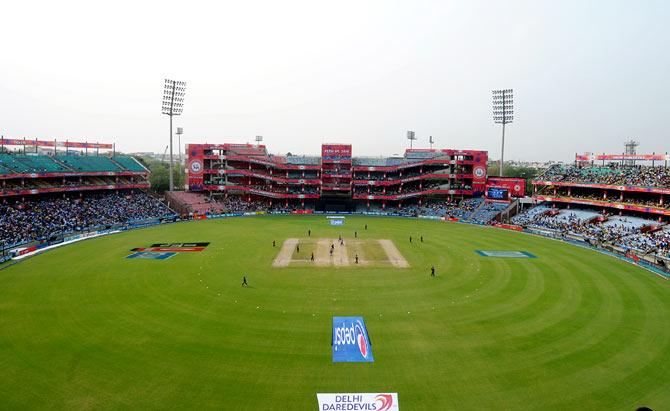 Mired in controversies for the past six months, the Feroz Shah Kotla got a last minute nod to host World T20 matches.
This Delhi stadium most recently lost out on an international match (T20I against Sri Lanka) to Ranchi owing to failure of the local board -- Delhi and District Cricket Association -- to procure the necessary clearance from the government.
Preparations are now in full swing for the marquee T20 event with the DDCA's reputation at stake.
The Kotla has seen many a cricketing feat, but none more famous than Anil Kumble's ten wickets in an innings against Pakistan in 1999.
The stadium has been allotted four men's and six women's matches, including one semi-final for both.
Before that, England plays Group B topper (March 23) and Sri Lanka (March 26), while South Africa takes on Sri Lanka (March 28).
ICC women's World T20 2016 games include New Zealand Women v Sri Lanka Women (March 15), India Women v Pakistan Women (March 19), Australia Women v Sri Lanka Women (March 24), Pakistan Women v Bangladesh Women (March 24) and Australia Women v Ireland Women (March 26), apart from the semi-final on March 30.
MA Chidambaram Stadium, Chennai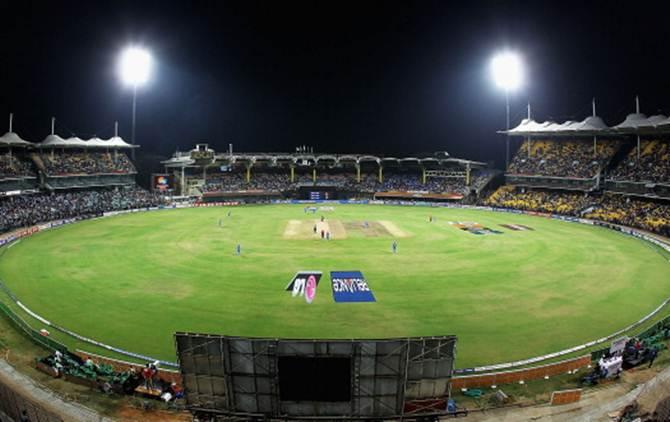 Regarded as the fortress of ousted BCCI chief Narayanswami Srinivasan and suspended IPL team Chennai Super Kings, the stadium in Chennai hasn't been allotted any men's matches in the high-profile tournament.
The M A Chidambaram Stadium has problems, with three stands being locked down due to issues with the Chennai Metropolitan Development Authority, but even with the loss of 12,000 seats, it can still host 24,000 people.
Indeed, Chennai appears to be worst-hit by the winds of change within the BCCI.
The stadium will host five women's WT20 2016 warm-up matches, before West Indies Women v Pakistan Women (March 16), West Indies Women v Bangladesh Women (March 20), South Africa Women v Ireland Women (March 23) and England Women v Pakistan Women (March 27).
Vidarbha Cricket Association Stadium, Nagpur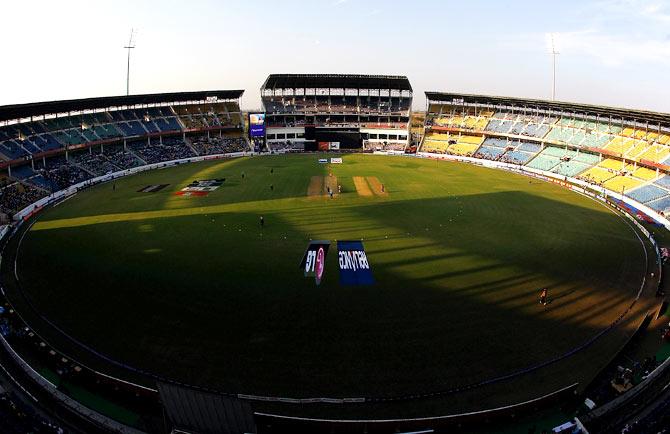 It was more recently in the news during India's third Test against South Africa when the ICC termed the pitch in Nagpur as poor.
The new Vidarbha Cricket Association Stadium at Jamtha, Nagpur, opened in 2008 and replaced the old one.
Spread across 33 acres, the new stadium claims world-class practice facilities and modern infrastructure. The only T20I played at the venue had Sri Lanka's Kumar Sangakkara scoring 78 off 37 balls and leading his team to a 29-run victory over India in December 2009.
The stadium has a busy schedule for the ICC World T20 2016. It will host nine men's fixtures, including all six Group B matches between Scotland, Hong Kong, Zimbabwe and Afghanistan. India v New Zealand (March 15) and the West Indies v South Africa (March 25) and West Indies v Group B topper (March 27) are the other games.
Australia women's matches against South Africa (March 18) and New Zealand (March 21) will also be at this venue.
- Complete coverage: ICC World T20 2016