One jinx broken...
...the other continues.
Team India scored a comfortable 29-run victory over Pakistan in Mohali on Wednesday to book a berth in the final of the World Cup.
The win was India's first at the semi-final stage at home, following losses in the 1987 and 1996 World Cups, thereby breaking the jinx of failing at the last four stage as hosts.
On the other hand, Pakistan's jinx of never having beaten India in a World Cup encounter continued.
- Scorecard | Images | Live update
In five matches the neighbours have played in the tournament, India has come out on top on all occasions.
It was India's first win in three matches over Pakistan in Mohali, and their 47th overall (against 69 losses).
It was also India's 13th win in its last 18 ODIs and ensured the co-hosts a place in what will be their third World Cup final.
MS Dhoni's team plays Sri Lanka at the Wankhede stadium in Mumbai on Saturday in a bid to end a 28-year-old draught and add to that memorable 1983 triumph. And, of course, satisfy a billion restless souls!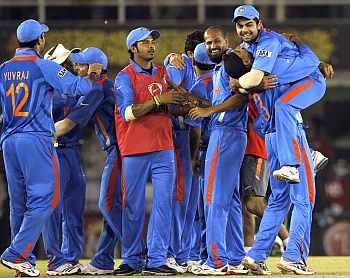 Chasing 261 to win, Pakistan could manage only 231 in 49.5 overs.
Misbah-ul-Haq top-scored with 56 and was the last man out.
Zaheer Khan, Ashish Nehra, Munaf Patel, Harbhajan Singh and Yuvraj Singh shared the wickets to fall, all picking up two apiece.
Earlier, Shahid Afridi's insistence on not changing a winning combination proved to be a masterstroke.
For, Wahab Riaz -- picked over sentimental favourite Shoaib Akhtar -- troubled the Indian batsmen with his accurate pace and nagging line, finishing with an impressive return of five for 46.
The 25-year-old struck at regular intervals, almost every occasion he was handed the ball by his captain, thereby justifying the latter's faith. More importantly, all his wickets were important ones.
On the other hand, Pakistan's two best bowlers in the tournament weren't as impressive as they had been earlier.
While Afridi, the highest wicket-taker with 21 scalps, failed to add to his tally (none for 45), Umar Gul was wayward, and consequently expensive (none for 69 off eight).
But Riaz's career-best figures ensured Pakistan restricted India to 260 for 9. With the kind of start they got, the hosts' final total was indeed a huge disappointment.
Sachin Tendulkar, benefitting from as many as six reprieves -- twice technology coming to his rescue and dropped four times -- top-scored with 85.
However, it was anything but impressive. It was enough to win him the man-of-the-match honours though.
India innings:
Sehwag helped India get off to a flying start, smashing 20 runs off Gul's second over -- the third of the innings. The opener flayed Gul in his subsequent over as well, helping himself to two boundaries in the process.
However, the introduction Riaz in the sixth over, replacing Abdul Razzaq, ensured the dismissal of Sehwag.
Riaz first tested Sehwag with a short ball and then bowled a short of length delivery that skids on to Sehwag's pads. Sehwag opted for a referral but the leg before decision stood.
The opener's 25-ball knock was inclusive of nine hits to the fence; he and Tendulkar put on 48 runs for the opening wicket (in just 35 balls).
In the first over of the bowling power play (11th), technology came to Tendulkar's rescue twice.
Umpire Ian Gould had given him out leg before to Saeed Ajmal, but the referral showed the ball clearly would have missed the leg stump. And off the ball that followed, Tendulkar survived a stumping appeal.
The Master Blaster had another piece of fortune when Misbah-ul-Haq dropped him on 27 at mid-wicket off Afridi.
Tendulkar rode his luck and combined well with Gautam Gambhir (27), putting on 68 runs for the second wicket.
However, the latter soon became impatient as was stumped off Mohammad Hafeez's bowling.
Tendulkar, meanwhile, continued to ride his luck, Younus Khan dropping him (on 46) at mid-wicket, Afridi losing out on a well-deserved wicket yet again.
The Master Blaster rode his luck to register his 95th ODI fifty, his 15th against Pakistan.
The re-introduction of Riaz into the attack though put the brakes on India. The seamer struck twice in succession in the second over of his second spell, first having Virat Kohli (9) caught by Umar Akmal at backward point and then cleaning up the in-form Yuvraj Singh (0).
Afridi induced an edge off Tendulkar's blade (on 70) with a leg break again but Kamran Akmal was clueless.
And the Master Blaster was fortunate again when his miscued hit off Hafeez was put down at midwicket, on this occasion by Kamran's younger brother, Umar.
However, Tendulkar's luck finally ran out when Afridi held on to a sharp chance at short extra cover, Ajmal being the beneficiary.
The Pakistan captain had done what many of his fielders couldn't -- hang on to a chance given by Tendulkar.
The Master Blaster's 115-ball 85 was inclusive of 11 hits to the fence. He missed out on that 100th ton yet again.
He and Dhoni put on 46 runs for the fifth wicket.
India's captain (25) was given a reprieve by the generous Kamran Akmal (off Riaz). However, the blemish didn't prove costly as two balls later Riaz had his man out, leg before.
Dhoni did go in for a referral but the decision stood. The ball had hit him in line and Riaz had earned himself his fourth wicket of the day.
Harbhajan Singh (12) was stumped off Ajmal. And Zaheer Khan (9) was caught behind to hand Riaz his fifth wicket.
India managed 43 runs in the batting power play for the loss of a wicket, with Suresh Raina (36 not out) using the long handle to good effect.
However, it was still a disappointment because of the manner in which the Indian innings ended. The start had promised much more. The end left much more to be desired.
And there was one person responsible for the same -- Wahab Riaz. 
Pakistan innings
Chasing a competitive target, the Pakistani openers got off to a good start and put on 44 runs for the opening wicket, before Kamran Akmal (19) hit a Zaheer Khan delivery straight to Yuvraj at point.
The ever-reliable Zaheer provided India a much-needed breakthrough and, in the process, helped himself to his 18th success of the tournament.
Hafeez was impressive in his brief essay, but while trying an unnecessary paddle sweep off Munaf, he only succeeded in edging it to Dhoni behind the stumps.
Hafeez's 59-ball 43 was inclusive of seven hits to the fence.
Asad Shafiq (30) and Younis Khan (13) carried Pakistan past the 100-run mark before Yuvraj struck twice in succession.
The part-timer first rattled Shafiq's stumps before having Younis caught by Raina at cover.
The wickets swelled Yuvi's tally in the tournament to 13.
Umar Akmal (28) and Misbah-ul-Haq put up a decent 36-run partnership for the fifth wicket, with the former doing the bulk of the scoring.
However, just when things looked problematic for India, Harbhajan struck, cleaning up Umar soon after the second drinks break.
Umar's 24-ball knock was inclusive off a boundary and two maximums, all off Yuvraj.
A few overs later, Munaf rattled the stumps of Abdul Razzaq (3) with a slow leg-cutter. At 150 for six (in the 37th over), things looked bleak for Pakistan.
Misbah and Shahid Afridi (19) put on an almost run-a-ball 34 for the seventh wicket before the latter skied a Harbhajan delivery straight to Sehwag at cover.
Thereafter, the writing was on the wall for the visitors.
In the final analysis, the bowlers did a good job for Pakistan. Only had their batsmen done better.
Photograph: Reuters