The venue for the second T20I in the three-match home series against Sri Lanka has been shifted from Delhi to Ranchi.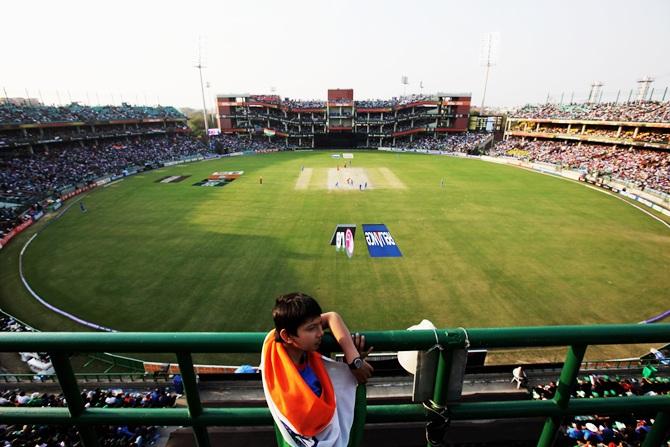 IMAGE: View from the Feroz Shah Kotla stadium in New Delhi. Photograph: Daniel Berehulak/Getty Images.
Snubbed by the Delhi high court, the Delhi and Districts Cricket Association on Friday officially intimated the Board of Control for Cricket in India that it will not be able to host the second India-Sri Lanka Twenty20 International on February 12.
The BCCI named Ranchi as the new venue for the match.
"The venue of the second Twenty20 International match of the three-match home series against Sri Lanka has been shifted from Delhi to Ranchi," BCCI secretary Anurag Thakur said.
The other two games of the three-match series will be played on February 9 in Pune and February 14 in Visakhapatnam.
After the Delhi high court refused to direct the Municipal Corporation of Delhi to provide it with Provisional Occupancy Certificate (POC), there was little chance for the controversial faction-ridden association to host the slated match.
"We have informed the BCCI that we will not be able to get the clearance from MCD in time after complying to norms.
"We told the BCCI officials that we will have all the compliance certificates ready for World T20 but it will not be possible to get clearance before February 12 and then get clearances from the state's fire and electrical department," DDCA working president Chetan Chauhan said on Friday.
Asked if the high court's observation turned out to be an embarrassment for the association which is neck-deep in financial scandals, Chauhan said: "We had to take a chance and that is why we moved high court. Had we not done that, we would have been criticised for letting the match go.
"At least we tried to organise but in such short time, we would not be able to complete the required 60-point deviations that the MCD has cited. But rest assured we will be ready for the World Cup."
Chauhan also denied knowledge that DDCA official Manjeet Singh, who was a part of the Tours and Fixtures Committee meeting of the BCCI, misinformed secretary Thakur about having all the compliance certificates.
"I know he (Manjeet) said DDCA is ready but I do not think he mentioned about having the compliance certificates. If he has said so and it is there in the BCCI minutes of the meeting, we will surely pull him up," the former Test opener said.