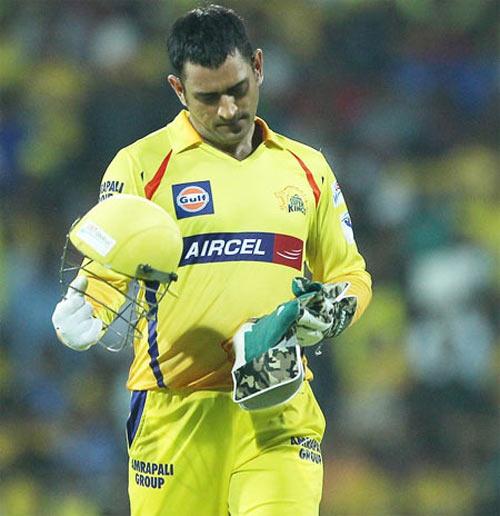 Chennai Super Kings captain Mahendra Singh Dhoni. Photograph: BCCI
T he Supreme Court-appointed high-level Committee, headed by former Chief Justice of India Rajendra Mal Lodha, proposed identical two-year suspensions on Indian Premier League franchises Chennai Super Kings and Rajasthan Royals on Tuesday in the spot-fixing scandal that rocked the sixth edition of the T20 tournament in 2013.
- Coverage: IPL spot-fixing saga
Set up in January by the apex court to determine the quantum of punishment in the case, the panel also recommended life suspensions on Chennai Super Kings official Gurunath Meiyappan and Rajasthan Royals's Raj Kundra from all cricket-related activities.
Meiyappan, son-in-law of International Cricket Council chairman Narayanswamy Srinivasan, and Kundra, a former Rajasthan co-owner, were found guilty of illegal betting in the IPL.
Controversy surrounded the 2013 edition of the league and former India pacer Shantakumaran Sreesanth and two other Rajasthan cricketers, Ajit Chandila and Ankeet Chavan, were arrested on suspicion of taking money to concede a fixed number of runs.
Sreesanth, who denied any wrongdoing, was subsequently banned for life by the Board of Control for Cricket In India.
"As the face of the team, he (Meiyappan) ought not to have indulged in betting practices," said retired chief justice Lodha, who read out from the verdict which also criticised the franchises for inaction that brought disrepute to the game.
"By regularly placing bets in IPL matches... he acted in gross violation of the anti-corruption code.
"He is suspended for life from being involved in any type of cricket matches."
The Supreme Court had earlier said the panel's verdict will be binding on the BCCI.
India's One-day international captain Mahendra Singh Dhoni is captain of the Chennai team while Australia's Steve Smith leads Rajasthan Royals.
"This is not unusual when a part-owner and team official indulged in corrupt practices," the panel said, referring to Kundra.
"The unsavoury individuals and bad elements become bold enough to involve vulnerable elements, including players, to all sorts of corruptions."