India is witnessing a radical transformation where highly qualified youngsters are giving up cushy jobs to make a difference in the lives of poor people in rural areas.
Manu A B/Rediff.com tracks the success stories of some of the remarkable people who are working in remote villages to change the profile of rural India.

Earlier stories

A chemical engineer, Anirudh Prasadh gave up his high-paying job to work for welfare of farmers in the remote villages of Tamil Nadu.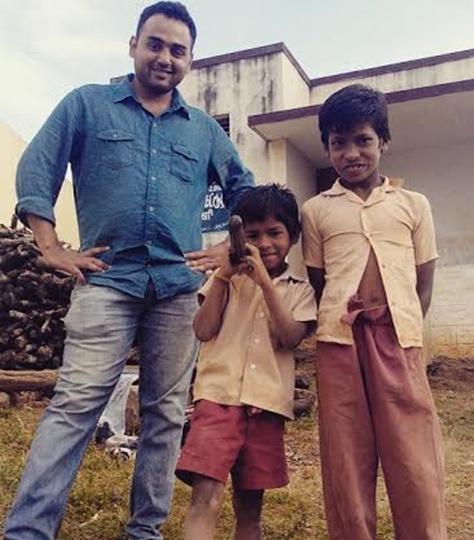 Image: Anirudh Prasadh with kids in the village .
For the Malayalar community of farmers in the remote Kolli Hills region of Tamil Nadu, 26-year-old Anirudh Prasadh has been a catalyst for change.
He has been able to push the humble millet crop they have been cultivating for years together without significant profits into a much sought-after value-added natural health product.
In the process, the farmers are not only earning more, but will also learn to use new age marketing tools like e-commerce and online marketing to distribute this product as an exclusive brand grown from this region to places outside the state.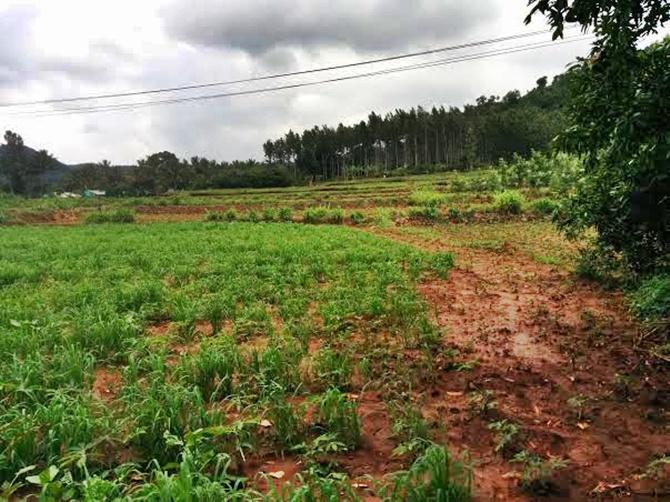 Image: Millet cultivation in the village
Anirudh with the support of the MS Swaminathan Research Foundation has ushered in a small millet revolution in the Kolli Hills, promoting the cereal as a cure for a host of ailments arising out of calcium and iron deficiency.
For the past 4 years, farmers in this region have been selling products made with millet with lesser profits.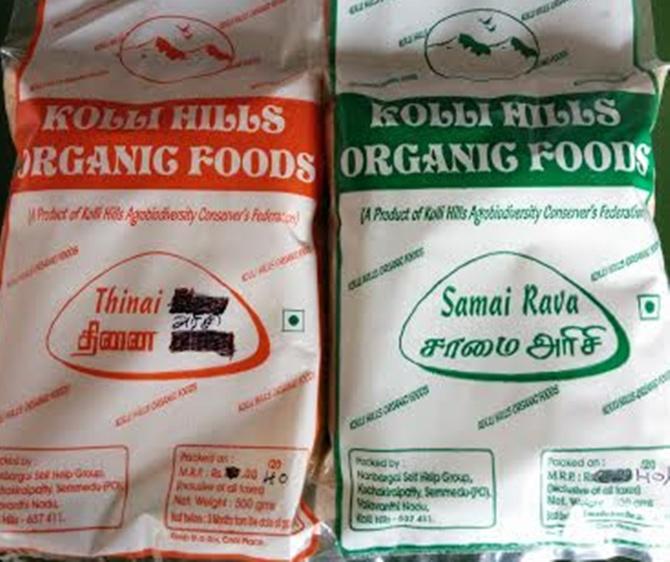 "
Image: Earlier products that were not packed attractively
The bad packaging and unattractive stickers on the packets made it difficult for them to sell the products for maximum profit. They were spending Rs 6-8 per unit for just packaging, resulting in significant losses.

"We have now designed new logos, introduced attractive stickers and the products run on a common theme, making the organically grown products very appealing," says Anirudh.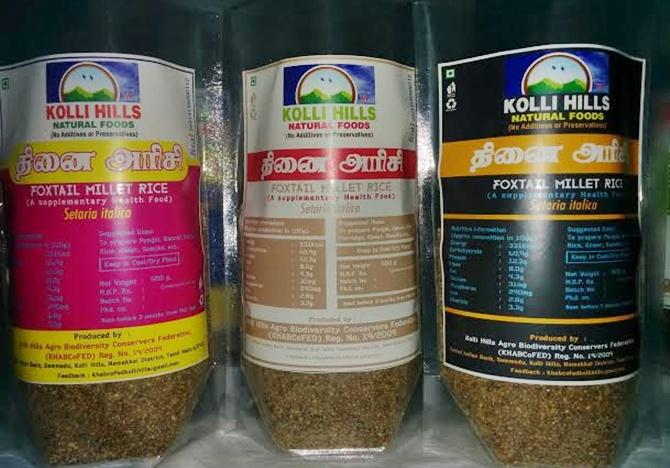 Image: Products now packed attractively ready for sale
Anirudh has been able to get the collective support of all farmers to unite towards making the business of value added millet products a success.

The farmers' cooperative society, Kolli Hills Agro Biodiversity Conservers Federation (KHABCoFED) has become very active. They will now market products with a new look.

The price of packaging has also been reduced by 40-50 per cent ensuring better profit for the farmers.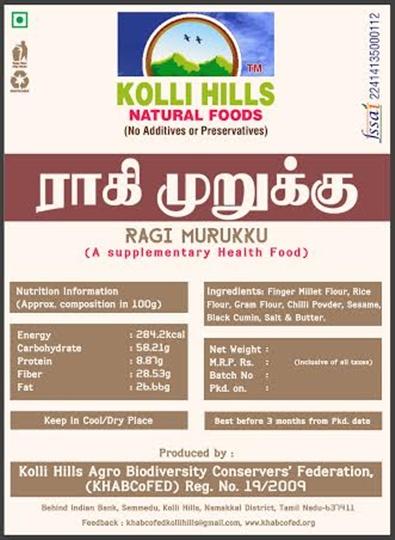 Presently, the products are available across 35 organic shops run by MSSRF in Namakkal, Trichy, Coimbatore etc. After the packaging was made attractive, there has been a rise in demand for these products.

Talks are planned with super markets and duty-free shops in Tamil Nadu and Kerala to stock these products from the Kolli Hills. A website with the list of products and facility to order the products online is also being worked out.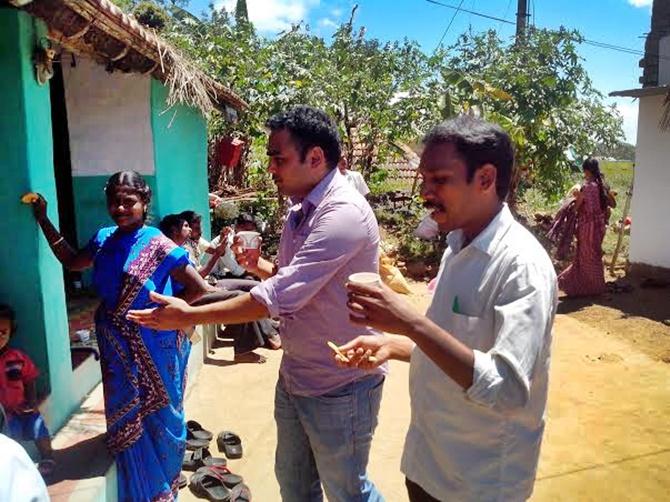 "My work now is to teach them how to market their products, ensure quality control processes, teach them accounting and maintain manuals on products. We have also readied a booklet of millet recipes to promote millet eating in the right way. People here suffer from skin ailments, back problems and face issues of calcium and iron deficiency. With the help of doctors, we have conducted an awareness campaign among the locals to eat millets in different forms so as to keep such kind of illnesses at bay," explains Anirudh.
For Anirudh who was brought up in Mumbai, life in Kolli Hills has been an enriching experience.
"After I did my Masters in Chemical Engineering from the School of Chemical Engineering and Analytical Science, University of Manchester, I returned to Mumbai and worked with Hindustan Dorr-Oliver on a national project. But the inefficiencies in the system and the innumerable delays to get the project implemented were very frustrating. I realised that I was wasting my time when I could utilise it for productive purposes. I had friends who were working in the development sector and it was inspiring to see their work. So I quit my job much to the initial opposition of my parents and took up the SBI Youth for India fellowship," says Anirudh, who is enjoying a satisfying stint helping farmers, children and women across 4 villages in Kolli Hills.
The first day's journey up the hill in a crowded transport bus was memorable for Anirudh. People in the village were very curious to know about him and they thought it was crazy to leave a city and come to work in the remote village.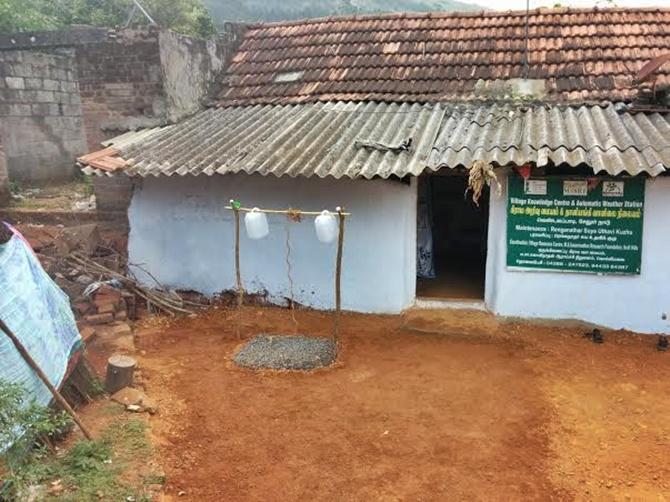 The initial hiccups were not as bad as he had expected. He is thankful for being a changed person now.
"It only took a couple of days to realize that lack of continuous water supply, and unwanted visitors - insects of all shapes and sizes - at all times would be a usual occurrence and something we just have to get used to," says Anirudh.
Being cut off from the rest of the world has proved to be beneficial, feels Anirudh. He doesn't miss city life anymore. "Life is so peaceful, satisfying and I have more time to read books and discover myself," he says.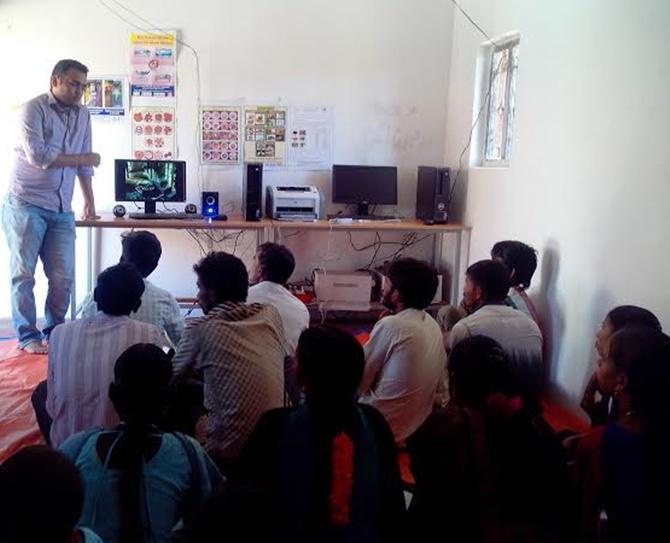 The main problem villagers face here is lack of awareness. "They have the right skills, products and marketing options but there is no one to guide them. Most of the farmers are shy, women too were very reserved and would not like to talk about their problems. Once, they started noticing how the product packaging changed, more people understood what we were trying to do. Now they are more pro-active and we hope to make the federation a very active venture."
Besides conducting health and hygiene camps, Anirudh along with Gautam Jayasurya, organised computer literacy classes for farmers. They were given basic lessons on Word, Excel, and accounting. The farmers have also been given training to take up the role of mentors for others so that they can train others.
"The nearest town is 30 kilomteres away so it's difficult for people to travel this distance for basic things. They will now make use to the Internet facilities to pay bill, for surfing and checking mails etc. The product packs too have an e-mail id now to register customers' feedback. The villagers are also being taught to draft letters that they can use to avail benefits from the government.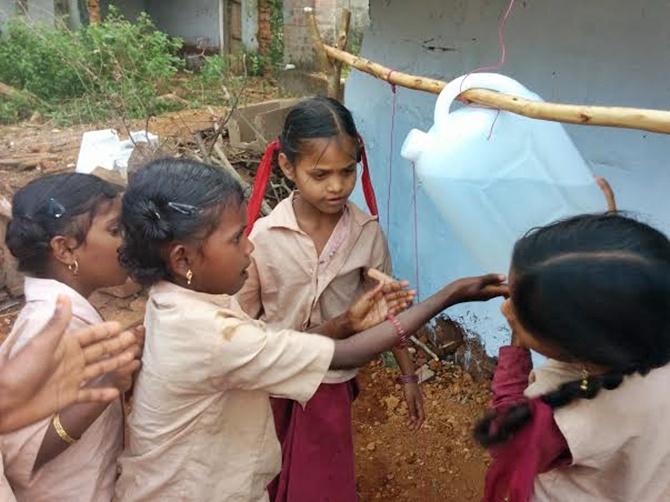 Anirudh's small initiatives have made a lasting impact here.
"I installed Tippy Taps in schools with small cans. Since water supply was erratic, kids would eat without washing their hands. Now they keep themselves clean. Seeing this initiative, other villages are also keen to implement it," says Anirudh.
Village life has taught him to live with basic amenities. The simplicity and helping mentality of the villagers has been encouraging. "Villagers are willing to help us in every way possible. We were late risers in the initial days and missed out on the water supply. Our neighbours made it a point to store water in a couple of buckets for us, and till today continue to find ways to help us," he says.
As a homogeneous community, the farmers live in harmony. They exchange food and grains among community members. They do farming together, it's all a collective effort.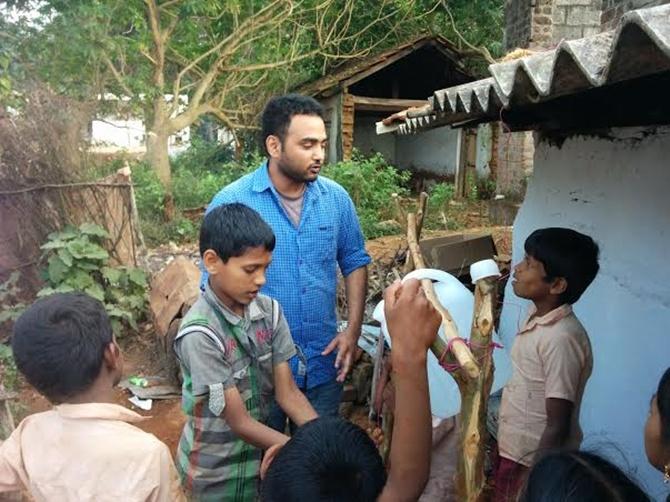 Anirudh plans to continue working in the development sector. "I am happy with work now and am eager to do more. I would like to work in the public policy making. There are lot of schemes that are beneficial to villagers but they have no idea about how it works or how it can impact them. I would like to see villagers getting what they truly deserve from the government," he says.
For rural India to come up, educated people in urban India should first stop calling them 'rural', believes Anirudh.
"They just need the right kind of opportunities and information to come up in life. Instead of taking up a job immediately after education, youngsters should devote at least 6 months of their time to work at the local level in villages. Government agencies don't consider the aspirations of the people while making policies. We need to collect more data to form better policies for the upliftment of the people living in villages," Anirudh explains.
To know more about Anirudh's work, you can mail him at anirudhprasadh@gmail.com
If you wish to join the movement to bring about a change in rural India or would like to contribute in any way, you can send a mail to shuvajit@youthforindia.org