India is witnessing a radical transformation where highly qualified youngsters are giving up cushy jobs to make a difference in the lives of poor people in rural areas.
Manu A B/Rediff.com tracks the success stories of some of the remarkable people who are working in remote villages to change the profile of rural India.

Earlier stories
Pratibha Krishnaiah quit a lucrative career to help rural women in Uttarakhand.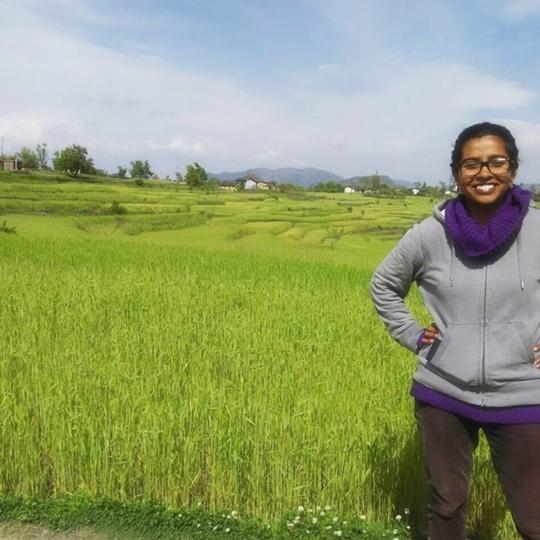 Image: Pratibha Krishnaiah on a new mission
It has been a paradigm shift for Pratibha Krishnaiah, who till last year was cozily placed, working as a software engineer in a multinational firm in Bangalore.

But these days she takes a grinding two-hour trek to reach her work place that is nestled in the Uttarakhand valley and has been trying to bring about a positive change amongst the rural women folk spread across three villages.
Pratibha Krishnaiah has been guiding women from Khetikhan, Tapni Pal and Dhat villages on how to be productive and earn money, without having to leave their families to distant towns to eke out a living.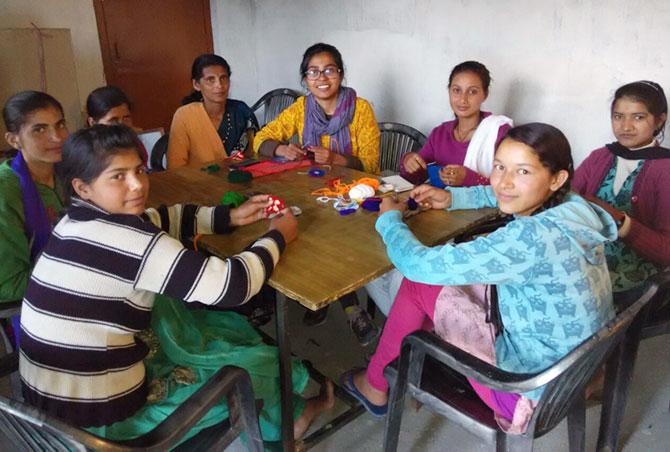 Image: Pratibha trains women on knitting new products
Pratibha says life in the mountains has taught her a lot and made her own life more worthwhile. Earlier even waking up early was so difficult. Now she easily gets up by 4.30 everyday and starts the day with yoga and jogging. Walking uphill to interact with the women in the villages is not difficult anymore. "Personally, I have never felt so much happiness in my life. Living here been a great experience," she says.
"It is really good to live with minimal income. I don't have to worry about tax cuts neither do I have to think about good investment proposals. Money is not the most important thing in life. Though my job profile was good, I felt burnt out. I wanted to be close to nature and work dedicatedly in the villages and the SBI's fellowship looked liked a magical opportunity. My parents thought it was a ridiculous idea to give up a good job but I convinced them to pursue my dream," says Pratibha who is at peace now.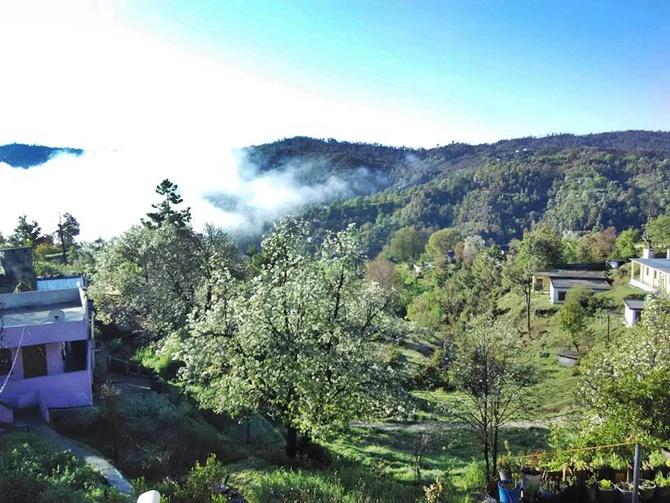 People in the village depend mostly on agriculture and it is a big gamble because weather plays a crucial role here. After months of hard work, when the crop is ready to be harvested, untimely rains just damage the yield which leads to huge losses. So it was important to find an alternate and steady income.

Cut off from the mainstream, the innocent villagers have little idea about the value of their products or their own capabilities. Empowering women, honing their inherent skills and finding a market for their unique products is now Pratibha's mission.

After working for 7 years in Thomson Reuters, Pratibha realised that she needed to do something more meaningful in life. She was looking out for options to work in the rural sector when she came to know about the SBI Youth for India fellowship, which offers a 13-month stint to bring about positive changes in villages.
People in the village too thought she was crazy to give up a good city life to work in the harsh terrain that too in bad weather conditions, at a time when most youngsters in their villages were migrating to cities for better prospects.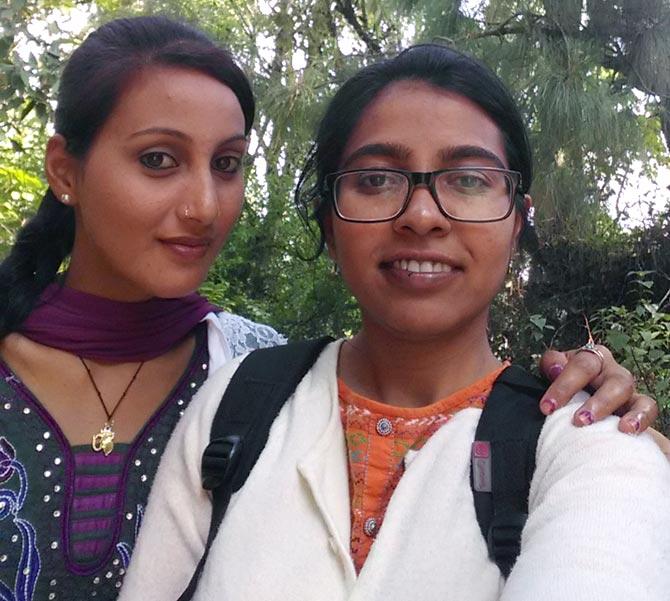 Image: Pratibha with her friend Babita in the village
Pratibha was captivated by the beauty and serenity of the place. But the initial days were grueling for a city-bred person like her.
"The first week was really tough. I was not used to such cold weather. I even thought I may not be able to survive there. But slowly I got acclimatised and settled well. The spirit of people is amazing and despite such tough conditions they go out to work and stay happy with meagre incomes. I realized that if you get satisfaction and peace from your work, that's the best reward," says Pratibha.
Once during heavy rains, the village did not have electricity for a week. Phone networks were down and they were literally cut off from the outside world. "For me it was a first experience but for the people here, it's a way of life. They have no complaints," says Pratibha.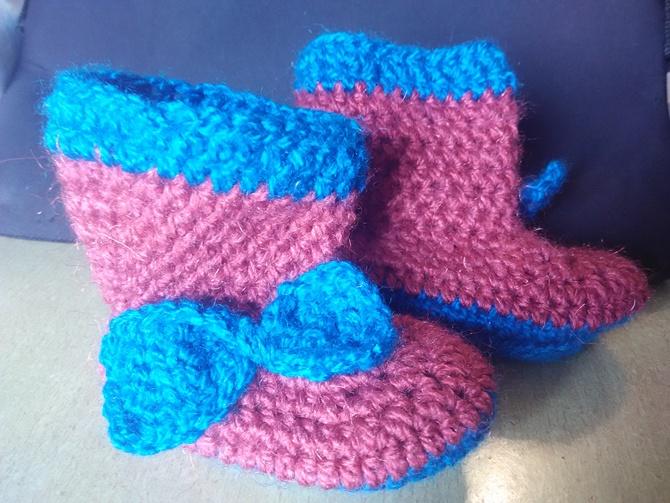 Considering the harsh conditions, it was necessary to find an alternate source of income. Pratibha found that the women were good at knitting. These women are so good at multitasking that they will be knitting even while walking to the market carrying a big load on their head, she observed.

So she mobilised a group of 25 women to develop their skills in knitting and taught them crochet work. She provided them with elegant designs and helped them make small woollen products which have a good demand in cities.

She also trained them to make things like mufflers, shawls, small shoes, socks, hair clips and hair bands which can be made in lesser time. Pratibha then held an exhibition of these products at Bangalore and it was well received.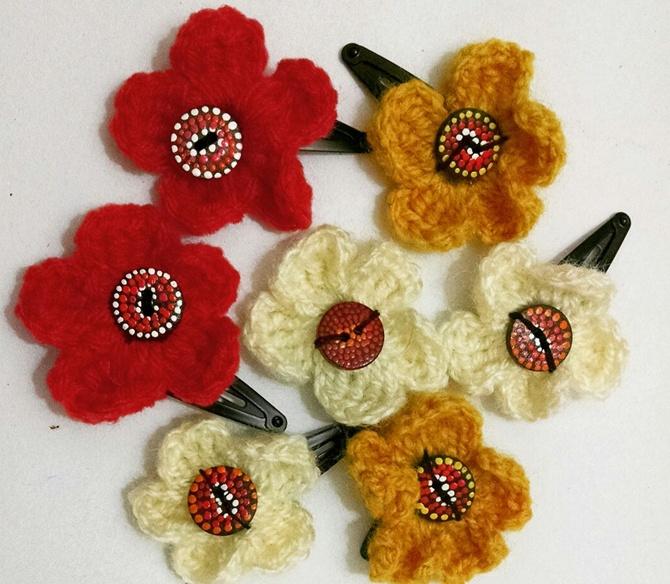 "There is a good market for such products, which are not readily available in the market. So if there is a regular supply, it will generate good revenues for these women, says Pratibha.
Though they are good at knitting and crochet work, they can't give up working as labourers because it does not give them a steady income. So unfortunately these women are either toiling in the fields or working as labourers.
Partibha believes that there is so much scope for entrepreneurship here. It is a hard struggle for women who work as labourers for just Rs 20-30 a day. Most of them drop out from school or study till tenth as the government offers them Rs 50,000 for their marriage expenses if they study till tenth grade.
Pratibha plans to establish a market for their products in cities so that they have a steady income. She also has plans to set up a small scale industry, which can be run by these enterprising women.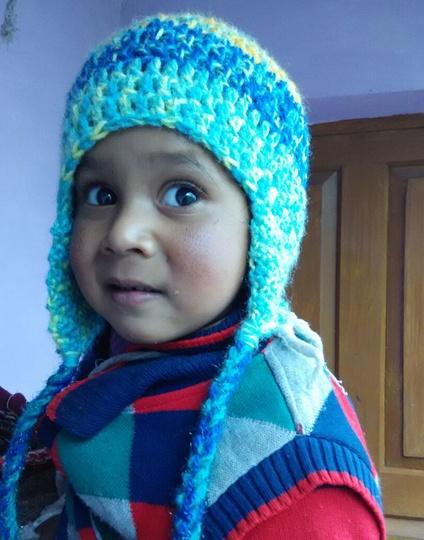 "Women on an average spent about 20 hours across a period of 1-2 weeks to knit a sweater which they sell for just Rs 250. I have now trained them to make clips which takes just 15 minutes to make and can be easily sold for Rs 15 a pair. A muffler which takes lesser time to stitch can be sold for Rs 300, so it saves them a lot of work and time," says Pratibha.
NGOs like BAIF are a great support to the people here. Many of them have taken initiatives of creating self help groups for doing knitting work but it can be expanded on a large scale if all the women work together. They can make a better income with a collective effort, believes Prathibha.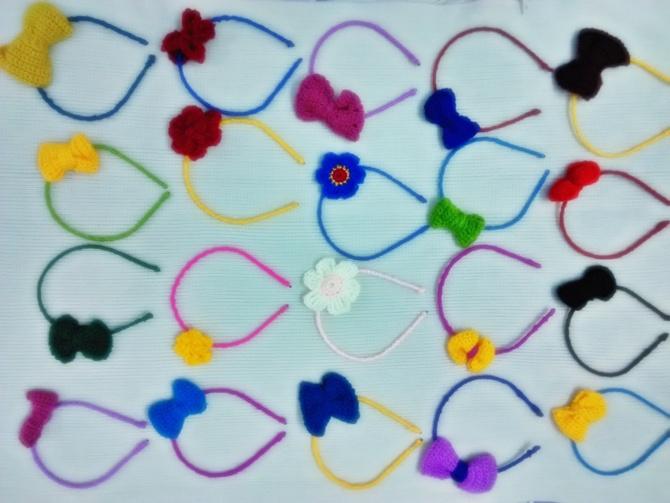 "The villagers are very simple people, not at all ambitious and most of them are ignorant about their own potential. They need a constant backing and support to get them out of the drudgery to better lives," says Pratibha who wishes to continue supporting them even after the fellowship is over after 6 months.
Agriculture being a labour intensive job, people spend so much of time in the fields yet it ends up giving negligible returns at times. The village needs to have co-operative societies and government assistance to regulate buying and selling of agricultural produce. Most of the farmers go to the nearby town to sell their products at throwaway prices and later small shops from this village buy it from those traders, who sell it at much higher prices. So ironically people in the village end up paying more for their own produce.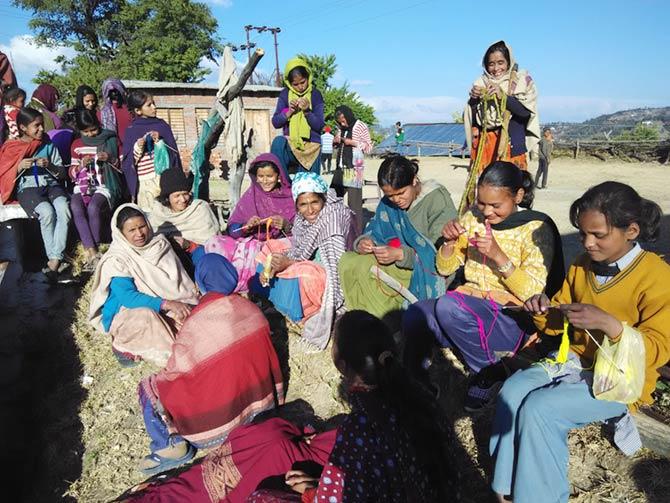 "I live with an old couple here – Madhavanand and Bhagyalakhsmi. Both of them are above 70 years. I have seen the kind of hardships they go through to get the farming done. This year their entire barley cultivation has yielded nothing as rains wreaked havoc. I really wish to bring an end to such suffering. If they have an alternate means of liveliehood or have better marketing for their agricultural products, these hard working people can lead better lives," explains Pratibha.

Most families make just Rs 2,000-3000 a month. Some months they just don't earn anything.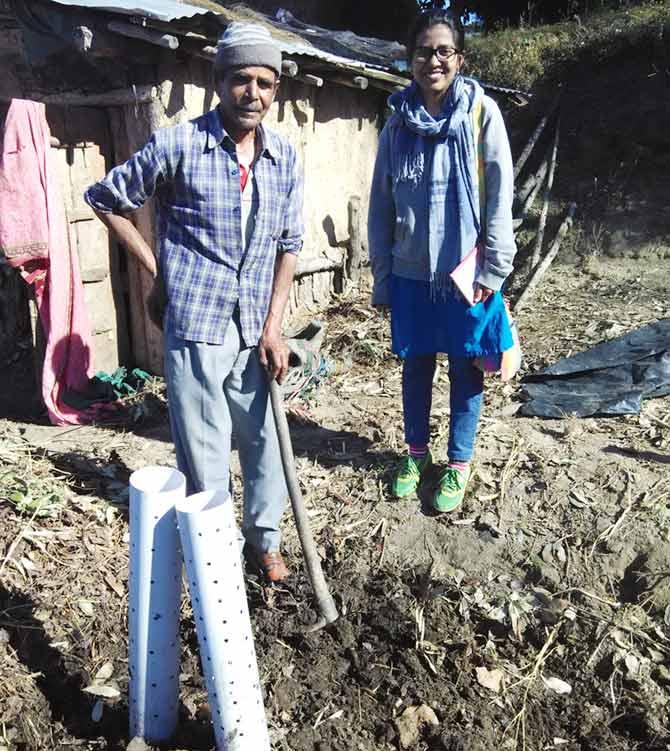 "Organic farming is also good practice here. Unfortunately, even farmers like Mahesh Chander who has been a crusader of organic farming is yet to get a certification for his farm. He has even made organic pesticides with medicinal plants. There is no support from the government to support such dedicated people," says Prathibha who wants to focus on organic farming as well in future.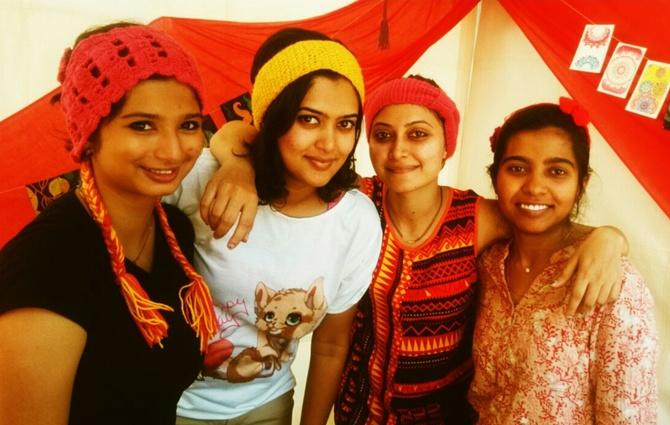 Image: Pratibha with her friends wearing caps made by villagers
Pratibha also plans to starts an organic farm, go back to natural ways of farming and set up model farms. She believes that these are just small steps. But if more people come forward to help in rural development, we can really help people and build a sustainable economy.
If you wish to help Pratibha, you can mail her pratikrish@gmail.com

If you wish to join the movement to bring about a change in rural India or would like to contribute in any way, you can send a mail to shuvajit@youthforindia.org