India is witnessing a radical transformation where highly qualified youngsters are giving up cushy jobs to make a difference in the lives of poor people in rural areas.
Manu A B/Rediff.com tracks the success stories of some of the remarkable people who are working in remote villages to change the profile of rural India.

Earlier stories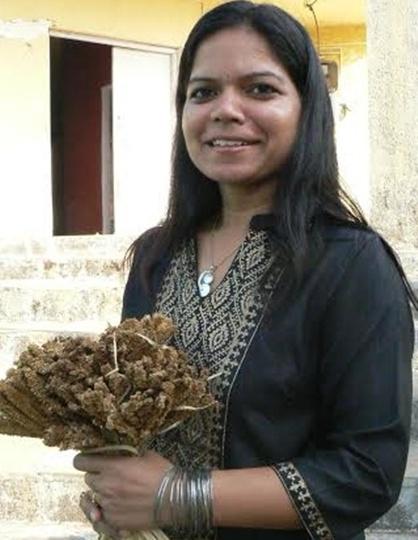 Image: Vandana Maurya with millet stalks.
To the people of Jawhar, a rural tribal hamlet in Thane, situated around 150 kilometers away from Mumbai, she is their own 'Nagli Madam', who has found an indigenous solution for infant malnutrition that has plagued the area for the last 50 years.
In the last nine months, after Vandana Maurya shifted from New Delhi, quitting a flourishing career in a multinational law firm to the impoverished Jawahar, she has been attempting to bring in radical changes in the unhealthy food habits amongst the tribals here, one of the main reasons for the rise in malnutrition cases.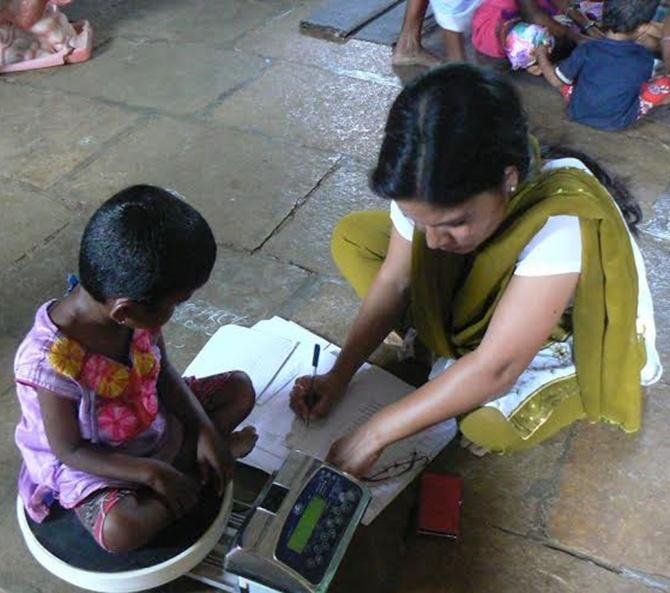 Image: Vandana Maurya checks the weight of a kid at an Anganwadi centre.
She is also trying to find ways and means to pull them out of poverty, by finding a productive occupation in tune with the needs of the urban retail market.
Under her guidance and support, the tribals have already started making finger millet (ragi/nagli) based products, thus adding value to the finger millet crop they have been cultivating for many years in the hillocks here.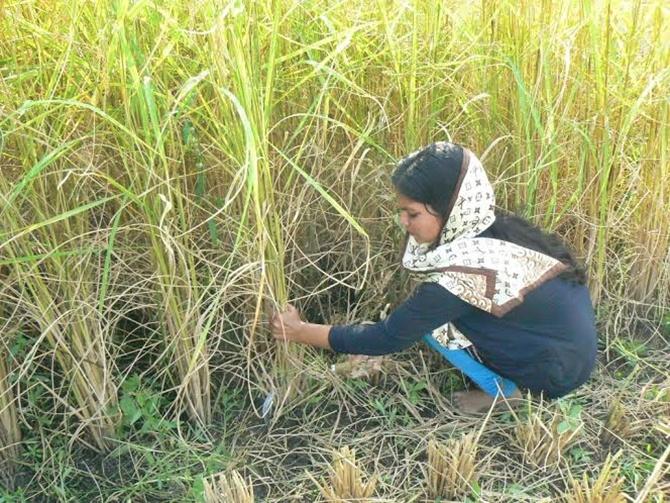 "I always wanted to do social service. Though I had a good salary and all the comforts of a city life, I was not satisfied. I was helping multinational companies who are already doing very well instead of helping the needy. I decided that I needed more satisfaction and that could come only from the social sector," says Vandana.
After working for nearly five years as a biotech researcher in private and government organisations, Vandana Maurya switched over to the IPR field when she got selected as a scientist by the department of science and technology. She then worked with law firm, Techorneys as a patent associate.
Family members initially ridiculed Vandana for deciding to quit a good career and venture into an uncertain world.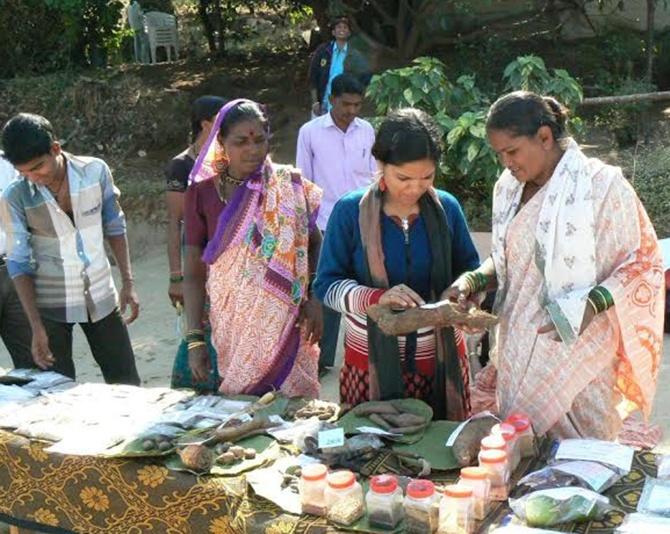 "
Image: Vandana Maurya with villagers during a agro biodiversity exhibition.
They wanted me to focus on getting married instead of killing my prospect to find a good groom. But I listened to my heart and don't regret my decision, says 32-year-old Vandana lamenting over societal pressures.
Even in the villages, people ask her what makes her take up hardships when she could have had a comfortable life. "People are shocked to see that people like me are quitting good jobs to work in villages."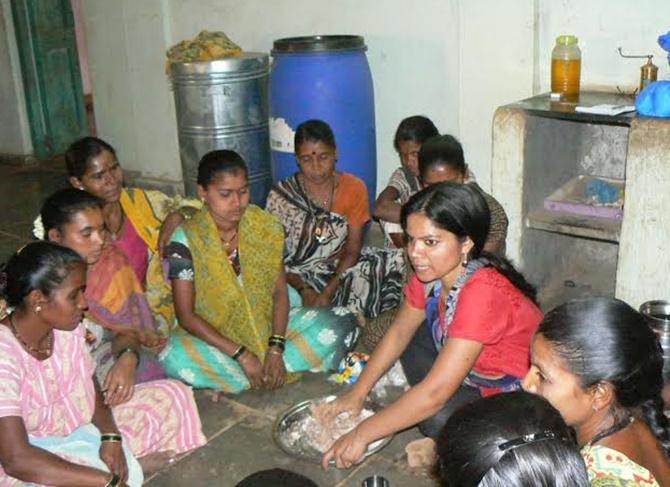 Image: Vandana Maurya trains women on how to make a variety of dishes with ragi.
For Vandana, SBI's Youth for India fellowship was the ideal platform to take the plunge. The 13-month program gives youngsters a good opportunity to work in villages.
It was ironical that despite cultivating finger millet, one of the healthiest cereals, majority of the children in these villages were malnourished.
So she decided to work on improving food habits and diet with finger millet which is readily available in Jawahar region.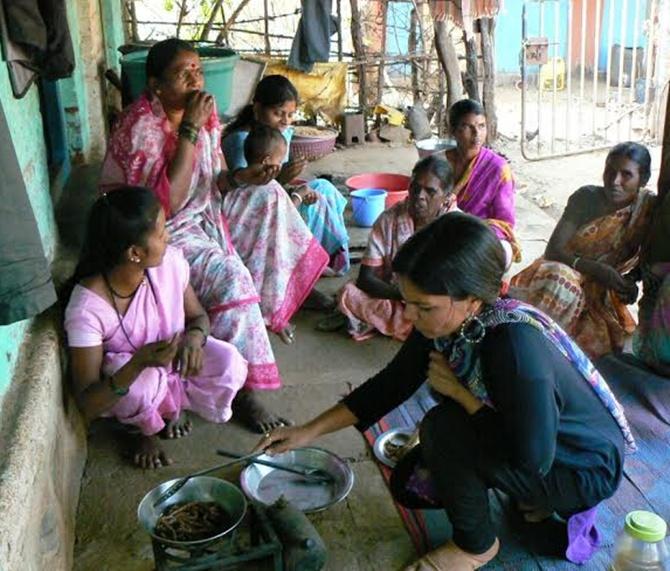 Vandana is also working towards increasing their income by helping them launch value-added products and snacks with finger millet, which is rich in proteins, minerals and amino acids.
A powerhouse of nutrients, it also helps to fight anaemia, cut down cholesterol and diabetes. Despite having several health benefits, finger millet is not as popular as other cereals. Even the methods of cooking this cereal, which can be used unpolished is not known.
"I found that kids in Jawahar were malnourished because they were only fed finger millet in the form of dry chapattis, which is difficult to digest. Simple dietary changes like making nutritious porridge and a variety of other tasty food items like laddos has made a difference," says Vandana.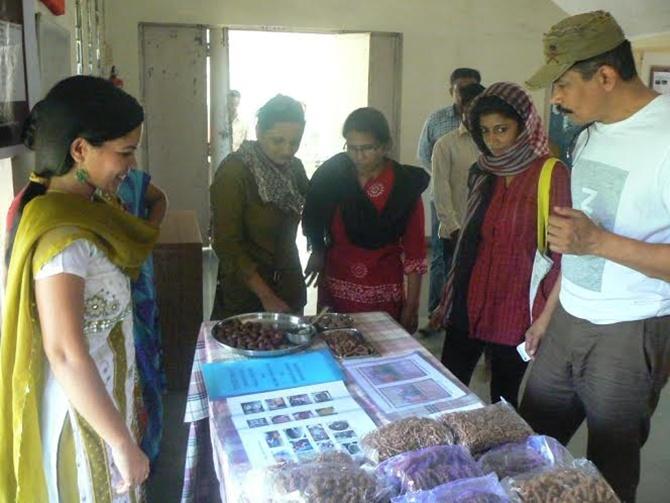 Image: National Award Winner actor Atul Kulkarni at the Millet food festival.
She has been training mothers and self-help groups on how to prepare a variety of dishes with finger millet. Traveling across four villages, Vandana with the support of NGO, BAIF has trained around 150 women. She has conducted various awareness camps, meeting and training 15 self help groups in 4 villages of Jawhar - Nyahale, Jamsar, Dhanoshi and Chowk.
Beside helping them improve the quality of food they eat and feed kids, Vandana is helping self-help groups to make snacks and ready-to-eat products with finger millet and sell it in nearby towns like Nasik and Thane.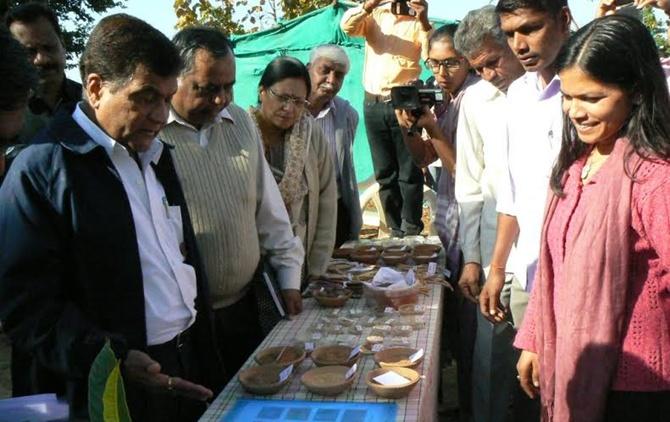 Image: At a Millet Diversity Fair - Dr. Prem N. Mathur (South Asia Coordinator, Bioversity International), Dr. R.R. Hanchinal (Vice-Chancellor, UAS, Dharwad and Chairperson-Protection of Plant Varieties and Farmers' Rights Authority, New Delhi) and Dr. Malavika Dadlani, Joint Director Indian Agricultural Research Institute (IARI).
She also organised Millet Food Festival in Jabalpur and Pune which received a good response.
"Poverty is not the only reason for malnourishment in these villages. I have seen families buy Maggi noodles for kids. It is negligence and ignorance about the value of their products that leads to malnourishment among kids. We have been conducting many awareness camps on the nutritional value of finger millet in rural and urban areas. We have received a positive feedback and they are lot of buyers for these products too," says Vandana.
Vandana who has completed 9 months in the village is now working towards building a market linkage for the products. With the support of BIAF, she plans to train people on packaging and marketing the ready-to-eat products in the nearby markets.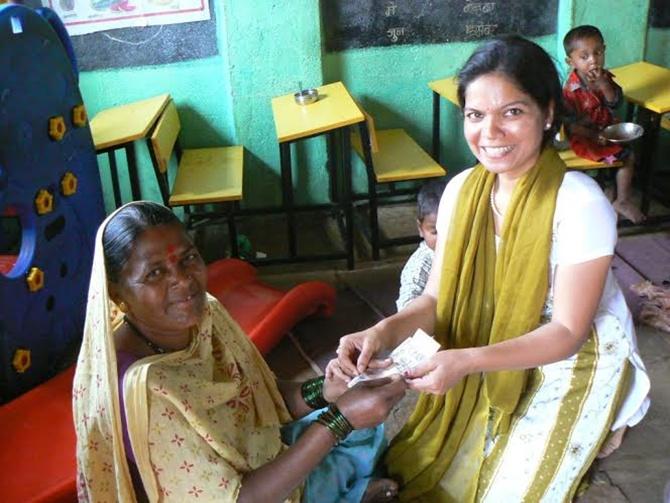 Image: Leelvati Kaku, an efficient member of SHG Indira, Nyahale Village receives money from Vandana
"Ask not what your country can do for you — ask what you can do for your country." John F Kennedy's words always inspired me to do good to people and my country, says Vandana Maurya whose mission now is now to ensure food for all.
"The kind of love and respect the villagers give me is so touching. Leelavati, one of the women I trained was in tears when I handed over money after her group sold finger millet products," says Vandana.
Some mothers have been diligently following her advice and diet that she has prescribed for kids. It is evident when Vandana checks the kids' weight, height and other growth parameter every month. She also carries out surprise checks at homes to find out if the mothers are following the diet plan.
"The most remarkable part is that even if these women don't have enough food at home, they will force you to have food. They are always ready to help and very pleasant despite the adversities," remarks Vandana.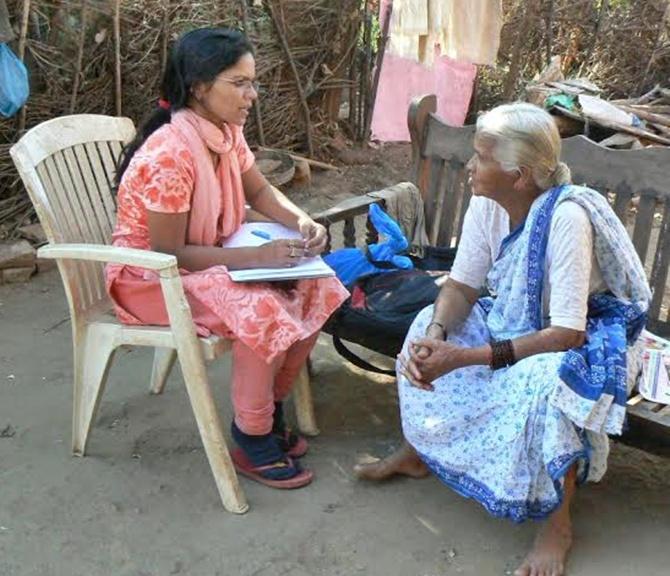 Image: Vimal Patekar Kaku, an inspiration for Vandana
Vandana has been overwhelmed by the hospitality and humbleness of these villagers.
"Vimal Kaku, a 70-year-old is an inspiration for me. Even at this age her zest to learn and take notes on recipes and do hard work is just amazing. The humility and gratitude they show wipes away the difficulties we face," says Vandana who is living her dream everyday. She is happy that her parents too appreciate her work.
Being away from home and lack of transport facilities has been difficult for Vandana. But being a nature lover, she is happy being close to nature, enjoying sun rise, star-lit skies, the most wonderful things which are missing in cities. She feels safe living in the village and unsafe while traveling in cities. A fitness freak, Vandana likes to practice yoga, enjoys trekking and writes poetry.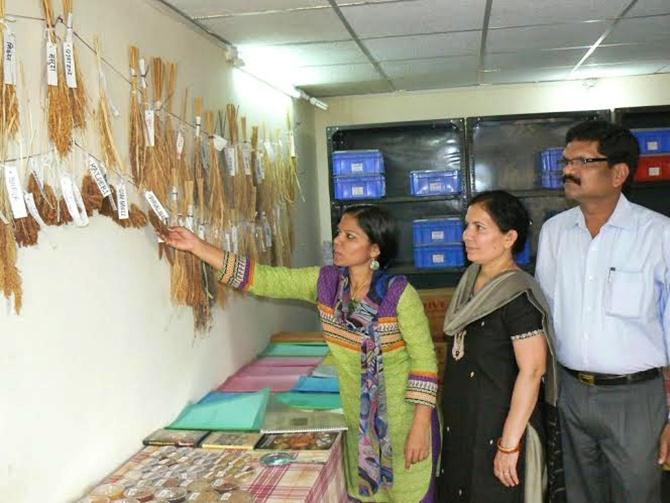 Image: Vandana's parents visited Jawhar
"The SBI fellowship has provided me an opportunity to come out of the 'comfort zone' ideology and a typical working environment. It always keeps me on toes and never have I enjoyed myself so much while working! Everyday there are new challenges, new opportunities for learning and it makes me feel closer to achieving my dream. I consider myself lucky that I am on my journey of satisfaction," says a content Vandana.
After the fellowship, Vandana plans to continue working in enhancing food and nutrition in villages. She also wants to work for people of her own village in Beneras.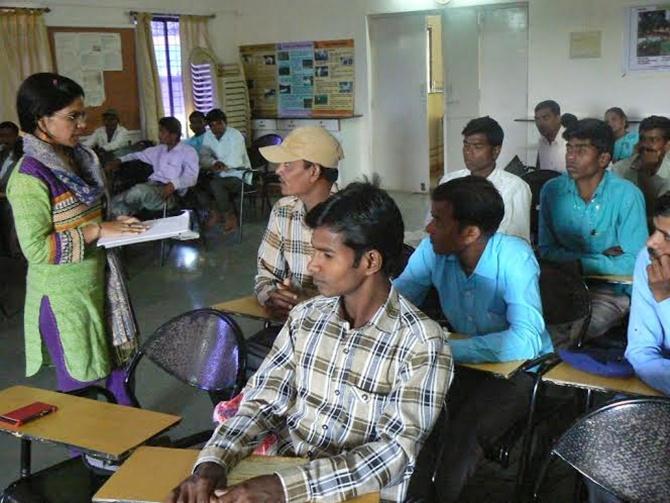 i)
Image: A group discussion with farmers
She hopes more people will come out of their comfort zones and contribute in small ways to help the needy and underprivileged. Once you live in the villages, you can live happily in any part of the world, says Vandana.
"I have made 'Mission Millets' my goal so I will continue to create awareness about millets and its health benefits. My dream is to see that no one goes hungry in our country. So much food is wasted in godowns due to mismanagement, when millions go hungry everyday. After 5 years, I would like to start my own NGO and work with more rigour to ensure people in rural areas too have basic amenities in life," says Vandana.
To know more about Vandana's work, you can mail her vandu1@hotmail.com

If you wish to join the movement to bring about a change in rural India or would like to contribute in any way, you can send a mail to shuvajit@youthforindia.org