India is witnessing a radical transformation where highly qualified youngsters are giving up cushy jobs to make a difference in the lives of poor people in rural areas.
Manu A B/Rediff.com tracks the success stories of some of the remarkable people who are working in remote villages to change the profile of rural India.

Earlier stories
Shalini Krishnan quit a high-paying job to teach tribal students
Shalini Krishnan discovers the amazing talent and creativity of tribal children in Odisha and is working towards honing their skills and ensuring they have a bright future.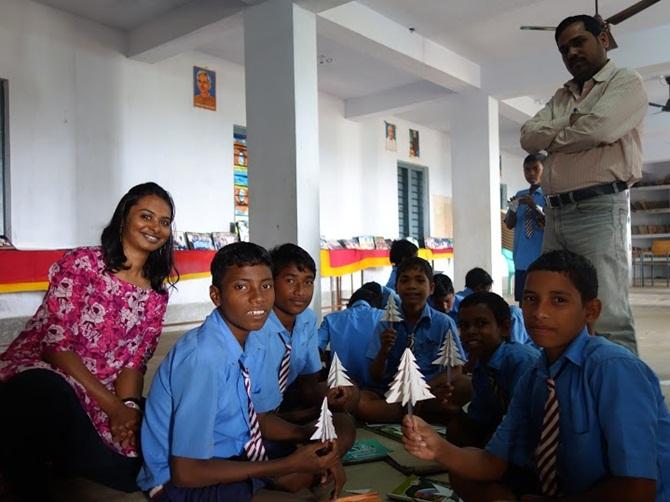 Image: Shalini Krishnan with her students.
An alumnus of the National Institute of Design (Ahmedabad), a computer science graduate, a trained Bharatanatyam dancer and a yoga enthusiast; Shalini Krishnan dons many hats.
What makes her profile remarkable is her passion and resolve to transform the destiny of tribal children in the remote village of Kankia in Ganjam district of Odisha.
Growing up in the metro cities, Shalini Krishnan was always intrigued by life in rural areas.

"I have been touched by the simplicity and warmth of people in the villages. Moreover, rural India has unique offerings like fresh air, natural springs and most importantly inspiring stories, which were missing in my city life," says Shalini.
After working for 7 years as a user experience designer in MNCs like Adobe, Cisco and Honeywell, 33-year-old Shalini realised that it is time to give back to the society.
The transition for Shalini was not easy as initially her parents and family members were not supportive. They felt she could contribute to the society only after she is financially stable. This stereotypical perspective was a challenge in the initial stage. However, the constant support and encouragement from her husband made her go ahead with confidence.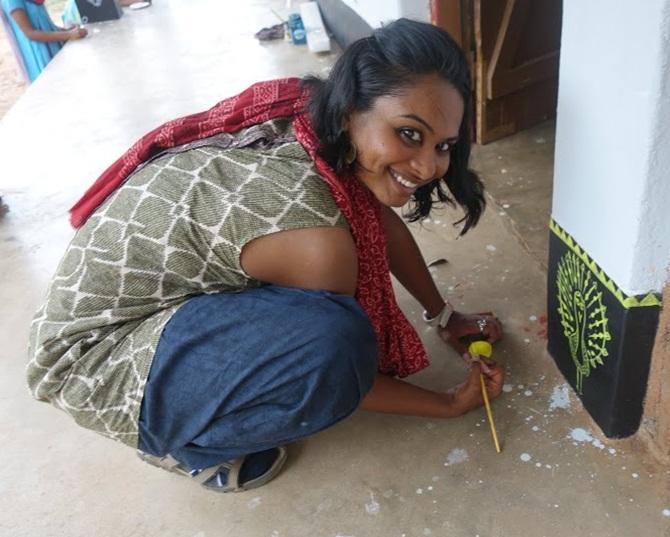 Image: Shalini Krishnan decking up the design lab with bright colours.
"I was always intrigued by the development sector. I had been taking up social causes and contributing in my small ways, but I felt it was not enough. As I was exploring options to work in the development sector, I came across a video of Shuvajit Payne, a SBI Fellow, who had quit his job and was teaching spoken English to children in a remote village. That was the first trigger that really inspired me to take a decisive step forward and apply for SBI's fellowship program to implement my ideas in the education sector. The best part about the fellowship is that it gives us the freedom to formulate our own projects," says Shalini who has completed 6 months of the fellowship in the Kankia school.
State Bank of India offers a 13-month fellowship for youngsters who wish to work for the upliftment of rural India.
For Shalini who was brimming with ideas, it was an exciting journey ahead to fulfil her long cherished dream.
After a three and half hour drive from Bhubneshwar, Shalini reached the NGO, Gram Vikas' campus in Mohuda village. So many ideas were passing her mind as she was passing through those villages. The drive through the darkness was taking too long and she couldn't wait to reach the village.
"The first thing I remember after reaching the village is the starry sky, a beautiful sight that most of us miss in the cities these days. The next day we went to the school. I was amazed to see the artistic abilities of the tribal kids in the school run by Gram Vikas," says Shalini.
The residential school in Kankia village has 496 tribal students who study from grade 3 to 10. Most of these students hail from very poor families of the various tribal communities across different parts of Odisha. A majority of the families are able to send just one of their children to this school for quality education as they cannot afford the annual fee of Rs 1,000 for all their children. The other children are forced to work in the fields and support the family.
Shalini found the students to be among the brightest in the country. Unfortunately, there were no regular classes or training sessions to nurture their innate creativity despite being so talented.
"They are so talented, imaginative, creative and eager to learn new things and yet there was no curriculum to develop their potential and no platform to showcase their talent. With their artistic and analytical capabilities, they have the potential to become great artists and designers," explains Shalini in admiration.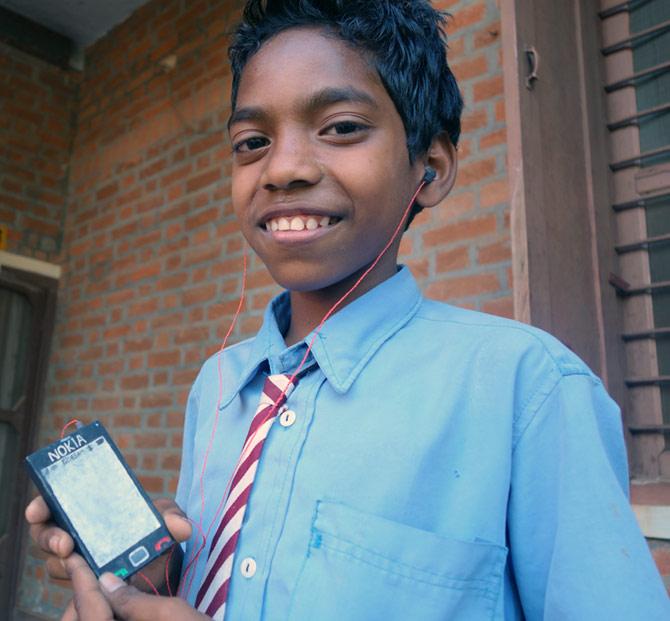 Image: Jasman (left) with Shalini Krishnan and other students
Among the children, 12-year-old Jasman Gomango's capabilities are outstanding. Recently, he made a mockup model of an of a Nokia mobile phone, which looked like an exact replica of the phone with a sliding back and slots for a battery, sim card and memory card. It even has a set of ear plugs with a socket pin made with strings and a ball point pen nib. Jasman used cardboard, papers, glue and other materials he could find from his surroundings to create this piece. He coloured the phone so as to match the actual phone perfectly. He has an exceptional ability to learn and express his creativity.
"Another 12-year-old boy, Prashant painted a picture and I couldn't believe that such a young boy could even think of this idea. His extraordinary painting captured an out-of-the-blue thought popularly called the The Droste effect in art where a picture appears within itself. I am sure few kids of his age have this kind of imagination and creativity," explains Shalini with enthusiasm.
Shalini made up her mind to devise a learning framework based on her observations - IEA – Imagine, Explore, Act - to teach them finer aspects of creative thought and train them to bring out their true potential. She felt that if given a chance to let them explore their own ideas and motivate them to excel, they have a bright future ahead.
She initiated Kalpanadham, a design and creativity studio space for these bright students to build their imagination, improve their capability to explore ideas, develop their problem solving and analytical skills.
"The school does not have Internet facility. The access to Internet will definitely widen the scope for these young minds. Also, if they are provided an opportunity to dabble with different kinds of locally available materials and new mediums like electronics and touch devices, these kids can do wonders," believes Shalini who has been spending long hours designing a creativity building curriculum for them.
At present, she is training roughly 20 students and 2 teachers on various aspects of design. She is also planning to talk to state officials to make art and design a part of the curriculum.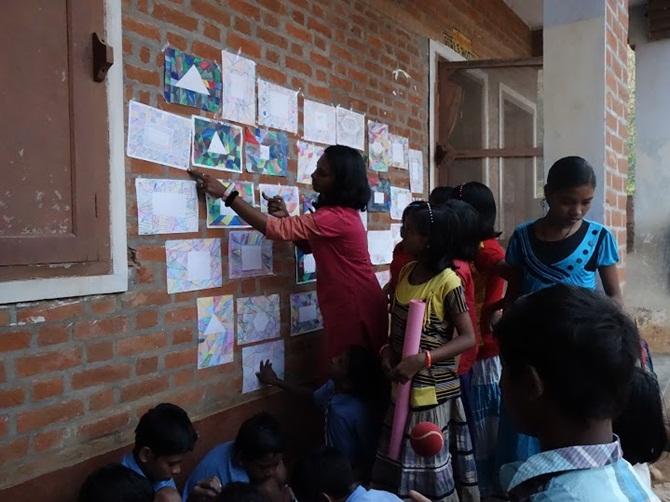 "I plan to connect the school with prestigious art, design and engineering institutes of Odisha and India so as to provide periodic mentorship and guidance to some of the identified students. The children have enthusiastically participated in giving shape to the design studio. The unique part about these children is their myriad set of capabilities - be it a laborious task or engaging in the act of creating a painting...We need financial support to make proper arrangements in the studio space starting from the very basics like - lighting, fan, storage, working tables and stools. Learning Odiya has been a challenge for me. So I use a mix of Odiya, Hindi and visuals to communicate with the children. They are so open and eager to learn that they pick up things very fast, especially information communicated visually. Videos too have been a powerful medium of information dissemination," explains Shalini.
Given the right opportunity, Shalini believes that these tribal children can make a huge impact in terms of designing and building their own indigenous products to probably solve their own problems as well.

Another advantage these students have is that they live closer to nature and as a result they have no hesitation in doing work like - cutting bamboos, gardening or using tools that are otherwise considered dangerous and tough for children. Steering them to think differently and preparing them to face life's big challenges is very important.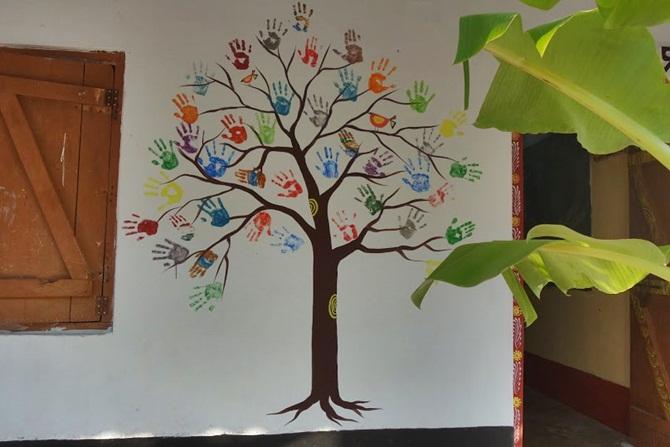 One of the teachers in the school even suggested that the school can now organize district level competitions. The design studio is already giving them hope to work and start thinking big and connect with the surrounding communities." says Shalini.
Shalini is in touch with established artisans in Odisha, other NGOs and educationists to participate in building an ecosystem to train, mentor and nurture the talent of these young minds.
Most of the students drop out of school after 10th grade as the plus-two syllabus is in English medium. It is very difficult for these students to cope up with the language change.
"I would like to work on this aspect as to how we can minimise the impact of a language barrier so that more children can go for further education. Another brilliant student in the school is Lakshmi. When I told her about pursuing her education after tenth, she said there is no way her parents can afford to educate her after tenth but she will make sure both her siblings study up to graduation," says Shalini who was overwhelmed by the child's response.
Image: Lakshmi painting the door of the classroom.
She plans to ensure that Lakshmi too continues to study and gets a good future. And it's not just Lakshmi, there are hundreds of talented tribal children who have never got the opportunity to join any school.
"I dream of a day when my students – Jasman, Prashant and Lakshmi - many other talented kids from the remote tribal villages realize their true potential and become out-of-the-box thinkers - engineers, designers, artists, doctors, sportspersons, who are not afraid to explore, are confident to take the path less travelled, bring a positive impact to the communities they come from and most of all have the freedom to make a choice about their lives," says Shalini.
Shalini hopes to make a difference in their lives by continuing to work in developing the education infrastructure in remote villages.
Image: Founder of Gram Vikas, Joe Madiath getting his hand painted at the school.
I believe our country is currently going through one of the incredibly rare times in the history, where it is craving for a large scale impact - and if we do not focus on this need and try to bridge the social and economic disparity, the social unrest would increase and severely affect all sections of the society," she remarks.

"In today's fast paced life, we have become habituated to run away from issues and ignore our societal problems expecting others to take care of them. I think the first step would be to bring a small revolution in our own minds and take the ownership and figure out how "I" as an individual can have a positive contribution. Transformation begins from within you!", Shalini says exhorting youngsters to positive steps in building a better India.
If you would like to support Shalini Krishnan's initiative of building a design lab for tribal students, you can mail her at shal.krish@gmail.com
If you wish to join the movement to bring about a change in rural India, you can send a mail to shuvajit@youthforindia.org