India is witnessing a radical transformation where highly qualified youngsters are giving up cushy jobs to make a difference in the lives of poor people in rural areas.
Manu A B/Rediff.com tracks the success stories of some of the remarkable people who are working in remote villages to change the profile of rural India.

Lighting up lives in rural India


"I dream of rural India where every village will become a self-sufficient entity, every village will have inspiring teachers and are developed in terms of social happiness," says Shuvajit Payne, narrating his life changing experience of working in rural India.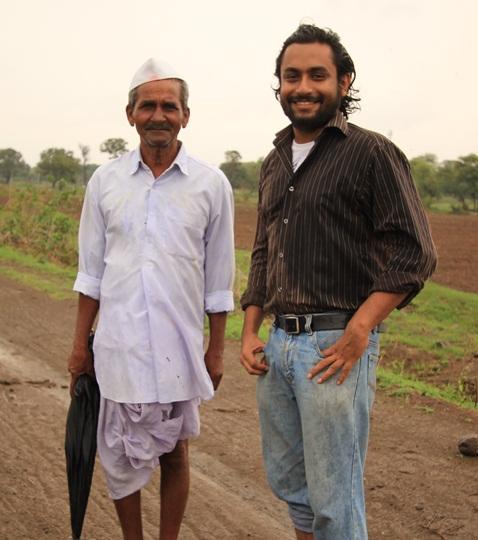 Image: Shuvajit Payne with a villager.
He had a dream job with IBM in London, owned high-tech gadgets, went on foreign trips and had all the luxuries a 27-year-old could possibly imagine.
But after working for four years, Shuvajit Payne decided that this was not what he wanted to live for. He wanted to do something meaningful in life rather than making a multinational company richer!
Though Shuvajit did not have a concrete plan in mind, he was confident of making a difference in the lives of the people in rural India.
Shuvajit Payne graduated in economics from the Presidency College, Kolkata. He then did MBA from Indian Institute of Management, Lucknow in finance and marketing and went abroad like many of his peers.
"It was a tough decision to quit the job and leave London. But I was convinced that I should not be wasting my time in the corporate world. I always felt I was born to do good, work for a larger cause," says Shuvajit.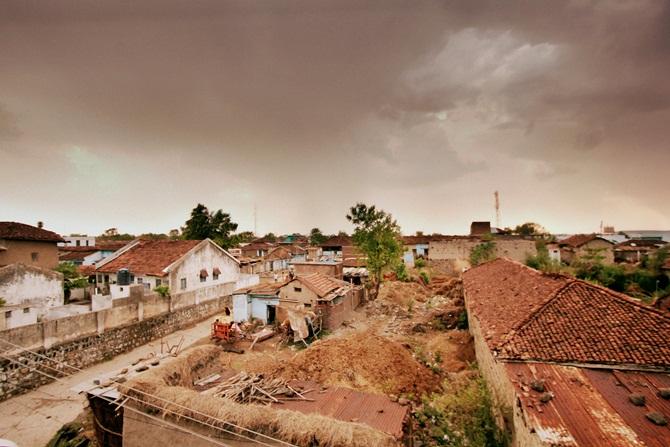 Image: Waifad village where Shuvajit Payne started work.
Bracing stiff resistance from parents, society and of course friends, Shuvajit moved ahead in his pursuit to build a better India. "My parents were worried how I could live without a stable income and that too in remote villages without any basic facilities. I could not convince them initially. When everyone questioned me, I did not have concrete answers," says Shuvajit.
He knew he had to work in rural India, helping thousands of people who are talented but can't join the mainstream due to lack of training and proper resources. Fortunately, a friend suggested that State Bank of India's Youth for India program would be an ideal platform to take the plunge.
Supported by SBI, the 13-month long programme gives an opportunity to youngsters to work on rural development projects with experienced non-government organisations. They are provided with a stipend and connected with NGOs to work towards building solutions to help people, who don't even have access to basic facilities.
Presently, 54 fellows are working on a number of projects at 35 villages in 10 states – Karnataka, Tamil Nadu, Kerala, Maharastra, Gujarat, Uttarakhand, Orissa, Rajasthan, Madhya Pradesh and Jharkhand. SBI Fellows can either choose to work on an existing project of a partner NGO or start a new project.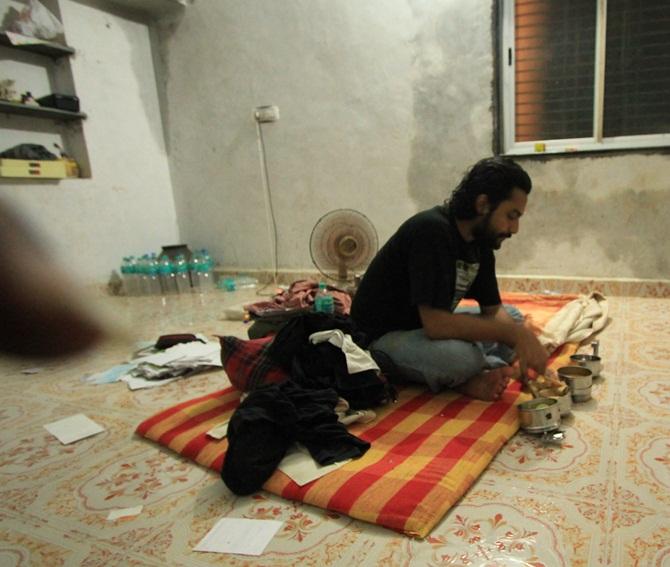 Image: Shuvajit Payne at his modest room in the village.
The fellowship was the right platform and an eye opener for Shuvajit. After the basic training, he was posted to a village called Waifad in Wardha district of Maharashtra.
"My first day at the village was scary. It was a drastic change of lifestyle for me. There was no proper accommodation… I thought I would go back to Wardha and stay there till some arrangement was made but I was told that it was not easy to get a place to stay on a rental basis so soon. But the saving grace was a computer centre that was set up in a broken haveli. I was allowed to stay at this centre. So all I had with me was a bag, a laptop and a chatai (mat). There were so many infrastructural issues in the village, worst being power cuts and no Internet connection at times, which meant I was cut off from the outside world. But despite the initial teething problems, I got adjusted to the new life within a month and I enjoyed every moment of it," Shuvajit recollects heartily.
Living at the computer centre turned out to be a big advantage for Shuvajit. It was a place frequented by villagers so it helped him build a rapport with them instantly. Though initially they laughed at him and were reluctant to talk and share their woes, the ice melted very soon.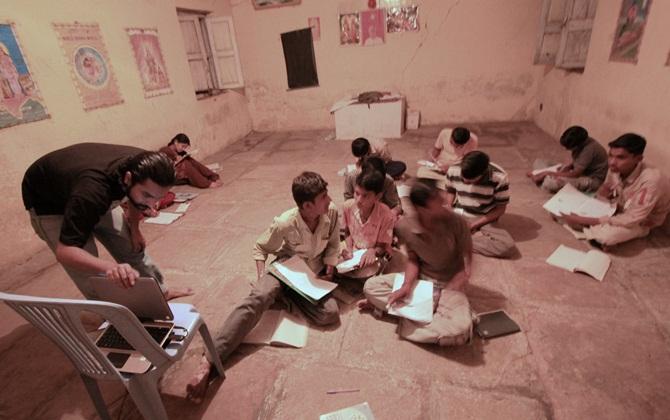 Image: Shuvajit Payne teaches students in the village.
Since the Vidarbha region was prone to farmer suicides, people wanted to move out of villages in search of greener pastures. The worst part in these villages was the bad quality of education and lack of facilities to hone their skills.
"No one wants to become a farmer. The young generation wants to flee from the villages. But this is not a bad move. Agriculture in India requires huge investment. If 2 or 3 children from a family get better jobs, they can plough their income back to farming. So it is very important that they find good jobs," explains Suvajit.
Shuvajit started off by teaching English to children in the village. He found that there were many students who knew the subjects but language was a huge barrier. He trained about 300 students in interesting ways. Around 50 of them emerged successful after the training.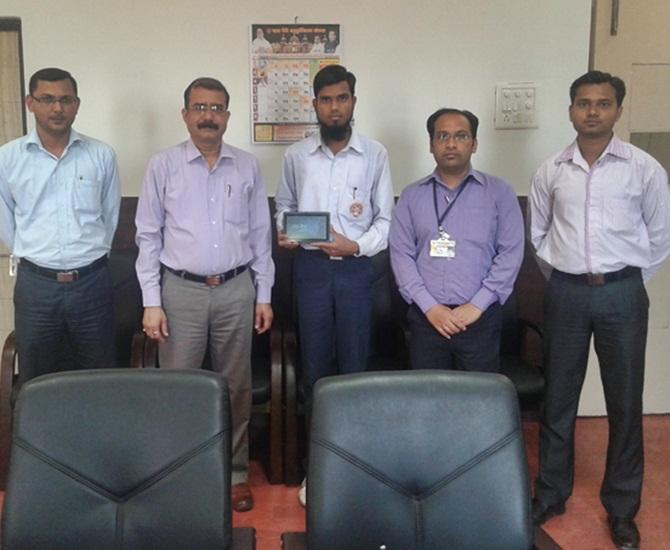 Image:
Dildar Khan Pathan (centre) with Dr S P Untawale, Assistant Prof. S U Balvir, Prof. Bhujade, Prof. Satpute (L to R).
.
Shuvajit spent a lot of time teaching English, computer skills, building confidence and offering career counseling. Among these students, Dildar Khan Pathan's case is worth mentioning.
"Pathan was very enthusiastic about learning but was struggling with scarce resources. Seeing his eagerness to code, I suggested that he build an app that could be a shared platform for educational material. The application idea was recognised at the India-wide Aakash Software Development competition, organised by IIT Bombay in 2013. It's such a great feeling to see that he is today a software developer."


Image: Rasika, one of Shuvajit's students.
Shuvajit also worked with NGOs for setting up vocational training centres for villagers, where they are trained in activities like carpentry, mobile phone repair etc.
Another success story came from a young girl named Rasika. Despite no support from parents who kept dumping household chores on her and asked her to quit studies, Rasika was determined to study hard and come out victorious.
"One evening during a power cut, she even dared to come to my place as she needed help for her exams. I could see so much determination and perseverance in her. She went to the extent of risking her life to study. It did pay off well. She is today an animator and works with the MS Swaminathan Foundation," says Shuvajit who still keeps in touch with over 50 students he had trained during his first year of the SBI fellowship.
Shuvajit initiated publication of a local career information book to assist students. He also helped in starting community polytechnic courses in Waifad village resource centre.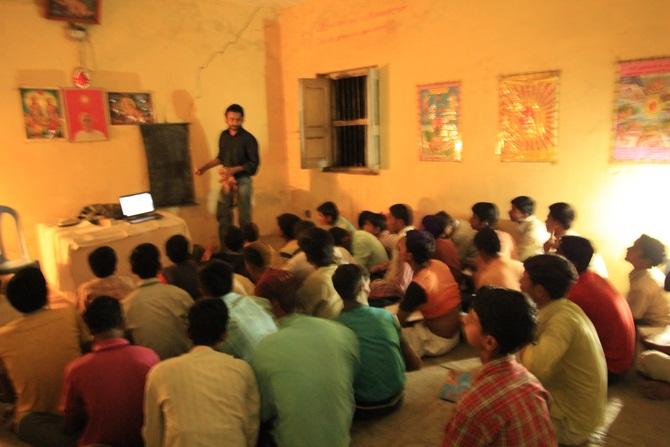 Image: Shuvajit Payne with his students.
After the fellowship, he worked as the programme director, Monitoring & Evaluation, Reliance Foundation (Information Services) in the core strategic team that implemented a project to empower the rural masses with critical livelihood-related information. "Incidentally, I continued to work in the same locations as in the fellowship. Although this was an India-wide project, brief visits to the locations resulted in continuing relationships with the people in those villages, he says.
Development is not just about building bridges, flyovers and other facilities. Optimal utilisation of resources will be the key to success, he feels. "There are schools in villages but no teachers. If there are teachers, then they don't come to work. Instead of doling out freebies, the government should make people accountable for work," he says.
Shuvajit was called back to the SBI Youth for India to work as its program manager, broadening his scope to work on rural projects.
According to Shuvajit, beside the problems of poverty, a big drawback is that these communities are largely disconnected from the mainstream.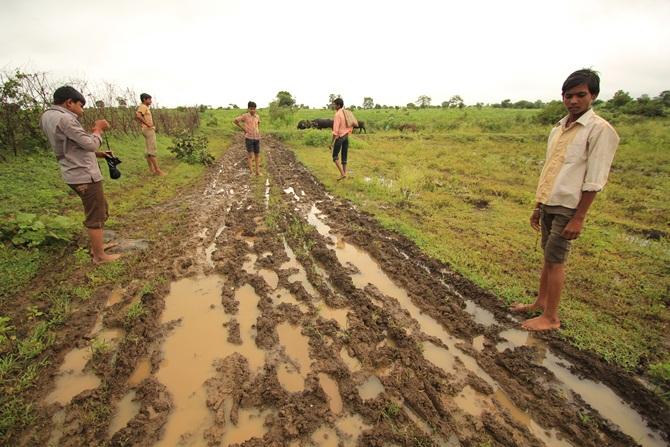 Image: Road to the Waifad village.
"In the villages from the time that I was there and 3 years later, telecom connectivity has increased in leaps and bounds, and smartphone penetration has substantially increased. Information is more accessible, removing unnecessary middlemen and agents, bringing transparency, making civic life easier and leading to larger participation of these communities in governance, thus increasing chances of a more inclusive growth. There are risks - translation of information, capacity building in the area of handling secure information - but largely I foresee a sea change in the rural lifestyle in the coming years, much like how urban lifestyle has changed in India in the last two decades. Education and access to healthcare will see the major impact of this improvement in connectivity, he explains.
But Shuvajit feels on the livelihood side, the picture is grim.
"The big blocker is the high pressure of population on land and the dependency of agriculture on rain makes it a gamble. Now, with labour intensive techniques, only a limited amount of productivity is possible. Technology investment is required to bring in alternate irrigation methods. So, unless the pressure of population on the land reduces, there won't be much scope of a remarkable rise in productivity. For this, people need to move out to other sectors, make money and plough it back to technological investments on the farms to gradually make them profitable. This has already started happening, but given that 'others jobs' are mostly in cities, it will take years to accommodate a significant chunk of the population in other sectors. So I don't see much improvement in livelihoods happening in the coming two decades. One way out, is to increase jobs in other sectors in a decentralised manner."
Currently, as program manager of SBI Youth for India, Shuvajit ensures the fellowship program runs smoothly. He works with the SBI Fellows, trying to take his life changing experience to a larger group.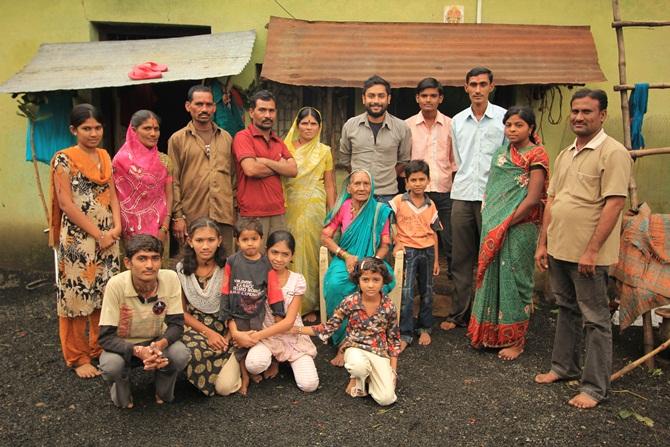 Image: Shuvajit Payne with the family of one of his students.
The first batch of SBI's Youth for India program had 27 people. The second year saw the number double to 54. This year, the project will be scaled up to add 100 fellows.
"Though more people take up projects, some are forced to drop out due to parental pressure. Parents feel that it's not safe to let their children work in such remote areas. Financial security is another aspect that worries people who would like to take up fellowships. But earning money does not necessarily give one the happiness and satisfaction that one gets from helping people," Shuvajit points out.
He takes immense pride in his new role. His parents who questioned his move, are now happy with his work and achievements over the last 4 years.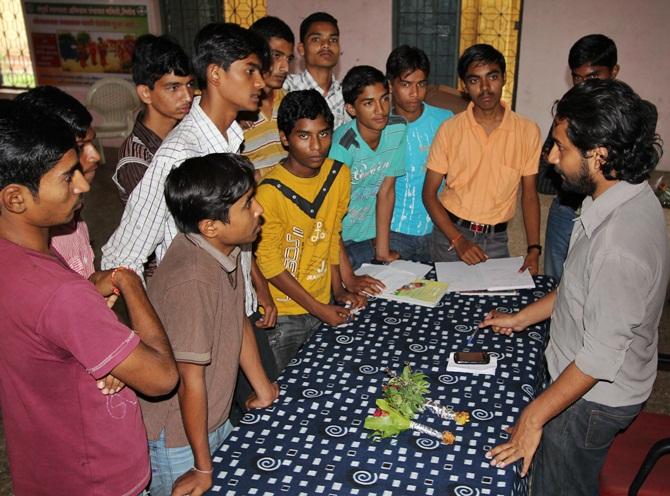 Image: Shuvajit plans to make education

creative and interesting in rural areas.



Shuvajit has big ambitions of building up the education infrastructure in rural areas. After his stint at SBI, he plans to work on making education easily accessible across remote villages. He plans to make learning a creative and interesting process thereby attracting more students.
"In the education sector, there has been tremendous initiative in the area of localised curriculum building. With rising Internet connectivity, making education accessible to larger audience has also become much easier. The government has opened schools in almost all villages but the teachers don't inspire students. To move from forced rote learning to real learning, there needs to be a human interface who would motivate students. My effort will be to bring inspiring teachers back into the system," he says confidently.
Overwhelmed by the affection of villagers, Shuvajit says,"I really love the person I have become. The warmth and love that you get from the villagers is a prized possession. These four years have been a life changing experience for me. I hope many youngsters come forward and sincerely join this mission to make a big difference in the lives of thousands of villagers. The happiness, satisfaction and sense of achievement, this job gives is irreplaceable, explains Shuvajit as he continues to live his dream of building a better India.
If you wish to join the movement to bring about a change in rural India or would like to contribute in any way, you can write to Shuvajit at shuvajit@youthforindia.org
Photographs, courtesy: Shuvajit Payne