India is witnessing a radical transformation where highly qualified youngsters are giving up cushy jobs to make a difference in the lives of poor people in rural areas.
Manu A B/Rediff.com tracks the success stories of some of the remarkable people who are working in remote villages to change the profile of rural India.

Earlier stories

Every evening when the lights glow in the huts of Gangapur village, the villagers thank two young men - Ajay Kumar and Somil Daga.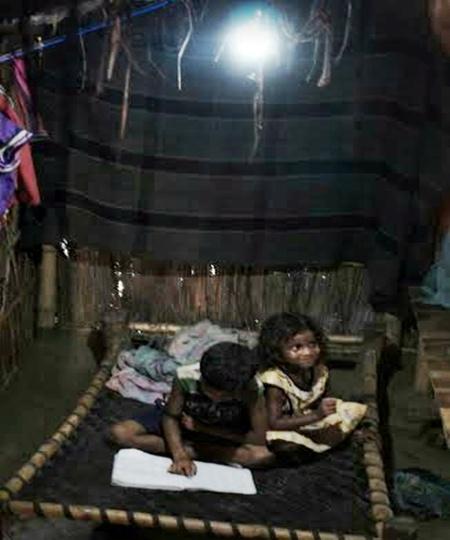 Image: Solar lights help children study in Gangapur
For 35 poor families of the Musahar community from Gangapur village in Samastipur district of Bihar, Ajay and Somil are visionaries who literally shed light into their lives.
Till these youngsters arrived in Gangapur with their out-of–the-box solar-powered electrification project, the villagers were forced to live in an era of darkness, their children were afflicted with eye sight problems due to the stress and strain caused by long exposure to the flickering kerosene lamps.
When it rained the entire village plunged into darkness for weeks as even the lamps turned damp and stopped flickering altogether.

Even for basic things like charging mobile phones, the villagers were forced to walk a good 5 kilometres to the nearest grocery store, which charged them Rs 5 for charging the phone once.
When 23-year-old Ajay and 24-year-old Somil approached them initially, the villagers couldn't believe that these two youngsters could bring electricity to their village without setting up a thermal or hydro electric project.
The villagers had by the time given up hope as the government had turned their back even after they petitioned many times to provide electricity to their village.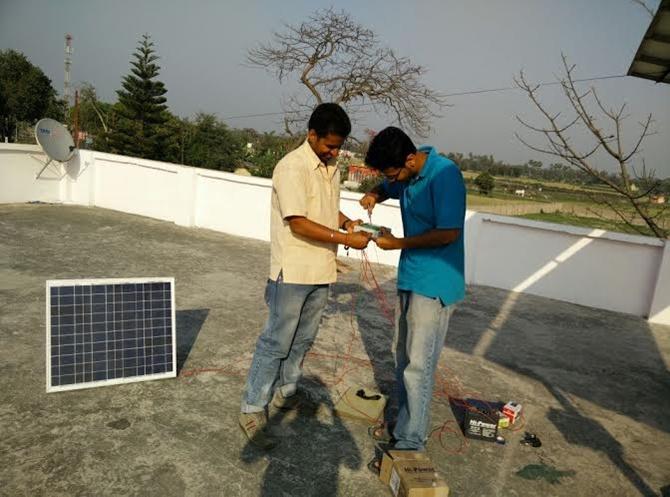 Image: Ajay Kumar (L) and Somil Doga at work.
"They were initially skeptical of the idea of bringing light to their households using sun as a source of power. The toughest part was getting the consent from villagers,'' says Ajay Kumar, an electrical engineer from Kalinga Institute of Industrial Technology, Bhubneshwar.
It took three months to convince villagers to agree for the project. "They could not believe that electricity could be generated by setting up solar panels. It was something they had never heard of so it was difficult to make them understand," he says.
For Ajay Kumar and Somil Doga, SBI's Youth for India fellowship, provided a unique opportunity to work on a rural development project for a period of 13 months. They have completed 9 months now.

Somil who did his mechanical engineering from Vellore Institute of Technology also gave up good job offers to join SBI's program.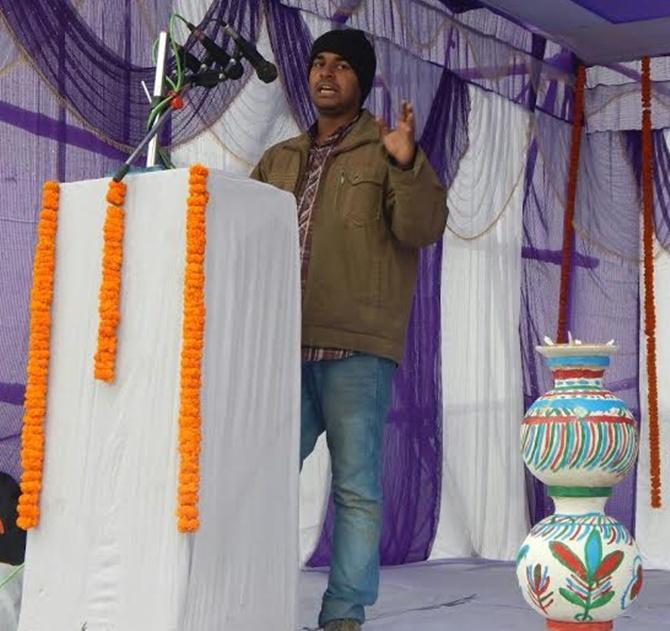 Image: Ajay Kumar has filed a patent for this innovative and cheap solar power generation system.
Sharing a common passion, they decided to work together in bringing electricity in Gangapur.
It was the first time that Ajay was living in a village. It was a totally different life altogether. He too faced problems initially just as anyone new to a village.

Village life was difficult and at the same time a great learning experience. He decided to cook himself as the food they got from the small dhabas was not good enough. "At home, everything was taken care of. I never entered the kitchen but now I am an expert cook too," says Ajay in a lighter vein.
For people in Gangapur - who worked in brick kilns and as daily wage labourers – there was no hope of a better life.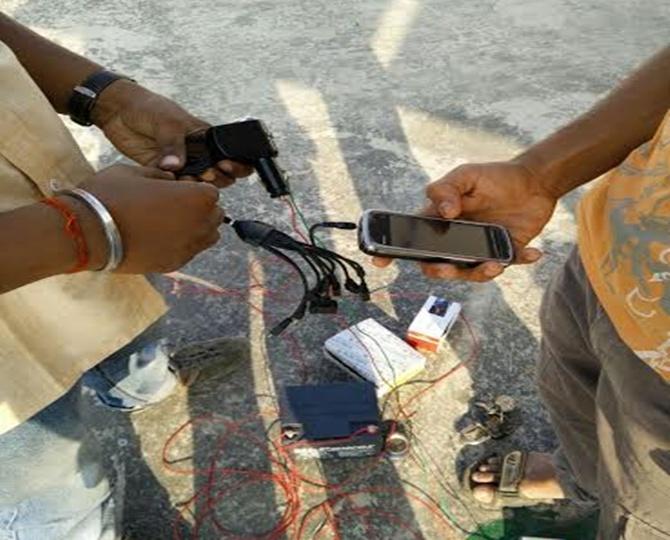 Once the villagers agreed for an alternative solution to light up their village, Ajay and Somil worked on building a low-cost decentralised solar lighting solution. The nearest town to procure the raw materials was 30 kilometers away. So for everything, they had to travel to town, which again took time.
"During one foggy winter morning, I was riding the bike to the village. Unfortunately, I skidded and fell off the bike. But the timely help from villagers helped me and I escaped with just minor bruises,'' says Ajay.
Raising funds was not too difficult. "Fortunately, we were able to raise Rs 80,000 through crowd funding to buy the panels, batteries and wiring materials. It took about 3 months to build and install the system to charge mobile phones and get electricity in all the houses. Currently, all the houses have 1-2 led lights. We have installed a mobile charging system as well. It saves them money and time as drudgery of walking to get the phone charged is gone. We have also worked out an arrangement where each family has agreed to pay Rs 40 every month towards the maintenance of the system. This money will be collected and deposited in a bank," explains Ajay.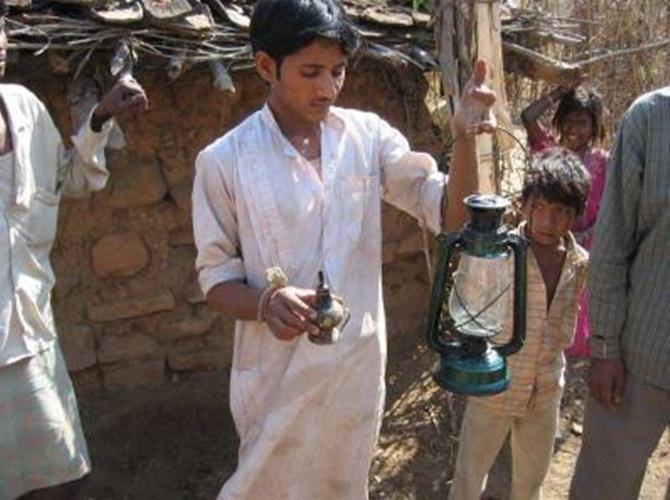 While Ajay Kumar designed the solar panel model for electrification, Somil helped him with the installation. Once work started in the village, anxious villagers gathered around Ajay and Somil, curious to know what is going on and how the systems will work. There had innumerable questions too. It was heartening to see their reaction, their warmth and friendly nature made work easier for the duo. Even when lights were placed inside the houses, there was a sense of excitement and doubt in the minds of the people. Finally, when they saw the houses lit up, their joy knew no bounds. It was indeed a dream come true. Ajay and Somil were overwhelmed by their compliments. Meanwhile, Ajay has also filed a patent for this innovative and cheap solar power generation system. Within 30-40 years, we will run out of conventional fuels to generate electricity. It's high time we switched to alternative methods that are safer, cheaper and long lasting. Even in urban areas, people must build alternative solar energy systems for electricity," advises Ajay.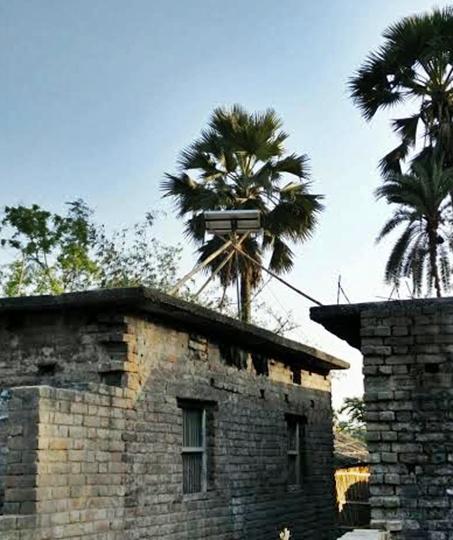 It costs Rs 8,000 to set up a solar-powered system that can light up 6 LED lights which can run for about 10 hours. The same system can also power 4 lights and 1 fan.
During his spare time, Ajay also managed to teach students at nearby schools. "Though the children are smart and keen to learn, these schools lack good teachers. Quality education is very essential so that they can also come up in life. Early marriages are also big issue here. I hope more young people will take up rural development projects and make a difference in the lives of millions of people who deserve a better life. It is not as difficult as it seems to be. We all have the ability to adjust and adapt," explains Ajay.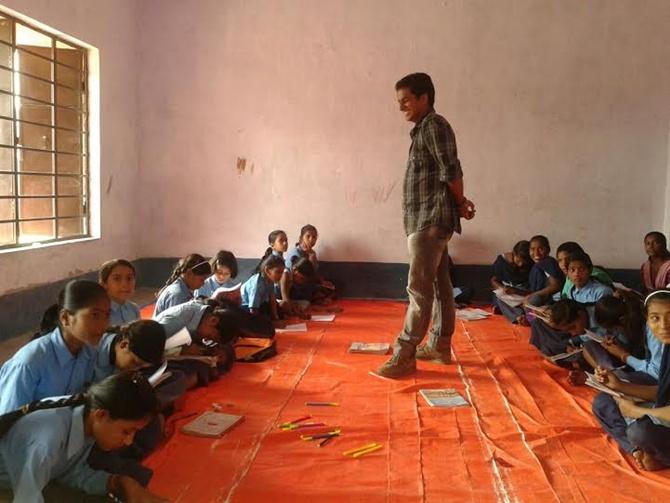 Ajay Kumar and Somil Daga believe in Mahatma Gandhi's words, "The future of India lies in the villages."
They wanted to bring light to around 40 per cent of India's villages which still do no have electricity.
It is not a difficult task. Just like we brought electricity to Gangapur, we can light up other villages across the country," says Ajay, almost sounding like a visionary.
To know more about Ajay's work, you can mail him at ajay.ansha002@gmail.com
If you wish to join the movement to bring about a change in rural India or would like to contribute in any way, you can send a mail to shuvajit@youthforindia.org