Buying a used vehicle is a lot more complicated.
Not only do you have to worry about its condition, you also have to think about whether the price you are offering is anywhere close to its true value, reveals Sanjay Kumar Singh.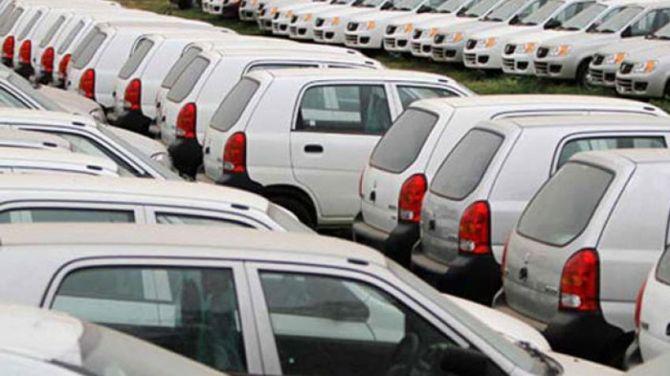 Since the lifting of the lockdowns, there has been an upsurge in the demand for used vehicles.
People are wary of using public transportation and other shared means of mobility.
With the lockdowns playing havoc with incomes, prospective buyers have slashed their budgets.
While many are settling for less expensive models of new cars, others have pivoted towards pre-owned ones.
But buying a used vehicle is not as simple as purchasing a new one.
In case of the latter, you select the company and model, choose the financier, haggle a bit over price (and for freebies) with the dealer, and then hand over the down payment.
Buying a used vehicle is a lot more complicated.
Not only do you have to worry about its condition, you also have to think about whether the price you are offering is anywhere close to its true value.
Choosing the right category
A variety of factors come into play when you are deciding whether to go for a hatchback, a sedan or an SUV.
The starting point, of course, is the budget.
Make up your mind about how much you want to shell out for the vehicle and that will narrow down the field considerably.
If you are going to drive yourself to office each day, the distance is not very long, and you want to keep a tight leash on your transportation costs, you may well opt for a hatchback.
Hatchbacks are also suitable for those who are buying a second vehicle that will be used mostly by the staff to run errands, or to drive the children to a coaching institute or to tennis lessons.
A smaller vehicle is also convenient to navigate on crowded roads and is easier to park.
Someone older, who is going to employ a chauffeur, and is also more status conscious, may well opt for a sedan.
If the vehicle is going to be used for family outings, and your family includes parents or grown-up children, you may well prefer a capacious vehicle.
If you want a vehicle for out-of-city driving, or something that is pleasurable to drive, you may well opt for an SUV.
But they require a bigger budget and you must also be prepared to spend more on fuel.
Geography is another important criterion.
"If you live in an area that is flood prone or where the roads are not well paved, you should go for a vehicle that offers high ground clearance," says Amit Kumar, head, OLX Autos India.
Ideal vintage
By year four or five, a vehicle's price plummets to about 55 to 60 per cent of its showroom price.
"A vehicle that has done 30,000 to 50,000 km by that age would probably be an ideal choice," says Ashutosh Pandey, managing director and chief executive officer, Mahindra First Choice Wheels.
If you are buying a diesel vehicle, it is advisable to go for one that has run for less than one lakh kilometres.
"The maintenance cost of diesel vehicles tends to rise after they have run for 1 to 1.5 lakh kms. Petrol cars, on the other hand, can run for more than 1.5 lakh km without developing engine-related issues," says Gajendra Jangid, co-founder and chief marketing officer, Cars24.
Quest for quality
A car that has been maintained well and has not undergone accidents should not have any major bodywork done on it.
Ask for the car's service history.
"An owner who has taken good care of his vehicle would have gone to an authorised workshop for regular repairs and servicing. If the owner is unable to produce the service records, it is a pointer that he may not have taken good care of his vehicle," says Jangid.
For an accurate evaluation of the vehicle's quality, get it inspected by a reliable player.
"Though every garage owner will claim he can do it, remember that inspection is a specialised job," says Pandey.
If you are buying directly from a vehicle owner, even in that case you can get the vehicle inspected by a player like Mahindra First Choice for a small fee. Experts who have the right equipment and experience can easily identify structural damages.
"When the vehicle is factory made, the welding is done by machines and is very precise. When repair work is done in a workshop, the welding is not so precise. Experts are trained to notice the difference," says Jangid.
The service history should also tell you if the car has undergone bodywork.
If you still have doubts, go for a vehicle that has been certified by one of the leading players.
"Once a vehicle has been certified, you can get a warranty for it, which will give you peace of mind," says Pandey.
While an organised player will inspect any vehicle, it certifies only those for which it is prepared to offer a warranty.
Certification is only available on vehicles that these players themselves sell.
A one-year warranty can cost anywhere from Rs 6,000 to Rs 30,000, depending on the vehicle, though for most vehicles it costs Rs 6,000 to Rs 10,000.
"When an entity is willing to give you a warranty, it means it is willing to vouch for the vehicle's quality," says Pandey.
Ensure good value for your money
To know how much you should pay for a used car, visit a web site like IndianBlueBook.com.
By entering the company, model and year, you will be able to get a price range.
"Once you have the range, ensure that the price you negotiate is within 10 per cent of that range," says Pandey.
Cars24's Web site also offers a pricing engine called Carculator.
Avail of these online resources, instead of just going by a quote from the neighbourhood garage owner.
When buying a pre-owned car, be prepared to wait and bargain for the right price.
"A seller who wants to sell immediately will be prepared to offer a better deal," says Kumar. Finally, when buying a used car, make sure that the documentation is in place (see box).
Get the documentation right
Form 28: An NOC that has to be validated from the road transport office (RTO). Proves there are no pending legal charges against the car.
Forms 29 and 30: These forms inform the RTO that ownership has been transferred. When buying, ensure both these forms have been submitted to the RTO. Process takes a couple of weeks.
Form 35: To remove the hypothecation, you need an NOC and a stamped Form 35 from the concerned bank or NBFC.
Insurance: Get it transferred to your name.
Feature Presentation: Aslam Hunani/Rediff.com