Over the long term, owning a car is much more cost-effective than subscription or leasing, says Tinesh Bhasin.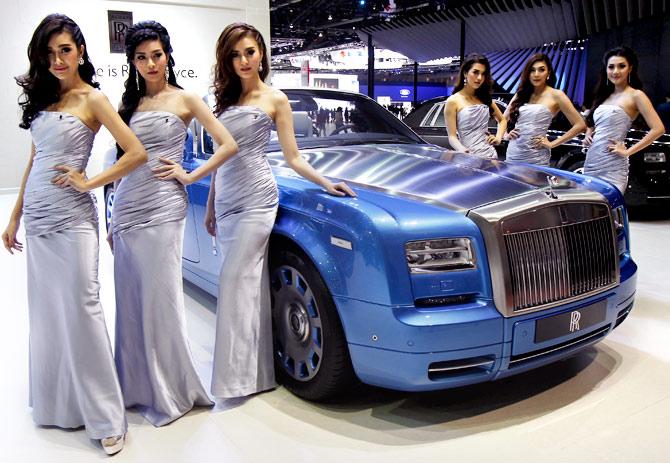 Finance Minister Nirmala Sitharaman recently said that one of the reasons for the slowdown in auto sales is changing preferences of millennials.
They prefer alternative options rather than purchase a car outright.
She was not entirely wrong.
The key reason for the current slowdown in the auto sector is decline in the overall level of consumption.
At the same time, many car users are not interested in going for outright purchase, according to auto industry experts.
"They don't want the liability of a loan, co-ordinating for service and repair, and finding a buyer when they want to sell. Such users prefer someone else taking over those hassles. Due to this, the auto industry is shifting from being product-led to becoming service-oriented," says Kavan Mukhtyar, partner, leader-automotive, PwC India.
Manufacturers have already started looking at alternative ways to put their products in the hands of customers.
A car user now has options such as leasing a car, going for a subscription-based model, or opting for an assured buyback programme.
Hyundai and Mahindra and Mahindra have started offering their cars through subscription and leasing.
Honda offers the buyback option as well as leasing on select models.
"Trends like car leasing provide convenience to customers. These models of car ownership will gain more popularity in India in the coming years," says Rajesh Goel, senior vice president and director, sales and marketing, Honda Cars India.
Analyse usage, then decide
Which model works best for an individual depends on the kilometres he is likely to clock in a year, for how long he wants to use the car, and how often he likes to upgrade.
The cost of leasing or subscription depends on the kilometres that the user clocks in a year.
Most companies in the leasing and subscription business tend to avoid customers who have very high kilometre usage.
That's because these offerings are meant for privately-owned cars only.
More kilometres could also mean that the customer is using the vehicle commercially.
For heavy users, who clock 2,500 kilometres a month or more, outright purchase is a better option.
"According to our research, 95 per cent of private vehicles owners drive less than 25,000 kilometres in a year," says Karan Jain, co-founder and chief operating officer at Revv.
A user should also take this call depending on for how long he intends to use the car.
Explains Rajeev Singh, partner and automotive sector leader, Deloitte India: "One should rent a car if the usage is for one or two months -- say, if an employee shifts to another city for a short project.
"Subscription is preferable for those looking to use their car for one to three years.
"Leasing works best for those who want to keep the car for three to four years.
"If someone intends to hold on to the car for a longer period, he should buy it."
Over the long term, owning a car is much more cost-effective than subscription or leasing (see table).
Assured buyback works for those who are loyal to one brand.
In the current scenario, a buyer can take a BSIV vehicle and upgrade to a BSVI-compliant car later.
It also works for customers because not all cars have the same resale value.
After a few years, popular cars can be sold for up to 60-65 per cent of their value, while unpopular ones go for as low as 40 per cent.
Leasing and subscription
Leasing and subscription overlap in many ways.
Leasing is mostly targeted at corporate clients.
Here, an individual has to select the tenure for which he wants to keep the car and the kilometres he intends to clock.
The company then does a backward calculation of the monthly cost.
The minimum commitment is two or three years.
The person has to keep the car for the entire duration.
Giving up a leased car prematurely carries a hefty penalty.
The subscription-based model is new both to India and to developed markets.
Hyundai and M&M have tied up with revv.co.in to offer this service.
A person can take subscription of a car even for a month.
Long-term subscription is also offered, where the customer has to commit for at least 12 months and can use the car for up to four years.
After 12 months he can discontinue the subscription anytime.
A brand-new car is offered to the customer in case of long-term subscription.
Those seeking a lower period get a used vehicle.
Subscription, therefore, is more flexible than leasing a vehicle.
There is a limit of 25,000 kilometres a year.
After that, the company charges between Rs 7 and Rs 13 per kilometre, depending on the car model.
In case of a lease, some companies also check the credit score of the customer and ask for his income-tax returns and other financial details.
In case of subscription, too, companies check the customer's salary slip to gauge his repayment capacity.
"Our customers are primarily those who have to shift cities and don't want the hassle of selling a vehicle when they move," says Anupam Agarwal, CEO and co-founder, Revv.
Assured buyback programmes
The tenure of the buyback option ranges from one to five years, mileage from 10,000 to 30,000 km, and return value from 52 to 60 per cent.
The customer can give back the old vehicle at the assured price but has to buy a new one from the same manufacturer at the end of the tenure.
It's a win-win both for the customer and the company.
The car owner gets to upgrade to a new car at a pre-determined price, while the company doesn't have to spend even a rupee on acquiring the customer.