'China feels India will be hard-pressed not to go after China because we are so badly dependent on them -- and that is the reality.'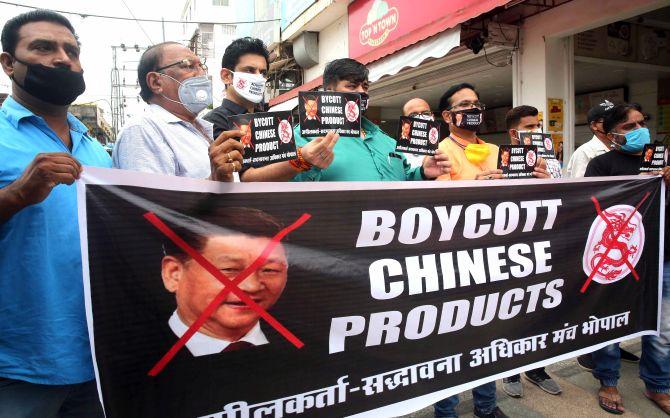 Amidst the tension on the Ladakh front with China, another looming concern is the enormous trade deficit India has vis a vis China which makes it impossible for the country to break out of the Chinese economic stranglehold.
Going on the offensive over the issue, the Congress party sharply attacked the Narendra Damodardas Modi government for allowing the trade deficit with China to balloon to $53 billion -- from $36 billion when the Manmohan Singh government left office in 2014.
So how did India reach this level of trade deficit with its neighbour? How and why did Chinese goods so capture Indian markets?
Syed Firdaus Ashraf/Rediff.com spoke to Biswajit Dhar, economics professor at the Centre for Economics Study and Planning, School of Social Sciences, Jawaharlal Nehru University, to understand what bedevils India-China trade.
"India as a country cannot run without electronics and pharma products from China. If we do not get these products, who will provide us? Professor Dhar asks in the first of a two-part interview.
Whenever border tensions rise, voices across India get louder about banning Chinese imports. But can we do without them?
I don't think it is possible in the short run. The amount of inter-climbing between the two economies -- and especially given our dependence on China -- it is not possible for us to decouple from china in the short run.
It can happen in the medium term if the Indian government takes serious steps to rejuvenate domestic production so some amounts of imports can be replaced by domestic production.
Can India raise duty on Chinese goods?
If it does so, will it lead to a violation of WTO terms which says that every member must offer every other member the same import duty rate and not discriminate?
There are ways of doing it. The WTO would never say no to countries trying to develop their industrial or manufacturing sector.
What the WTO would object to is if you give direct subsidy or raise tariffs beyond the permissible limit.
As long as government does this, finds ways of supporting the industry without violating the WTO, it should be fine.
Every country gives certain amount of support to its industries. There are red lines of what kind of support you can give so you should be careful that you do not transgress those red lines and violate WTO rules.
India's trade deficit with China has ballooned in the last six years. Why did it happen and what are the companies that benefit from this?
It is not six years, it has happened in the last 15 years.
If you see, imports from China in 2003-2004 were $4 billion. In the last financial year it was $65 billion.
Now, two things happened. At that time China had just joined the WTO and was given the Most Favoured Nation status and treated at par with other members.
At the same time India started liberalising more and tariffs started coming down rapidly in 2003.
After the 1991 liberalisation, the sharpest decrease in tariffs happened in 2002 and 2003.
The third thing that happened was that India's manufacturing sector was very weak then. There were government reports that talked about improving the share of manufacturing in GDP. But all those reports were ignored by successive governments.
As a result, China got advantage of the open Indian economy.
Without any competition from India's manufacturing sector who could not compete with China, that resulted in the ballooning of the trade deficit.
But what was the compulsion to reduce the tariffs on Chinese goods? Was it because of the WTO?
No. Even I have not been able to understand what was the necessity of unilaterally bring down the tariffs when your industries cannot compete.
Why are you exposing our industries to unfair competition?
And once China comes in then they indulge in all kind of unfair competition. They dumped their products.
This answer has not been given by the successive Vajpayee, Manmohan Singh and Modi governments.
The Vajpayee government got into this agreement with ASEAN (Association of South East Asian Nations) to do a Free Trade Agreement which was concluded by the Manmohan Singh government. And then there were FTAs with Japan and South Korea.
The Modi government decided to join the RCEP (Regional Comprehensive Economic Partnership) which we vehemently opposed as China was a part of that grouping and they have already done so much damage to us and this decision would be like a kulhadi (axe) on your leg.
Fortunately, Prime Minister Modi went to sign the RCEP in Bangkok in November 2019, but pulled out at the last moment.
If the government had signed the RCEP, the situation would have been more terrible.
What was the reason for Modi not to sign the RCEP?
A lot of us wrote against it and a large number of domestic industries spoke up against it. They said there will be unfair competition from China and we will cease to exist.
Who benefits from these Chinese imports? Is there a lobby?
There must be some lobby, but I don't know. It is a matter for journalists to investigate. There are obvious pitfalls, we as researchers can point out by looking at the broad numbers.
Who are the people who pushed us into this situation from where there is no escape?
Two big areas where our dependence is huge on China are electronic goods -- that includes telecom -- and pharmaceuticals products.
We cannot do without China in these two sectors.
India as a country cannot run without electronics and pharma products from China.
If we do not get these products, who will provide us?
Eighty percent of the 17 rare earth minerals used in computers to lighting to renewable energy is controlled by China, so how can you as a country do without them?
I am not saying you can cut off from China completely. I believe Indian entrepreneurs have the capability of producing smartphones and computers, so why can't we produce it?
If you have large industries here, these industries need raw materials and when Chinese companies are selling 17 rare earth minerals, they will come here to sell their products.
Today what is happening is that they have the raw materials, they are processing it and they are giving their people jobs.
Here we are only importing and there is widespread unemployment in India because there are no jobs.
Did Make in India fail because of China?
That never took off. If it had taken off, we would have not been in this mess.
It did not take off not because of China, but because of us.
Every country where production happens, the government creates the right kind of infrastructure, ecosystem and does handholding for entrepreneurs to come and invest. It creates the environment for them.
Look at the infrastructure, red tape etc here.
Your cost of capital is higher. Take the MSME sector, they get loans at very high rates. Your cost of capital is higher.
So where is the incentive for entrepreneurs to come up and start manufacturing in India?
Look at China, the government is giving incentives to their industries, they are giving subsidies directly or indirectly. Therefore, we cannot compete with them unless the Indian government plays an active role.
Does China not fear losing its business from India when border tensions rise?
China feels that it is in a win-win situation because the Indian economy is so terribly dependent on them.
It is difficult for us to get rid of China overnight.
Suppose China stops exporting pharmaceutical products to us, then our pharmaceutical industry will suffer badly. The same is the case with electronic products and telecom sector.
China is doing all this as they are confident of the fact that India is on the back foot economically. They think they can extract some additional concessions from India.
They feel that India will be hard-pressed not to go after China because we are so badly dependent on them -- and that is the reality.