'Indian entrepreneurs became traders for Chinese goods rather than producers of goods.'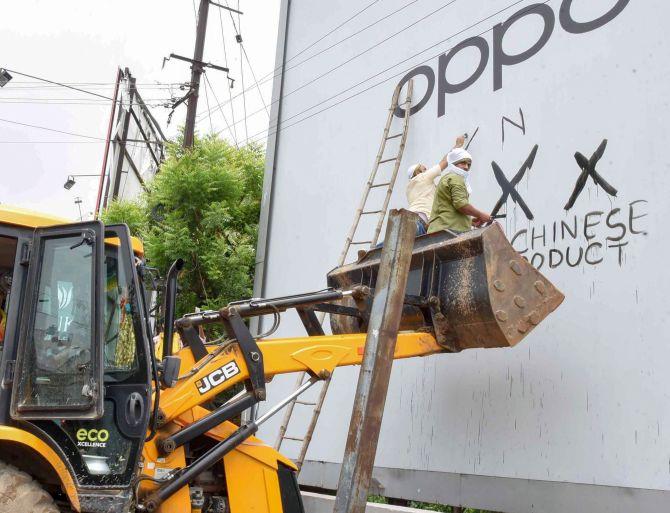 "How soon can Indian producers challenge Chinese cheap imports, and what do they require to do that?" Biswajit Dhar, economics professor, Jawaharlal Nehru University, asks Syed Firdaus Ashraf/Rediff.com in the concluding segment of the nterview.
Another fear is that if Chinese goods are banned, then consumers will have to pay more.
That is the problem. Given the demand here and they cannot be replaced, they will come via smuggling.
If you ban Chinese goods, then there will be smuggling from the North East and other borders from China.
When our motorcycle and scooter industries could defeat Chinese companies, why did we fail in almost all other sectors?
I was an advisor to the founder of Hero Honda, Brijmohan Lallji (Brijmohan Lall Munjal). At that time, around 2003, China came up with motorcycles in India for as low as Rs 10,000 to Rs 15,000.
The two-wheeler industry rose up to meet that challenge. Hero left their collaboration with Honda and became independent. They started innovating and is still the largest bike manufacturer in the world.
This one industry could stand up and challenge Chinese imports and give quality products. Everyone was aware the Rs 10,000 bike was junk.
I would say the automobile industry is one industry which is extremely aware of what is going on. They have taken proactive steps and insisted that import tariffs do not come down very fast.
Tariffs in the automobile sector in India are relatively higher and if tariffs were not high, then they too would be in trouble.
They were able to lobby the government. They told the government that there has to be a level playing field to imported Chinese bikes and they were able to argue their case much better as compared to most others.
The electronics sector was small and of small fellows who had no voice.
We had Micromax and Lava phones, but they appear to have faded out.
It is because of technology and innovation.
You cannot say you are going to set up a plant today and produce goods without doing any innovation.
There has to be an innovation system -- that the Chinese have done which constantly upgrades their products and attracts consumers.
You cannot tell consumers to go back and buy old Nokia phones with keypads and not smart phones.
Consumers will tell you what to produce and if you cannot do it, you have no business to be in the market.
And that is what happened to Lava and Micromax. Indian companies should not take Indian consumers for a ride.
Can Atma Nirbhar Bharat work against Chinese goods?
It can work provided there is a forward-looking strategy.
You have to produce quality goods and you have to satisfy consumers. After all, you are in the market economy. Consumers will demand the best from the market.
It is a ruthless market that will decide who is the winner.
If Indian companies are able to produce quality products, Indian consumers will jump for it. And if they do not produce, then foreign products will satisfy the consumers.
The markets will decide and the government cannot do anything.
A traders body, the Confederation of All Indian Traders, has released a list of 500 Chinese products to be boycotted. Will a boycott work?
I compiled a set of products which India imports from China.
Take for example, umbrellas. Some 95 percent of umbrellas in India are imported from China.]
Chinese imports are flooding Indian markets.
We are importing umbrellas worth $36 million every year!
We are importing $134 million worth of silk from China -- and India is a silk-producing country.
$84 million worth of vacuum flasks in which you keep water hot.
Pencil and crayons worth $10 million are imported from China.
And obviously, these imports are taking place because there is a demand which is not being met in India.
If our producers are able to meet that demand, then certainly imports will fall.
That is why the question is, how soon can Indian producers get into the market and challenge Chinese cheap imports, and what do they require to do that?
What changed in the last 17 years for Indian producers? Why are Indian companies unable to compete?
The market was opened up and cheap imports came in.
The Chinese could dump their products in India. They did so at will and Indian consumers got attracted to cheap Chinese products.
And when the market was taken over by Chinese goods, what could Indian companies do? Nothing.
What about Swadeshi lobbies and Indian industrialist lobbyists?
CII and FICCI talk about liberalisation all the time so you forget about them. Except automobiles, all other lobbies are too weak to raise their voice.
Two years ago, the textile industries raised their voice (against Chinese textiles).
It also depends on who is raising their voice. There is a brand called TT which manufactures undergarments and that company raised its voice and told the government to raise tariffs from 10 to 20 percent for Chinese textiles.
This was in 2018 and after that some of the Chinese import growth got arrested.
But other Indian industries are in small scale sectors and do not have any voice.
Twenty years ago, all gadgets were Indian-made -- Godrej, BPL or Videocon -- and then in this rush for liberalisation all Indian companies barring a few got wiped out from the electronic space except one or two.
We merrily allowed this to happen and our policy-makers encouraged more and more liberalisation.
Don't WTO norms allow these companies to sell their goods at a competitive price?
No, who said that?
In most industrial products, WTO allows 40% and 25% tariffs. Our average industrial tariff was less than 10% till a few years back.
Is it that Indian producers were not working hard, but believed in importing rather than producing?
Yes, this happens when you do not get encouragement from the government.
Indian entrepreneurs became traders for Chinese goods rather than producers of goods.
Toy factories are being set up at Noida, Uttar Pradesh, to take on Chinese toys. Will this strategy work? Or are we too late?
I don't think there is anything called too late. If we are determined to make a beginning, let us make a small beginning.
There is a large market in India and the only thing the government needs to provide is the right kind of ecosystem and an enabling environment.
We have to go beyond slogans.
We said Make in India in 2014 and now we are saying Atma Nirbhar.
Tomorrow we will say something else, but on the ground nothing seems to change. Things have to change on the ground.
It looks like India has been systematically entrapped by China.
Absolutely. That is the unfortunate feeling we get.
China has caught us by the neck and we have no way to escape.
Whenever I have gone to China and seen them progressing, I always wondered why our country could not do that.
In 1991, when we started liberalising, our per capita income was higher than China's. Today, their per capita income is 5-6 times higher than ours.