'India imports 70 per cent of its bulk drugs from China. Are we going to live without antibiotics?' asks Debashis Basu.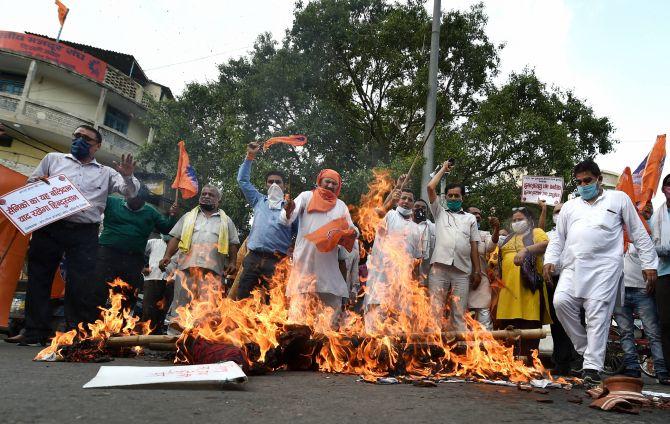 For the first time in 45 years, India has lost soldiers (that too, 20 at the last count) to a Chinese attack with sticks, stones, rocks, and nail-studded clubs, even as machine guns, artillery, and tanks were lined up in the rear.
Apparently, some Indian soldiers were beaten to death; some were pushed down a steep slope into the Galwan river below, and others died of hypothermia in the cold desert of Ladakh.
China has given India a bloody nose in a most bizarre way.
Our immediate reaction is to rant: Boycotting Chinese goods, burning the effigy of Chinese President Xi Jinping, and xenophobic fury everywhere from television channels to social media to WhatsAapp groups. This is laughable because it is momentary and emotional.
India's reply is to become economically and militarily stronger.
The fact is both India and China were poor countries till 1978, after which economic reforms in China have transformed the country and India has continued to bumble along.
While we have benefited from lucky breaks from time to time, by and large, we are taking 15 to 20 years to get to where China, and earlier, Taiwan, South Korea, Japan, and now Vietnam have reached in five years.
Our anger against the Chinese is directed at the wrong enemy.
By blaming China, we give a free pass to our political leaders, who have kept us poor, weak, and stupid. There are three reasons this won't change.
1. Clueless about China:
Anti-Chinese hawks in the West argue that the country has a 100-year strategy to subjugate the world.
It has no respect for Western democracy and civil liberties, has imperial ambitions, and is engaged in continuous information, economic, and technological warfare to weaken the West.
Stealing and buying Western intellectual capital, apart from developing its own Made in China 2025 policy, will help it lead the world in biotechnology, advanced chip design, artificial intelligence robotics, and quantum computing.
Whether this is true or just conspiracy theory, it is clear that Indian diplomats and our political leaders have proven to be babes in the woods in dealing with China.
India shrugged off US warnings about Chinese tech company Huawei and allowed it to participate in 5G trials. Under Prime Minister Narendra Damodardas Modi, Indian authorities had set a laughably ambitious target of 14 million Chinese tourists by 2023, up from a mere 240,000 in 2017.
The two countries have planned a series of celebrations to mark the 70th anniversary of diplomatic ties this year.
The boat rides on the Sabarmati, sitting on a swing at the Gandhi ashram, the hugs and bonding between Modi and Xi at a dozen meetings look utterly naïve now.
India seems clueless about China's vision and tactics.
2. Cut off our nose...
India's trade deficit with China was almost $57 billion in 2019. India has no power to reverse it.
Indian consumers have gained enormously due to cheaper imports. Will they be ready to pay for costlier South Korean or Japanese products?
The cold fact is that India is economically uncompetitive and cannot afford to retaliate.
For instance, India imports 70 per cent of its bulk drugs from China. Are we going to live without antibiotics?
While China accounts for 14 per cent of India's imports, China's imports from India are less than 1 per cent of its total.
We can cut our nose to spite our face, of course, but it won't hurt China. That takes us to the heart of the matter -- India's economic weakness.
3. No Indian growth model:
All this would not have mattered if India had taken the path of economic reforms. China managed to develop 'capitalism with Chinese characteristics' and made it work. It suited them well.
What we should have done is free our people from the vast web of State and private extortion and rent-seeking, which saps our energy every step of the way.
Dismantling an extractive State would have unleashed innovation and growth at a stunning pace and scale.
Instead, successive governments have introduced more and more draconian rules, overseen by a coercive State.
What passes for 'reforms' is just meek tinkering. These have had no impact on our economic competitiveness. The best example of this is the way our public sector, mainly banks, have been handled.
We want to teach China a lesson. The means to do that is economic competitiveness.
To achieve this, we should first start raising our voice against self-serving, incompetent, and corrupt netas and babus who have kept India poor and weak, as reflected in our terrible education system, creaking healthcare, abysmal productivity, and weak innovation.
Dressing up India's economic weakness with a chauvinistic narrative, and scapegoating Beijing, are tactics to hide their failure to make India economically strong.
It may temporarily offload public anger, but will weaken us further.
We have a bigger enemy than China or Pakistan.
And it is on this side of the border. Not the other side.
---
Debashis Basu is the editor of www.moneylife.in.