'Have you met anyone who said "I will not boycott Chinese products"?'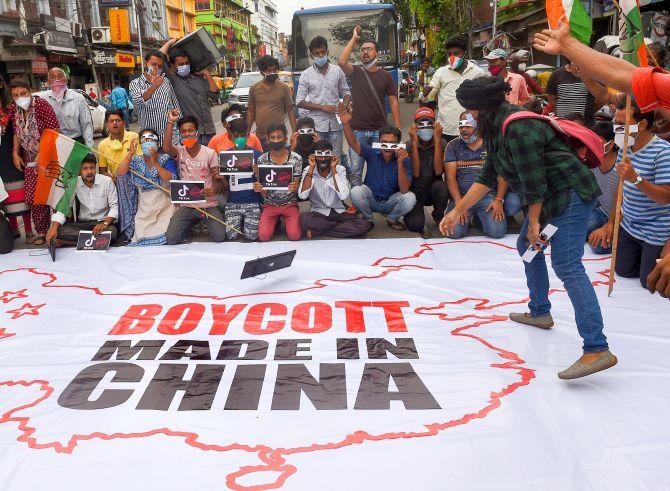 The Swadeshi Jaagran Manch has been relentlessly fighting a battle against Chinese products flooding the Indian market.
The SJM has now asked asll Indians to boycott Chinese products as a tribute to the 20 Indian Army soldiers who were murdered by China's People's Liberation Army on Monday night.
"Just because we are a democracy it does not mean that we can't hit them back when they hit us," Professor Ashwani Mahajan, the SJM's co-convenor, tells Rediff.com's Shobha Warrier. The first of a two-part interview:
You have asked people to boycott Chinese products as a tribute to the slain soldiers. Should you be mixing business with what is happening at the border?
Business and war cannot go side by side. That is a simple principle.
We have been asking for a boycott of Chinese goods because you have to do it when a country is aggressive on your borders, when a country is aligning with your enemies by helping international terrorists and building infrastructure on your land against your wishes. I mean the China Pakistan Economic Corridor in PoK.
There is one more reason now, and that is economics.
In 2001, when China became a member of the WTO (World Trade Organisation), exports to China was $1 billion and the trade deficit with China was $0.2 billion.
Because of the obsession of past governments and because of China's status as the most favoured nation after joining WTO, Chinese products kept getting dumped in India.
Our governments did not heed the rising unemployment because of that.
They kept saying we want to increase manufacturing from 17% to 18% to 25% of GDP, and only such a change can create jobs.
The rhetoric continued, but they did not pay any attention to the real problem which was, China was dumping goods.
By 2017-2018, the trade deficit with China rose to $53 billion. Now, it is $48.6 billion and for that you can pat my back!
We at the SJM have been doing awareness programmes all over India and even sensitising the government.
The government has now imposed anti-dumping duties on 140 items.
This shows our call worked. This also shows we have the capacity to produce goods for our market.
When imports came down, our production increased.
You have asked people to boycott Chinese products. What about those Chinese companies that have manufacturing units in India, especially mobile phones, where the employees are Indians?
The quantum of employment they generate is much less than the quantum of unemployment they generate by dumping goods in the Indian market.
Because of the dumping of cheap Chinese goods, Indian manufacturing has suffered, and many Indians lost their jobs.
Moreover, those who have come here are doing so to save tax and are not doing any value addition here; just 5%.
They were importing 95% of the components to India and only 5% is made here.
That is why we say: 'Don't come and Make in India; let us make in India.'
Our slogan is Made by India and not Make in India.
You have urged the government not to allow Chinese firms to participate in tenders. When it is an open tender, how can you ban some companies from participating in it?
When they can continue with their autocracy, why not?
Do you know Indian firms are not allowed in the telecom or infrastructure sector in China?
But India is a democracy.
Just because we are a democracy it does not mean that we can't hit them back when they hit us.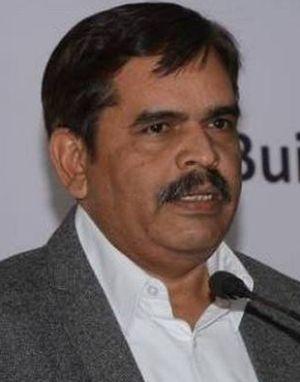 There is always a reciprocity clause and we have been invoking the clause in telecom and some other areas, but minimally.
Now it is time to completely boycott the Chinese because of the way they treat us.
Why are you saying we should treat them nicely? It is true we have been treating them nicely, welcoming their investments, welcoming their leaders, welcoming their goods. Yes, we have been welcoming everything.
See, what they are doing on the border.
Are you trying to strike an emotional chord with people when you ask them to boycott Chinese products as a tribute to the soldiers who lost their lives?
Had it been an emotional appeal, it would have started only yesterday. Our efforts started several years ago.
We have just added one more reason to the list of reasons we have been giving. This will give a greater appeal to people at a time like this.
When we first started opposing China, around 30% to 40% of people were with us. They accepted our appeal and were sensitised about everything that China was doing and how they were impacting our economy.
After the coronavirus pandemic, 90% of the people were with us.
Now, with this action of China on our border, 100% of the people are with us.
Have you met anyone who said 'I will not boycott Chinese products'?
People of India have become more swadeshi than the Swadeshi Jaagran Manch! Now, people are telling us, 'Do this, do that, don't allow this, don't allow that...'
What has happened on our borders is very unfortunate. But that is a tactic of China to deflect the real issues.
There is anti-China sentiment all over the world. India is trying to use the situation by inviting businesses based in China to set up their business in India.
Do you think China is peeved with this and business is the real reason behind what is happening on the border?
China is in the habit of doing it.
This time, I think China has gone crazy about what is happening on the economic front.
They thought they were a manufacturing hub and wanted to be an infrastructure giant by capturing the land of different countries.
They are creating infrastructure in many African countries, in Sri Lanka, in Pakistan, in Malaysia and putting them in their clutches.
They were conquering country after country this way, and suddenly they find country after country opposing them and criticising them.
They are facing the backlash of not only people all around the world, but governments too.
Many governments were asking their companies to relocate from China.
Many companies have written to India that they want to shift their base to India.