'The ban on Chinese imports is a suicidal step.'
'This will result not only in economic depression, but in a chaotic situation.'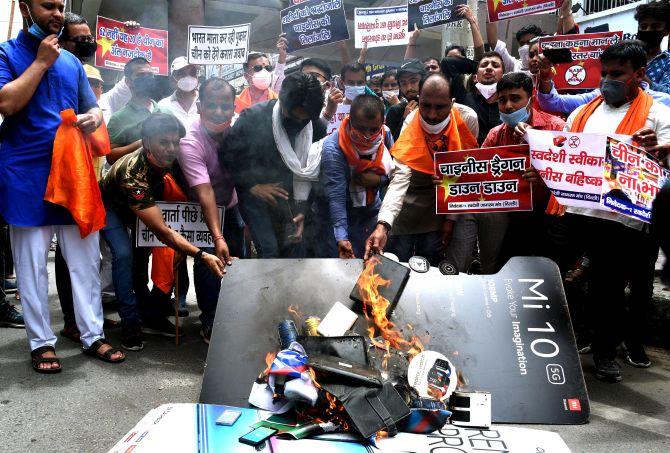 Tirupur is the leading textile cluster in India that exports garments to the outside world.
The industry was crippled first due to demonetisation, then the faulty implementation of GST, followed by the lockdown due to the coronavirus pandemic.
With the easing of the lockdown, the industry was trying to stand up, but then came the call to ban Chinese imports.
It is said that 90% of Tirupur's accessory requirements come from China.
"Someone said India has an enormous capacity to damage itself, but scant ability to damage China economically. I feel it is true," Raja M Shanmugam, president, Tirupur Exporters Association, tells Shobha Warrier/Rediff.com:
It was reported that the unofficial ban on Chinese imports has affected the garments industry very badly. Howe bad is it?
This unofficial ban is going to cripple the industry totally as 90% of the (Western clothing) brands nominate Chinese suppliers for all their accessories.
Generally, brands source from different countries. Because they want uniformity in their products, they decide from where we should source the accessories.
It is the brand's prerogative, and we have to only source based on their recommendations.
Not only Indian manufacturers, those in Bangladesh or Vietnam or Cambodia also have to buy accessories from the same source.
As you know, without accessories like buttons, zips, logo badges, and some clothing material which we do not produce here, we cannot go ahead with the production.
How long has China being preferred as the major source for accessories by international brands?
Though garments are manufactured in Bangladesh, India, Vietnam, Cambodia, etc, all the international brands prefer Chinese manufacturers for accessories.
For example, they do not prefer an Indian button manufacturer mainly because of lack of consistency in quality and lack of ability to have mass production.
Above all, Indian companies have not been famous for timely delivery
On the other hand, Chinese companies are known for producing in large numbers. They maintain quality consistency and they always abide by the timeline.
You have been in this business for many decades. Why do you think China has been able to maintain such high quality which Indian companies have not been able to do?
I will tell you the root cause of our inability to rise up to the level of Chinese companies.
We Indians are all the time involved in solving the nitty-gritties of business with no roadmap to follow.
Even today we are living with the legacy left behind by the British in all the three major fields: Administration, legislation and the judiciary. We still follow the bureaucracy created by them in all these fields.
The British created the bureaucracy because they were less in number while they had to rule a huge population. Unfortunately, we still continue with the same bureaucracy.
The rules were framed in such a manner to keep the masses guessing all the time. Nobody can comprehend the laws or rules because they wanted it that way.
Even today, we can interpret them differently, but the interpretation of the top official is final.
Against this background, how will the concept of Atma Nirbhar Bharat work?
It is good that the prime minister has started an Aatma Nirbhar Bharat initiative. But this should have been started on the very first day of independent India, not after 73 years.
I am happy that at least now, the leader of the country is talking about it. It is time we frame policies for our administration, legislation and judiciary with a self-reliant India in mind.
But first, there should be a debate on where we went wrong so far, and with what kind of policies they can be corrected.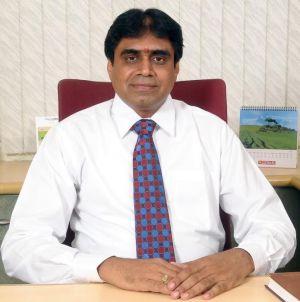 I am giving you an example on how things work in the textile industry. There are 11 textile export promotion councils in India, but we started talking about PPEs and masks just 90 days ago.
Before that, nobody had any plan to make PPEs or masks here. Till 90 days ago, nobody had any idea about what material was used, what machinery was needed, etc. No export promotion council talked about this.
On the other hand, China started preparing themselves 10 years ago by designing a machine that can produce masks in large numbers. They were ready to supply to the entire world at any point of time in case of any eventuality.
This is the way the Chinese prepare themselves. This is how they create roadmaps for everything.
What we do is we react to situations and not act on a plan.
This is the major difference between India and China. We have to take a lesson from China and prepare ourselves for an Aatma Nirbhar Bharat.
Aatma Nirbhar Bharat is a great idea, but when Indian industries are dependent on Chinese products -- whether it is electronics or pharmaceuticals or textiles -- how is this unofficial ban on Chinese imports going to affect the Indian industry?
This decision is going to cripple the entire economy of the country.
We are on a suicidal path now. Someone said India has an enormous capacity to damage itself, but scant ability to damage China economically. I feel it is true.
Some 85% of Indian industry consists of micro and small industries, and the big corporates constitute only 10% to 15%.
Unfortunately, the policymakers of this country listen only to CII, FICCI, ASSOCHAM, etc. And everybody knows that the corporates thrive at the cost of the micro and small industries.
Policies are framed for the big corporates, and they have only negative impact on the micro and small industries.
We have been trained and tuned to address this negative impact from morning till night every day.
We just struggle fighting having no time to create a roadmap for the future.
Do these micro and small industries depend on Chinese products?
Not only the micro and small industries, every industry in India depends on Chinese products.
Do you feel it is a hasty decision?
The ban on Chinese products is a knee-jerk reaction because we are tuned to react to situations and not act on any plan.
There is no written instruction to stop Chinese imports, but there is an order from some top official who has no idea about the repercussions.
The result is that goods are stranded at various ports. The port authorities are not clearing goods that have come from China and Hong Kong under the guise that they have been instructed orally not to clear the goods till they get another order.
When we spoke last you told me that dead inventories at various places because of the lockdown caused a loss of Rs 9,000 crores to the garment exports industry. How much damage has this unofficial ban caused?
In Tirupur, we do a business of Rs 2,000 crore to Rs 2,500 crore (Rs 20 billion to Rs 25 billion) every month depending upon the season. We were limping back to do a business of Rs 2,000 crore because it is the lean season.
If we have to do a business of Rs 2,000 crore, 90% of it is dependent on Chinese accessories. So, you can imagine our condition now. We are not able to continue with production.
The entire Rs 2,000 crore business is going to get stranded because of this embargo.
When buyers and suppliers are suffering all over the world, if we miss the timeline and they suffer a loss, they will pass the entire loss on to us.
More than that, we will lose the confidence of the buyers. The next order will not come to us.
They will go to Bangladesh or Vietnam?
Yes, they will definitely prefer Bangladesh, Vietnam or Cambodia.
Even now, they are worried about the surge in the number of (coronavirus<?em>) cases here. They are already a bit hesitant about placing the August orders. And this will totally stop future bookings.
This ban on Chinese imports will cripple the entire economy of the country as 85% of Indian businesses are micro and small businesses.
I would even say the ban on Chinese imports is a suicidal step. This will result not only in economic depression, but in a chaotic situation.
The time has come to analyse why we are beaten by even tiny nations like Bangladesh, Vietnam and Cambodia, Sri Lanka etc when we have a young workforce, enormous resources and technical knowhow.
Our road to Aatmanirbhar Bharat should start from there.
If we were to start the Aatmanirbhar Bharat yatra now, how long do you think will it take for India to become self-reliant?
If we take serious steps starting from today, within a decade, we can easily overtake China.
But we need to have a proper understanding of where we went wrong, because only then we will be able to have a proper roadmap for the next 10 years.