July 28, 2008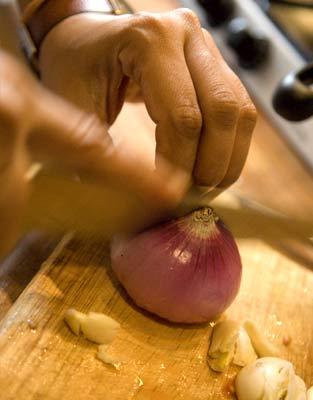 Ever heard of mixing chocolate with eggplant? An odd combination if ever you heard one, right? Well, this recipe does just that, and yet comes out a winner. Check it out!
In our continuing series of recipes taken from Italian Khana, an Italian cookbook for the Indian kitchen, Ritu Dalmia, celebrated chef and owner of Diva, one of Delhi's [Images] finest Italian restaurants, reveals her best tips and shows you how to cook an authentic Italian dish.
Ritu will also answer reader queries, so scroll down to the bottom of the page to address your questions to her.
Read these features?
'Listen to your heart and never fear failure'
Got a credit card without applying for one?
Comics: Shekhar Kapur's DEVI
IIT Bombay's free online lectures
Chicken tikka for a spicy sex life!
---
Today's Recipe: Caponata alla Loredana (
Eggplant relish alla Loredana)
Ingredients
4 eggplants
4 red peppers
1 onion
1 celery
1 carrot
2 squares of chocolate with 70 per cent cocoa content
1/2 cup vinegar
2 tsp sugar
1 fistful pine seeds
1 fistful raisins
1 fistful almonds, peeled and cut
Salt and pepper to season
Oil for frying
Method
Cut the eggplants in cubes and leave in lightly salted water for 15 minutes. Wash, dry and deep fry.
Cut the peppers in cubes and fry.
In a frying pan, brown the sugar with a spoon of water, add the chocolate and carrot, onion and celery, all minced. Mix for two minutes with two spoons of olive oil and add almonds, raisins, pine seeds, salt and pepper.
Mix well and finally add the eggplant and peppers, then the vinegar, and let it cook on a slow fire for 15 minutes. Store in a sealed container and enjoy after three days.
Previous recipes
Excerpted from Italian Khana, India's first Italian cookbook for the Indian kitchen, with permission from the publishers, Random House India. Ritu will also answer reader queries, so please address your questions to her in the QnA box below.
Photograph: Sephi Bergerson