July 16, 2008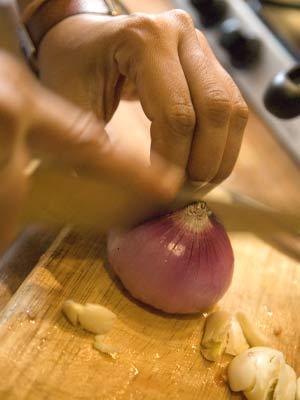 A hardy dish that combines vegetables and meat, a bowl of piping hot stew is a filling, delicious option for a rainy evening at home. So, if you're looking for a dish that warms the body/soul, try your hand at this lamb stew. The best part about this dish, of course, is that although the cooking time is a couple of hours, the actual time it takes to throw this meal together is just about 15 minutes.
In our continuing series of recipes taken from Italian Khana, an Italian cookbook for the Indian kitchen, Ritu Dalmia, celebrated chef and owner of Diva, one of Delhi's finest Italian restaurants, reveals her best tips and shows you how to cook an authentic Italian dish.
Ritu will also answer reader queries, so scroll down to the bottom of the page to address your questions to her.
Read these features?
Miss Universe pageant dazzles Vietnam
Yoga: Poses to help improve your digestion
What if the Sensex falls below 10k? Still invest
Hair styling, strengthening tips from an expert
How the GPS navigation works on your cellphone
---
Today's Recipe: Spezzatino Di Agnello (Lamb stew)
I first ate this simple lamb stew at the home of some friends in Palermo and thought it was out of this world. When I asked the lady of the manor for the recipe, she was quite perplexed. All she had done was throw the leftover vegetables in. So really, this stew is about using whatever you have at hand in your veggie basket.
Ingredients
1 kg boneless lamb*, cubed
2 onions, roughly chopped
200 gm potatoes, preferably the old variety
100 gm carrot, cut into chunks
2 stalks celery, chopped
200 gm tomatoes, blanched, peeled and roughly chopped
1 large eggplant, peeled and cut in cubes
100 gm bell pepper, chopped
75 ml white wine
1 handful mint
300 ml brown stock or vegetable stock
1 tbsp flour
*You may substitute lamb for mutton or any other meat you prefer.
Method
Cook the onion in a heavy saucepan. Add the lamb and brown the pieces on a high flame for two minutes.

In another large pot, layer the vegetables and meat, starting with a meat and onion layer at the bottom, and alternating with vegetables. Season each layer with salt and pepper. Add the stock, white wine, tomato puree and mint leaves, saving a few sprigs for the garnish. Bring to a boil, reduce the heat and cook, covered, until the meat is tender, for about two hours.

Mix the flour into a cup of water to make a watery mix. Add this into the sauce to give it a glaze and thicken the sauce. Cook for another few minutes. Garnish with mint, and serve with mashed potatoes or crusty bread.
Previous recipes
Excerpted from Italian Khana, India's first Italian cookbook for the Indian kitchen, with permission from the publishers, Random House India. Ritu will also answer reader queries, so please address your questions to her in the QnA box below.
Photograph: Sephi Bergerson