July 04, 2008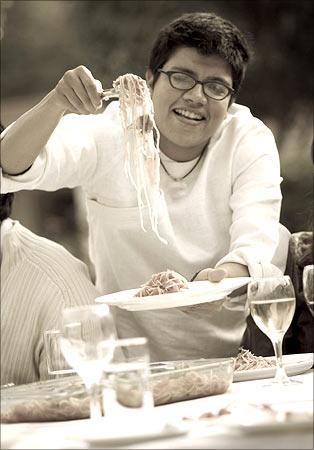 Want to cook Italian food but terrified of complicated recipes? Exasperated because you can't find the right ingredients? Wish you could eat chilly with your pasta?
Ritu Dalmia is a celebrated chef and the owner of acclaimed Indian restaurant Vama in London [Images] and Diva, one of Delhi's finest Italian restaurants. In an excerpt from her new cookbook Italian Khana, an Italian cookbook for the Indian kitchen, she tells you how to cook an authentic pasta dish for dinner tonight in less than 30 minutes.
Ritu will also be answering reader queries, so scroll down to the bottom of the page to address your questions to her.
Usually I like eating dinner at home. After a long working day, the three things I look forward to are my couch, a nice supper and a good book -- or even one of the better soaps on TV. Everything else I don't need to think about much, but the supper part calls for a bit of planning. However, over the years I have figured out that a delicious, wholesome meal does not necessarily require hours and hours of cooking nor does one need to head off for the supermarket with a long list -- and an even bigger shopping bag.
This recipe requires very few ingredients, are effortless and scrumptious.
So all you hungry people out there forget about ordering takeaway, pull out your aprons, and get ready to whip up some comfort food. Don't forget a little bit of cooking is also a great way to unwind after a long, hard day at work.
Other Get Ahead features
Why you should be cycling to work
Oomph hits the New York ramp
Study UK: All about visas, Trusted partners
'Buy stocks, mutual funds with a long-term horizon'
'Today, India's youth takes more chances'
Hogenakal: The waterfall spa
Spaghetti aglio Olio e Peperoncino
There is no pasta simpler than this one -- it can be put together in a matter of minutes. It is without any pretensions, inexpensive and very satisfying. You can do it both ways -- with chilly or without.
Ingredients
1 packet spaghetti
2 pods garlic
50 ml extra virgin olive oil
1 handful of chopped parsley
1 large dried red chilly or plenty of crushed red pepper
Salt to taste

Method
While the pasta is boiling, put garlic, oil and chilly in a pan, over medium heat.
As soon as the garlic turns golden and you can smell its aroma, switch off the heat, add the chopped parsley, the cooked pasta and just a little bit of pasta water.
Toss well and serve right away.
Note: Italians do not like the taste of garlic pieces, and use garlic only to perfume this pasta. However, we Indians love our garlic. If you want, rather than using the whole clove, try chopped garlic. It will give the dish a far more intense flavour.
Excerpted from Italian Khana, India's first Italian cookbook for the Indian kitchen, with permission from the publishers, Random House India. Ritu will also be answering Rediff reader queries, so address your questions to her in the QnA box below.
Image: Ritu Dalmia | Photograph: Sephi Bergerson