July 15, 2008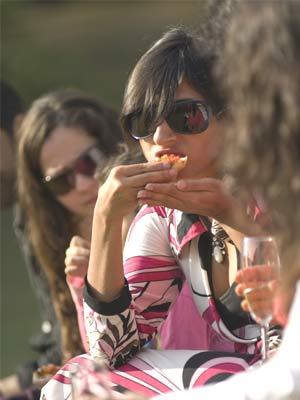 When it comes to Italian starters, bruschetta, bite-size gourmet appetizers are always a runaway success. These toasted delights are easy to prepare yet flavourful and light on the system, leaving you with plenty of space for dinner. 
In our continuing series of recipes taken from Italian Khana, an Italian cookbook for the Indian kitchen, Ritu Dalmia, celebrated chef and owner of Diva, one of Delhi's finest Italian restaurants, reveals her best tips and shows you how to cook an authentic Italian dish in 30 minutes or less.
Ritu will also answer reader queries, so scroll down to the bottom of the page to address your questions to her.
Read these features?
First glimpse of Miss Universe 2008
India's most sexily dressed babes
Filing taxes? Top FAQs answered!
How to use your Right To Information
Grab a bargain on new summer styles
---
Today's Recipe: Bruschetta con pomodoro e basilico (Bruschetta with tomato and basil)
As the wise say, never scoff at the tried and tested. These Italian 'tamaatar-toasts' will never go out of fashion even though all the top chefs in the world create the most amazing toppings for bruschetta. At our little cafe at the Italian Cultural Centre, most of the Italians always order these for starters or get a big plate for the table while they wait for their meal.
The only thing to ensure here is that the tomatoes are fresh and firm. That's all there is to this great starter -- good bread, good olive oil and good tomatoes. This is my take on the traditional recipe.
Ingredients
1 baguette (French loaf) or Ciabatta if you can find it
500 gm tomatoes, de-seeded and chopped
Basil leaves, shredded
100 ml extra virgin olive oil
4 tbsp chopped black olives, finely chopped (optional)
3 pods of garlic, just pressed slightly with your palm
Salt and pepper to season
Method
Heat half the olive oil in a small saucepan and add the garlic cloves. Saute till golden and set aside. You want the oil to obtain just the perfume of the garlic, without making it too garlicky. Some of my guests ask me to add chopped garlic to their bruschetta, which you could do too if you wish, but it's not very authentic, and more importantly it takes away from the fresh flavour of the tomato.
Mix the tomatoes, remaining olive oil, basil and olives in a mixing bowl. Season with salt and pepper.
Slice the Ciabatta or the baguette into bite-sized slices. Grill the slices in a pan on top of the stove, or under a grill. These also toast fantastically over a barbecue.
Brush both sides of the grilled bread with garlic-perfumed oil and top it with the tomato mixture. Drizzle a bit more garlic oil over the tomatoes and serve the bruschetta garnished with whole basil leaves.
Previous recipes
Excerpted from Italian Khana, India's first Italian cookbook for the Indian kitchen, with permission from the publishers, Random House India. Ritu will also answer reader queries, so please address your questions to her in the QnA box below.
Photograph: Sephi Bergerson