July 21, 2008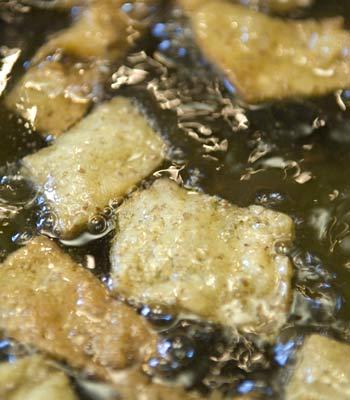 When you've had a long day and are in the mood for a quick snack that is easy to prepare yet lip-smackingly good, cheese sandwiches are one of the simplest options you can pick. And if you're looking to make your sandwich that much more delicious without too much of an effort, check out this yummy alternative.
In our continuing series of recipes taken from Italian Khana, an Italian cookbook for the Indian kitchen, Ritu Dalmia, celebrated chef and owner of Diva, one of Delhi's finest Italian restaurants, reveals her best tips and shows you how to cook an authentic Italian dish.
Ritu will also answer reader queries, so scroll down to the bottom of the page to address your questions to her.
Read these features?
Hair loss? Here's how to fight it
'I caught my husband watching porn'
Investment strategy when the markets are down
Food poisoning: Do you know all you should?
'How do I apply for an MBA in the UK?'
---
Today's Recipe: Mozzarella in carrozza (
Mozzarella in carriage)
There is an Italian restaurant called La Famiglia, a few doors away from Vama, my Indian restaurant in London [Images]. I couldn't afford to eat at La Famiglia in the early days of Vama but I could never resist treating myself to these fried mozzarella bites. Now I like to make these delicious appetizers from Campania at home, especially when I want to indulge myself and don't have too many fancy ingredients at hand.
Ingredients
8 slices white bread, crust removed
500 gm mozzarella cheese, thinly sliced
50 gm flour
4 eggs
Salt and pepper to season
Oil for frying
Method
Place four slices of bread on the counter. Top with the mozzarella slices, trimming the cheese to ensure that it does not extend over the edges of the bread. Cover with the four remaining slices of bread, making four sandwiches in all.
Spread the flour on a plate. Pour a cup of water into a shallow bowl.
First dip the four edges of each sandwich in the flour, then dip the edges in the water, being careful to moisten only the edges and not the inside of the sandwiches. The idea is to form a sort of glue with flour and water that will prevent the mozzarella from leaking out once it melts in the hot oil, as the sandwiches are frying. Arrange the four sealed sandwiches on a platter in a single layer.
In a small bowl, beat the eggs with the salt and pepper. Pour half of the egg mixture over the sandwiches and set aside for 10 minutes. Turn the sandwiches over and repeat the process on the other side of the sandwiches. The purpose is to allow the bread to soak in the egg as much as possible.
Heat the oil in a deep pan. This should be enough for the mozzarella sandwiches to totally sink into the oil. Deep fry one or two sandwiches at a time until golden on both sides, turning once, about three minutes per batch. Remove with a slotted spoon onto a platter lined with paper towels and blot dry.
Cut each sandwich in half and serve hot, with basic tomato sauce or with a bowl of pesto for dipping.
Previous recipes
Excerpted from Italian Khana, India's first Italian cookbook for the Indian kitchen, with permission from the publishers, Random House India. Ritu will also answer reader queries, so please address your questions to her in the QnA box below.
Photograph: Sephi Bergerson