July 14, 2008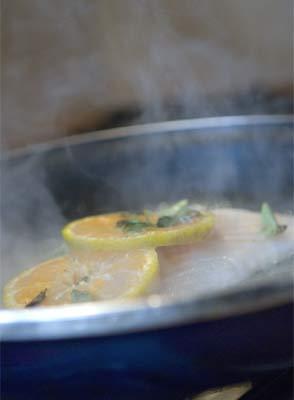 Fish is one of the quickest and easiest non-vegetarian meals to cook up. So, if you're looking for a low-cal recipe, that's easy on the tastebuds, you might want to try your hand at this one.   
In our continuing series of recipes taken from Italian Khana, an Italian cookbook for the Indian kitchen, Ritu Dalmia, celebrated chef and owner of Diva, one of Delhi's finest Italian restaurants, reveals her best tips and shows you how to cook an authentic Italian dish for dinner in 30 minutes or less.
Ritu will also answer reader queries, so scroll down to the bottom of the page to address your questions to her.
Read these features?
CAT 2008: Strategising for Quant, DI
From computer mechanic to serial entrepreneur
Study UK: Courses, expenses & everything in between
'Am young, can take risks: Where to invest?'
---
Today's Recipe: Pesce agli Agrumi (Fish with citrus marinade)
This is a dish I have been doing for years now, sometimes with sweet lime, sometimes with oranges or grapefruit, and sometimes even with all three. Like most Italian fish recipes, this too is breathtakingly simple.
Ingredients
1 kg fish fillet of your choice
50 ml extra virgin olive oil
75 ml white wine
50 ml freshly squeezed sweet lime or orange juice
Juice of 1 lime
1 handful oregano
2 oranges, or any other citrus fruit, sliced
Salt and pepper to season
Method
In a mixing bowl, add the olive oil, wine, orange juice and lemon juice. Add oregano, salt and pepper. Place the fish fillet in the marinade, and give it a good shake.
Add the sliced fruits gently, as you'd like to keep them whole and not break into pieces. Cover the bowl and leave it in the fridge for an hour.
Heat a bit of oil in a non-stick pan and grill the marinated fillets, basting both sides with the marinade. Once the fish is cooked, remove and set aside.
In the same pan, on a high flame, cook the marinade for about five minutes to reduce the sauce. Pour over the fish and serve it garnished with sliced fruits.
Note: I normally like to serve some sauteed spinach with this fish, as the colours of spinach and orange contrast very prettily.
Previous recipes
Excerpted from Italian Khana, India's first Italian cookbook for the Indian kitchen, with permission from the publishers,Random House India. Ritu will also answer reader queries, so please address your questions to her in the QnA box below.
Photograph: Sephi Bergerson