July 24, 2008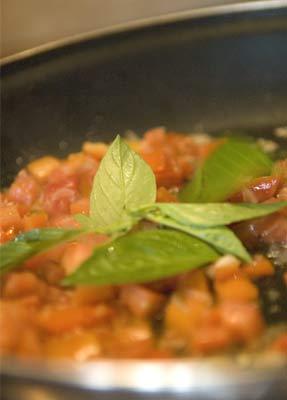 One of the best things about pasta is its versatility. You can throw together just about anything you have in your kitchen with some chopped tomatoes and herbs to create a quick, unique and delicious meal. Try your hand at this cinch spaghetti recipe.
In our continuing series of recipes taken from Italian Khana, an Italian cookbook for the Indian kitchen, Ritu Dalmia, celebrated chef and owner of Diva, one of Delhi's finest Italian restaurants, reveals her best tips and shows you how to cook an authentic Italian dish in 30 minutes or less.
Ritu will also answer reader queries, so scroll down to the bottom of the page to address your questions to her.
Read these features?
'As Indians, we need to build self-confidence'
Ten culinary delights for a spicy sex life!
Crab cakes, cabbage koftas & other video recipes
How Shahid Kapur stays fit
Follow the leaders. Invest like they did in June
---
Today's Recipe: Pasta with sun-dried tomatoes
I love this pasta, especially on the days when I find myself out of olive oil. I cannot bring myself to use any other oil for Italian cooking, and the olive oil in which the tomatoes are preserved works perfectly well for cooking the garlic. Sun-dried tomatoes are available everywhere in India, both in oil as well as the dried variety; I of course prefer the one in oil -- for obvious reasons!
Ingredients
1 packet pasta, spaghetti or linguini
100 gm sun-dried tomatoes packed in oil
2 pods garlic, chopped
A handful of basil or any fresh herbs like parsley
A pinch of dried oregano
1 dried red chilly
The oil the tomatoes were packed in
Salt to season
Method
Coarsely shred the tomatoes.
In a pan, heat the oil in which tomatoes were packed.
Add the garlic, the basil, the whole chilly, and a pinch of salt.
Add tomatoes and cook for no more than two minutes.
Cook the pasta in abundant salted water. Drain it when it is al dente, transfer it to a bowl.
Add the contents of your pan to the pasta, and season with a dusting of oregano
Eat at once!
Previous recipes
Excerpted from Italian Khana, India's first Italian cookbook for the Indian kitchen, with permission from the publishers, Random House India. Ritu will also answer reader queries, so please address your questions to her in the QnA box below.
Photograph: Sephi Bergerson