July 25, 2008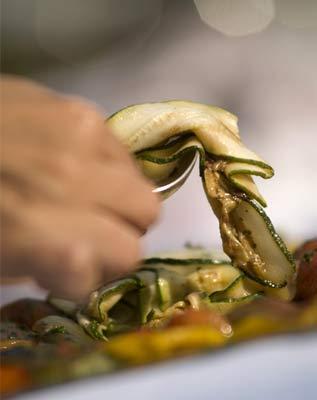 Eggplant, more commonly know in India as the brinjal, may not be the most popular of veggies, but this melt-in-your-mouth recipe is sure to change your mind! 
In our continuing series of recipes taken from Italian Khana, an Italian cookbook for the Indian kitchen, Ritu Dalmia, celebrated chef and owner of Diva, one of Delhi's finest Italian restaurants, reveals her best tips and shows you how to cook an authentic Italian dish in 30 minutes or less.
Ritu will also answer reader queries, so scroll down to the bottom of the page to address your questions to her.
Read these features?
'As Indians, we need to build self-confidence'
Ten culinary delights for a spicy sex life!
Crab cakes, cabbage koftas & other video recipes
How Shahid Kapur stays fit
Follow the leaders. Invest like they did in June
---
Today's Recipe:
Involtini di melanzane
A classic from Sicily, this used to be served at least once as a lunch dish in my cooking school in Regaleali. Eggplant is probably my favourite vegetable (I have dedicated a whole chapter to it in Italian Khana, my cookbook) so I really looked forward to my lunches there.
I love how Italian food manages to transform very simple ingredients into something magical -- and this is another wonderful dish that uses just tomatoes, cheese and eggplant and makes it into something utterly delicious. It does not take more than 30 minutes to prepare and in case you have some basic tomato sauce prepared in your fridge (which I always recommend you keep), this will take you less than 15 minutes to put together.
Ingredients
1 large eggplant of the oblong variety
200 gm fresh mozzarella, cubed
2 tbsp grated parmesan
A few basil leaves
Salt
Oil for frying
For the tomato sauce
Method
To make the tomato sauce: Coarsely chop the tomatoes. Mince a clove of garlic and saute it in 2-3 tablespoons of oil till it begins to colour. Then stir in the tomatoes and a pinch of salt, and cook about 10 minutes, or slightly more over a low flame.
While the sauce is cooking, peel the eggplant and cut it into 1/4 inch thick strips. Salt them, and let them sit.
Cube the mozzarella and mix it with the parmesan.
Preheat the oven to 350 F (180 C). Your sauce should be done by now, so take it off the heat.
Put the oil in the pan. Rinse the salt off the eggplant, pat the strips dry, and fry them for a few minutes, until done. Remove them to an absorbent sheet of paper.
Spoon some of the tomato sauce into an oven-proof dish. Then, make the involtini: lay two strips crosswise. put a cube of mozzarella in the middle of the X, cover it with a basil leaf, fold the strips over the top of the mozzarella, and put the involtino in the baking dish with the folded side down so it will stay closed. Continue making involtini until all the eggplant is used up. Now spoon the remaining tomato sauce over them. Bake for 15 minutes.
Note: In case you do not have an oven do not worry, after you have rolled up the eggplant, secure it with a toothpick and heat it over a pan for a few minutes. Spoon over the tomato sauce and eat right away, it tastes as good without being baked.
Previous recipes
Excerpted from Italian Khana, India's first Italian cookbook for the Indian kitchen, with permission from the publishers, Random House India. Ritu will also answer reader queries, so please address your questions to her in the QnA box below.
Photograph: Sephi Bergerson