July 22, 2008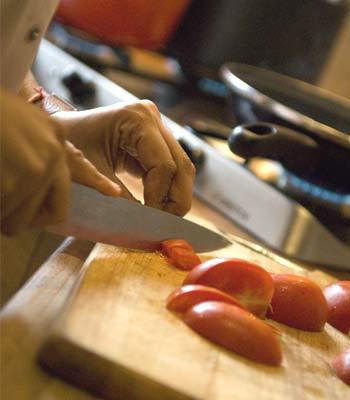 When it comes to simplicity nothing beats this soup recipe. While it may not be your traditional idea of soup -- a steaming hot bowl topped with a dollop of cream or butter and accompanied with bread sticks -- a bowl of this cold soup promises an unforgettable taste sure to tickle your tastebuds.
In our continuing series of recipes taken from Italian Khana, an Italian cookbook for the Indian kitchen, Ritu Dalmia, celebrated chef and owner of Diva, one of Delhi's finest Italian restaurants, reveals her best tips and shows you how to cook an authentic Italian dish.
Ritu will also answer reader queries, so scroll down to the bottom of the page to address your questions to her.
Read these features?
Go stylish but practical this monsoon
How to choose the right yoga mat
'Is it too late to start CAT 2008 preparation?'
Now, a sex machine to boost your sex life
'How do I apply for an MBA in the UK?'
---
Today's Recipe: Salumureci Trapani ('Fake soup')
This is a very simple yet stunning cold soup for a hot day. I love how such frugal ingredients can transform into something so delicious. I prefer loads of garlic in this soup, but you can decide how garlicky you want it -- it depends whether you are eating solo or with someone!
Ingredients
600 gm ripe tomatoes, chopped in small, bite-sized pieces
A bunch of basil, shredded
200 gm one day stale bread, cubed
2 cloves garlic
A splash of extra virgin olive oil
Salt and pepper to taste
Method
Grind the garlic in a mortar with a pinch of salt and distribute the mixture in four bowls; if you prefer less garlic simply rub the bottom of the bowls with a cut clove.
Add the tomatoes to the bowls, season them with salt, pepper and basil, and let them sit for about 10 minutes.
Add chilled water to cover. Let it rest for 20 minutes.
Season the "soup" with a splash of olive oil, and serve it with the cubes of bread.
Previous recipes
Excerpted from Italian Khana, India's first Italian cookbook for the Indian kitchen, with permission from the publishers, Random House India. Ritu will also answer reader queries, so please address your questions to her in the QnA box below.
Photograph: Sephi Bergerson