With weekly additions slowing, it's likely that demand could be slackening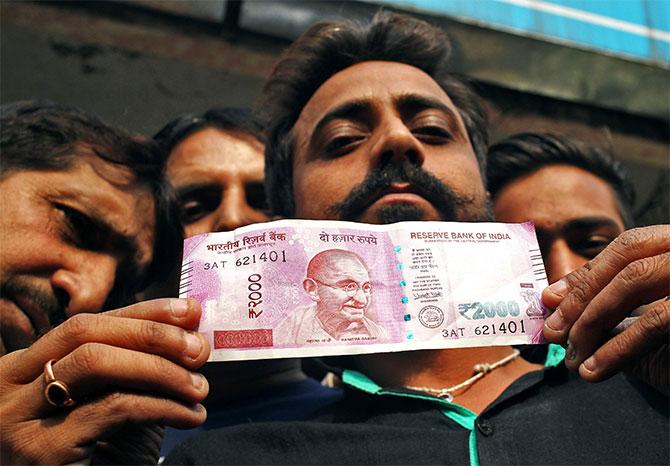 Over the past few months, there has been a steady decline in weekly additions to currency in circulation (CIC).
In the week ending May 26, the addition was a mere Rs 5,900 crore (Rs 59 billion), down from roughly Rs 7,600 crore (Rs 76 billion) the week before.
By comparison, in the week ending January 13, Rs 52,786 crore (Rs 527.86 billion) was pumped into the system.
The total of currency in circulation now stands at Rs 14.9 lakh crore, roughly Rs 3 lakh crore lower than the Rs 17.97 lakh crore in circulation prior to demonetisation.
As additions to currency in circulation would invariably be a function of currency demand, among other factors, does this suggest demand for currency has stabilised?
If so, is this lower level the new normal?
As of January 6, the week after the deadline for depositing the old currency notes into the system had expired, the total of CIC stood at Rs 8.9 lakh crore.
If one was to exclude the Rs 2.5 lakh crore that was not demonetised from this, the balance of Rs 6.48 lakh crore is the new currency that was pumped into the system in two months since November 8.
This would include not only the new currency notes of Rs 500 and Rs 2,000 but also the currency in other denominations pumped in by the Reserve Bank of India (RBI).
As of March 26, the total in circulation stood at Rs 14.88 lakh crore. Excluding Rs 2.5 lakh crore of currency that was not demonetised, it leaves a figure of Rs 12.38 lakh crore - new currency pumped back into the system since November 8.
But, with Rs 6.48 lakh crore already in the system as of January 6, this means over the next five months only Rs 5.9 lakh crore was added.
Data show, in both absolute and week-on-week percentage terms, the increase of new currency into the system has gone down sharply since January - more so in the past few months.
With RBI reducing the weekly additions, does this suggest that demand for currency is saturated?
Economists are divided "There are two aspects. One is that demand for currency has come down progressively as there is some migration to digital mode (though this has also been variable).
Second, there are still some complaints that currency is not easily available everywhere.
Hence, there could be some slowdown in the supply of currency from RBI, both due to logistics issues or could be deliberately supplying at a slower rate, so that the system adjusts to less cash," says Madan Sabnavis, chief economist, CARE Ratings.
"We will get a clearer picture once we have the busy season of September onwards, when harvest and festival demand could prop up demand.
But, for sure, households have transferred their idle cash into deposits and not withdrawn the same, which is why the demand looks to have slackened.
Such funds were held for precautionary and transactions purposes, and the latter may be addressed by digital transactions," he adds.
Another economist says: "To the extent that we don't hear instances of cash crunch, I think we can conjecture that the currency in circulation has entered a new normal."
Others are skeptical. "It looks like currency supply demand is not in equilibrium yet. I think it's too early to draw conclusions," said an economist.
"The increase in currency in circulation during the first two months of the financial year tends to be quite modest.
Compared to this seasonal trend, the augmentation of CIC in April-May appears quite healthy, though subdued relative to the additions during the previous quarter," says Aditi Nayar, principal economist, ICRA.
"Demand for currency is unlikely to have reached a peak, although it is also unlikely to revert to the pre-demonetisation levels in the near term."
If CIC has indeed stabilised at a lower level, it does raise the question as to how this will impact RBI's liabilities and, hence its balance sheet at the end of its financial year.
RBI's annual report - its financial year is from July to June - is expected to be released in August.
Photograph: Danish Siddiqui/Reuters