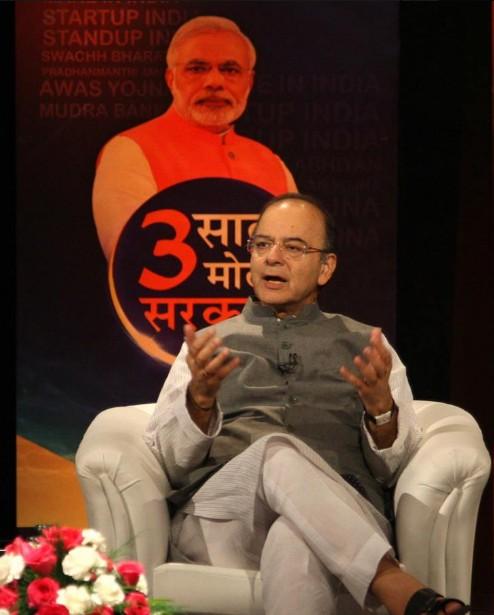 'There will be some challenges' in the switchover to GST in the short term, Finance Minister Arun Jaitley has warned.
Reminiscent of India's tryst with destiny at the midnight of August 15, 1947, Parliament's historic Central Hall will host a function on the intervening night of June 30-July 1 to ring in the nation's biggest tax reform -- GST.
Announcing that the switchover to the Goods and Services Tax (GST) will kick in at the stroke of midnight, Finance Minister Arun Jaitley said the hour-long function will mirror the contribution made by different political parties and states to the revolutionary new tax regime.
The circular Central Hall had previously hosted a function to mark 50 years of Independence.
President Pranab Mukherjee, who had piloted the first Constitutional Amendment Bill to bring in GST in 2011 when he was finance minister in the previous UPA regime, will share the dais with Prime Minister Narendra Modi on the occasion.
Also on the dais will be former prime ministers Manmohan Singh and H D Deve Gowda, apart from Vice President Hamid Ansari and Lok Sabha Speaker Sumitra Mahajan.
All Lok Sabha and Rajya Sabha members of Parliament have been invited, as also chief ministers and state finance ministers, Jaitley said, adding that all the members – past and present -- chairmen of the GST Council and the empowered committee of state finance ministers have been invited.
GST, he said, over the medium to long term will lead to a rise in revenues of the Centre and states as the size of the formal economy will grow.
GST, being a more efficient system, will also result in better tax compliance, the finance minister stressed.
However, in the short term, "there will be some challenges" in the switchover to GST, he pointed out without elaborating.
Asked about industry bodies talking about small and medium enterprises not being prepared for the switchover to GST, Jaitley said July 1 as the rollout date had been announced well in advance and so "nobody had any business not to be ready".
Besides, additional time has been given in the initial period for filing of returns, thus giving enough time to prepare for the transition, he said.
On the anti-profiteering clause in the GST law, he said the provision has been made as a deterrent, and is not intended to be used unless forced to.