On issues like the extradition of tycoon Vijay Mallya, which was already proceeding slowly, further delays should be expected, says Aditi Phadnis.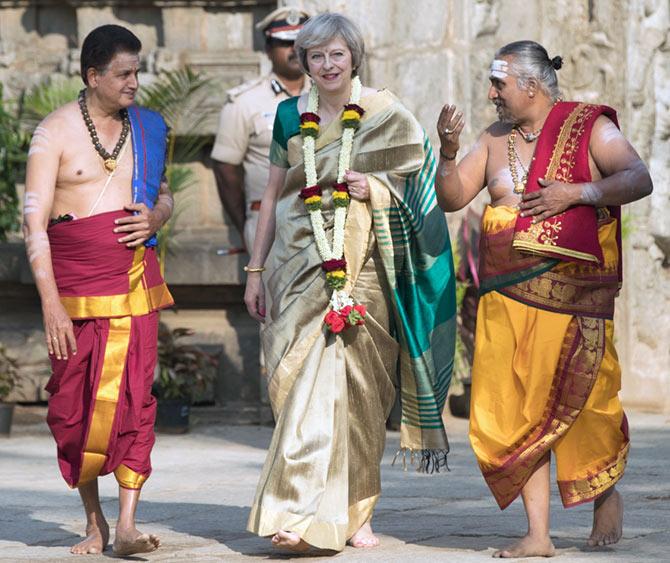 With a hung Parliament that will make UK Prime Minister Theresa May vulnerable to criticism and attack from within her party, and subject to external pressures as well, India's concerns is its dealings with the UK will likely take a back seat.
New Delhi and London enjoy a relationship that ain't broke and needs no fixing. During her India visit in November 2016, Theresa May described India as UK's "most important and closest" friend and a leading power in the world.
But on issues like the extradition of tycoon Vijay Mallya, which was already proceeding slowly, further delays should be expected.
The matter has been heard by the courts and even as Mallya petitions the Supreme Court against his extradition, Britain's interior minister now has to make a judgment on whether his life will be at risk if he is forced to return home.
Faced with multiple pressures, it is likely, but not certain, that Amber Rudd (who won her seat by the skin of her teeth) will continue to be interior minister.
Sources in the British Conservative Party headquarters told Business Standard: "Amber Rudd will retain one of the great offices of state. There will be a lot of continuity, but some moves, some demotions and some promotions."
Given the importance the Narendra Modi government accords to public punishment of tax evaders and the way it is being played up in Indian domestic politics, the Mallya extradition could well become a touchstone for the success of Indo-UK relations.
The election was held against a background of violence and issues of visas and immigration were positioned in relation to Britain's exit from the EU. A special visa system to bring in low-skilled and unskilled labour from outside Britain was on every party's immigration policy list. But with a less than convincing mandate for the Tories, will Theresa May stick to her conviction that Indian business travelers who frequently visit the UK should have simpler visa processes?
Addressing the India-UK Tech Summit in New Delhi on November 7, 2016, she said that as home secretary, she made the visa process for Indians much easier and proposed a 'registered travelers scheme' for Indian businessmen wanting to visit the UK frequently.
In the course of the ongoing Brexit debate, a proposal was mooted during the campaign, that rather than EU, it is the Commonwealth countries that Britain ought to tap to allow low-skilled and unskilled labour. Now that she is back in the saddle but weakened, how will May address this issue?
During her India visit, she had also asked New Delhi to do something about those who were in Britain illegally, flagging specific Indian government action on the "speed and volume of the return of Indians with no right to remain in the UK". To this, India responded that this was an international procedure and it would have to go through its own checklist and make sure only genuine Indians are admitted back.
During her last tenure, in the post-Brexit context, May had made trade the talking point in relations between India and Britain. But former Foreign Secretary Lalit Mansingh said this was not likely to change much, regardless of a new government in the UK.
"India-British trade has never been high, despite the claims political leaders make. The figures have hovered at 15 to 20 billion British pounds annually. Despite efforts, it has remained in this zone for decades. In contrast, India-US trade has gone up from around $20 billion to over $100 billion now. I don't see much prospect of this changing," Mansingh was quoted as saying.
Image: British Prime Minister Theresa May wore a sari to visit the Halasuru Someshwara temple in Bengaluru in November 2016. Photograph: Dan Kitwood/Getty Images.