It's the most popular Grand Slam across popular social networking sites
With nearly 900k followers on Twitter, former World No 1 Caroline Wozniacki is highly popular on the micro-blogging site. Photograph: Shaun Botterill/Getty Images
Wimbledon is the top Grand Slam championship for attracting social media-savvy tennis fans, with more followers on Facebook, Twitter and Instagram than any of the other three, a survey released on Wednesday said.
The tournament's 4.1 million followers on the social media websites put Wimbledon on top, with the French Open second on 3.7 million and the US and Australian Opens lagging behind, the study by sports and entertainment intelligence firm Repucom said.
The Wimbledon 2014 men's singles final, in which Novak Djokovic defeated Roger Federer, was the single most popular Grand Slam match on social media, with a combined 585,000 posts, almost double that of any other.
The survey found that 34 percent of all Wimbledon's Twitter posts include either a video or picture, compared to 25 percent for the French Open, 15 percent for the US and 14 percent for the Australian.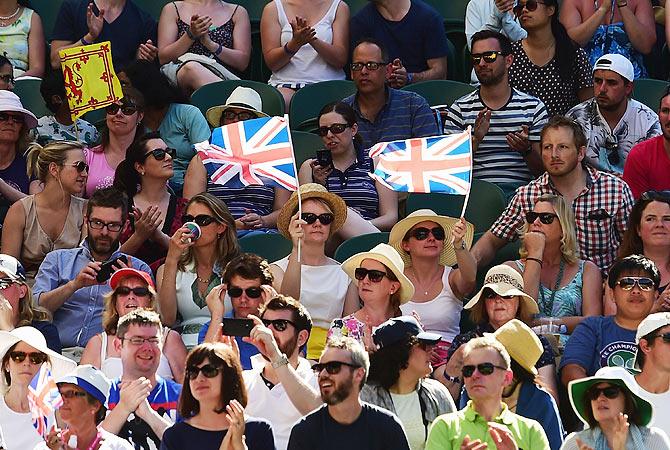 Supporters of Great Britain'S Andy Murray watch him play in his first round match against Kazakhstan's Mikhail Kukushkin on Tuesday. Photograph: Shaun Botterill/Getty Images
"Wimbledon's use of archive footage among other content themes, or as we call them, 'fan stories', are what drives the tournament's dominance in tennis while staying true to their strong, brand values," Max Barnett, Repucom's Head of Digital for the United Kingdom and Ireland, said in a statement.
"In the month leading up to this year's tournament, almost 100 percent of Wimbledon's Tweets included a video or picture, helping to drive engagement rates while playing into the hands of social media algorithms," Barnett added.
Also, with tennis stars like Caroline Wozniacki, Rafael Nadal, Andy Murray and Novak Djokovic active on Twitter and Facebook, fans are sharing and viewing more of tennis on the internet.
Repucom, based in Cologne, Germany, provides research to more than 1,700 rights holders, brands, agencies and broadcasters in sports and entertainment worldwide.