'Every team has to fear this player because he is just a monster'
'He is a beast, congratulations to Manchester City for signing him'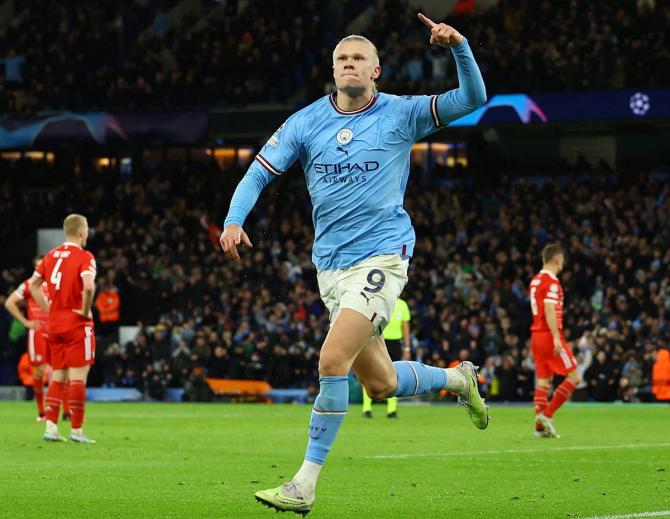 Manchester City goal machine Erling Haaland set another record on Tuesday by becoming the first Premier League player to score 45 times in a single season and the Norwegian will doubtless reach more milestones in his first campaign in England.
Haaland crowned a remarkable City display with the third goal in his side's 3-0 defeat of Bayern Munich in the first leg of their Champions League quarter-final.
It took him past the 44 goals that Manchester United's Ruud van Nistelrooy and Liverpool's Mo Salah scored for their sides in 2002-03 and 2017-18 -- but from only 39 games, 13 fewer than it took Van Nistelrooy and Salah.
The last English top-flight player to score more in a single season was Clive Allen for Tottenham Hotspur in 1986-87 when he struck 49 goals and that will be Haaland's next target, as will the five goals he requires to beat Alan Shearer and Andy Cole's record of 34 goals in a Premier League season.
And with City still chasing three trophies the question is how far Haaland, barring an injury, will raise the bar.
At his current rate of scoring, talk of 60 goals for the season might even seem conservative, although perhaps Lionel Messi's 73 goals for Barcelona in all competitions in 2011-12, including 50 in La Liga, might just be out of reach.
"Every team has to fear this player because he is just a monster. He is a beast, congratulations to Manchester City for signing him," former Bayern Munich and Germany striker Mario Gomez told BT Sport on Tuesday.
Haaland's 45th goal was a personal record, too, for the 22-year-old who scored a total of 44 in 2019-20 (28 for Salzburg and 16 for Borussia Dortmund).
It was also his 11th Champions League goal this season, only one behind the Premier League player record of 12 scored by Van Nistelrooy in the 2002-03 competition.
And if he goes on to break Cristiano Ronaldo's record of 17 Champions League goals in a single season, City may well be celebrating finally winning Europe's biggest prize.
"Haaland gives belief that maybe we didn't have in other years because he has that killer attitude. People like him are born to win trophies like the Champions League," City diehard fan Steven McInerney, who hosts the Esteemed Kompany YouTube channel, told the BBC.
"There's always a chance when you've got him because he's that special."