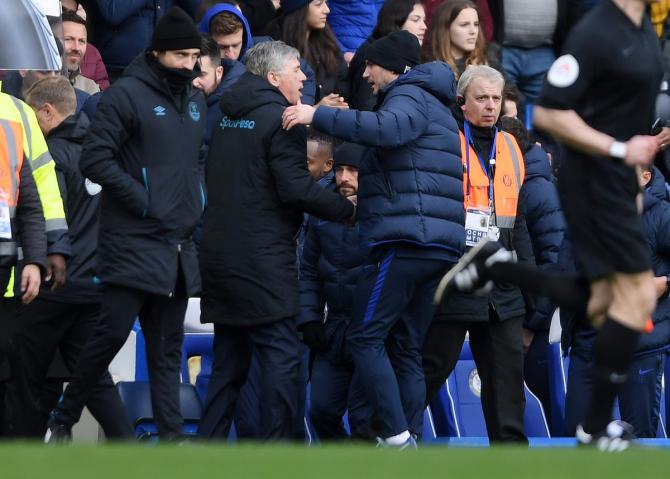 Real Madrid head coach Carlo Ancelotti backed Frank Lampard to do well as manager of his former side Chelsea and ruled himself out of a return to the Premier League club ahead of the two teams' Champions League quarter-final first leg on Wednesday.
Ancelotti, who guided Chelsea to the Premier League and FA Cup double in 2009-10, will come up against his former player Frank Lampard at the Santiago Bernabeu in the midweek clash, after the Englishman was appointed Chelsea's interim manager.
Chelsea have dropped to 11th in the Premier League after a run of poor results, and have also been knocked out of the FA Cup and League Cup, despite spending almost 300 million pounds ($373 million) on new players in January.
The Champions League is the English club's last chance for silverware this season.
"I feel sad (looking at Chelsea's position in the table). I have a fantastic memory of this club, of the people that are still working there. I'm a supporter of Chelsea, because I spent two years there," Ancelotti told reporters on Monday.
"Will I go back (as coach)? No, I hope Lampard will be able to do a fantastic job with them... Lampard has been a great player who I coached for two years.
"He knows these kind of games well and how to prepare his team. He has been here for a week, but he will do well in the time he is at Chelsea."
Despite Chelsea's poor run of form, Ancelotti urged his side to be wary of the English club, who have faced Real in the knockout stages of the last two Champions League seasons and beaten them twice in four games.
"We suffered a lot last year," the Italian manager said.
"We have to respect the team and the club, they have very good players and even if they are not in a good moment they have great motivation and will bring out the best. It's a squad of a very high level.
"The team is excited and motivated to return to the Champions League and experience another magical night at the Bernabeu. We have to take advantage of the fact that we play the first game at home."