'After the NRC in Assam, things have changed for Muslims in India.'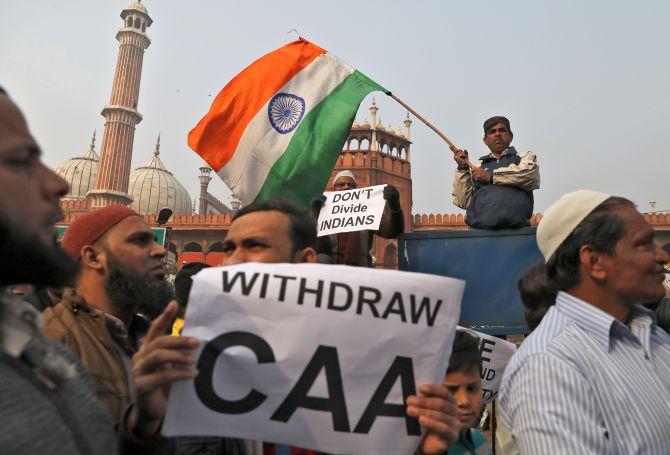 Residents of some villages of Kutch in Gujarat have called for a 'Muslim boycott' after a bandh called by the community against the Citizenship (Amendment) Act and the National Register of Citizens proved successful.
Pamphlets have been distributed in the region terming the bandh as 'Desh Virodhi' for opposing the CAA and NRC.
Ibrahmi Halepotra, president, Akhil Kutch Sunni Muslim Hith, tells Rediff.com's Syed Firdaus Ashraf how the anti-CAA protests have taken a communal turn in Kutch.
---
On December 18, 2019, we took out a rally against the CAA in Kutch, under the banner of the Akhil Kutch Sunni Muslim Hith.
It was joined by lakhs of people and this happened without any publicity.
We had organised this entire protest through WhatsApp and it was very successful.
Next day, supporters of the CAA said they will also take out a rally.
I wondered what's the point in calling a rally in support of the CAA when the law was already passed. But these pro-rallies were taken out by communal elements to disturb the peace in Kutch.
On January 28, supporters of the CAA again called a rally where they displayed a 100 feet-long national flag.
Next day, there was a Bharat bandh called by the Bahujan Kranti Morcha against the CAA and our organisation supported that.
I supported it on the condition that there should be no violence and the bandh must be held peacefully and participation should be voluntary.
Many Muslims joined the bandh, but by evening, a few people were arrested because of some unrest.
On January 30, messages by CAA supporters started circulating on WhatsApp groups, asking a Muslim vegetable seller in a small village called Navanagar in Kutch not to sell vegetables because he had supported the bandh.
Later, in Anjar Kutch, a Muslim community called Khatri that does bandhni textile work, was boycotted and many people refused to do business with them.
Out of nowhere, messages started floating on WhatsApp that Muslim-owned businesses must be boycotted.
Later, I located the source (of these messages) and went to the police, urging them to intervene and stop this nonsense.
They said they would investigate the matter. I told them if they find out who is behind this then good, otherwise I will file a first information report.
Meanwhile, in Ratnal village, a poster was issued in the name of the Bharatiya Janata Party minister Vasanbhai Ahir, saying that autorickshaw drivers who supported the anti-CAA protest should not be allowed to ferry passengers in the village.
Personally, I feel the minister was not responsible for the poster. It was the handiwork of some communal elements.
They wanted to protest against Muslims and at the same time target Vasanbhai too.
Next day, another WhatsApp forward claimed that our organisation -- the Akhil Kutch Sunni Muslim Samiti Hith -- is part of the Students Islamic Movement of India.
After this message, the IG of Kutch (Subhash Trivedi) called a meeting among all groups.
At that meeting too, the boycott issue was raised. The IG intervened to ensure that peace is maintained at any cost between the pro- and anti-CAA factions.
Newspapers covered all these issues in detail.
Muslim businessmen began opening their shops, but many CAA supporters continued boycotting them.
Many Hindus told these people who were boycotting us not to do so.
They said Kutch is one of the most peaceful places in India and now it is being turned into a dangerous place.
Two major businesses are owned by Muslims in Kutch: Milk and bandhni.
Many Muslim businessmen also own crusher plants and truck associations.
Though the boycott was not very successful, when people are bombarded constantly by communal messages on social media, then surely there would be some effect.
Those who are calling for a boycott of Muslim businesses should say if they will stop using milk overnight.
Muslims are in these business for years, how can they be replaced overnight? These people must understand such things before spreading communal messages.
The labourers in Kutch are also mostly Muslims. If they are also boycotted, who will do these jobs?
I feel this boycott call is to spread fear in Kutch.
I want to tell all those who do not understand why Muslims are supporting anti-CAA rallies, that after the National Register of Citizens in Assam, things have changed for Muslims in India.