'The BJP wants to communalise the anti-CAA protests.'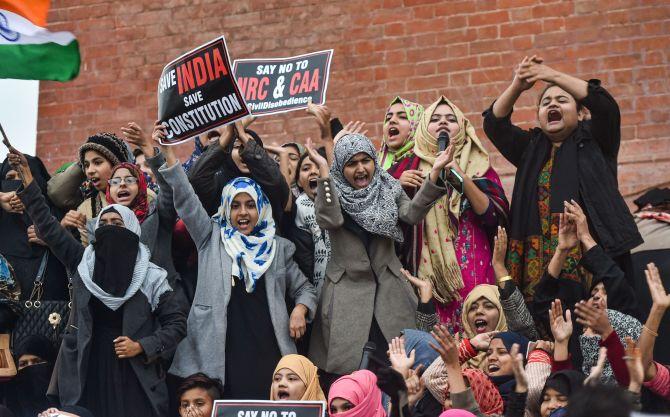 Social worker Parvez Arif Titu has filed a public interest litigation against the Uttar Pradesh government in the Supreme Court.
In his petition, Titu has said the UP government has issued notices asking to pay for damages caused to public and private property during the anti-Citizenship Act protests, even to persons who were not associated with the protests.
'Notices have been issued in the name of bed-ridden patients, even dead people, alleging their links with the anti-CAA protests,' Titu said in his petition to the Supreme Court.
"Today the Constitution is not being respected and whatever Modi and Yogi say becomes the law," Titu tells Rediff.com's Syed Firdaus Ashraf.
Why have you filed this PIL?
The Uttar Pradesh government has been unfair towards the anti-CAA protesters.
Unknown people came and disturbed the peace during a peaceful protest and police took action against the peaceful protesters instead.
I am a social worker in Amroha, Uttar Pradesh. I am involved in social activities and I felt what was going on was unfair towards peaceful protesters.
People are scared and I fear that after this PIL, I too will be arrested. But then one has to speak against injustice.
I just feel if you cannot come out and protest, just put up a black flag outside your balcony with 'no-CAA' mark on it.
We don't know what the future holds for us, but at least (we should) raise our voice now.
What happened in Amroha that made you take this step?
There was a peaceful protest at Jama Masjid in Amroha in December where some people shouted slogans.
Two days later, a motorcycle was set afire on the road. No one knows who did that.
In this case, the UP police slapped Section 307 (attempt to murder in the Indian Penal Code) against anti-CAA protesters.
Moreover, penalty of lakhs of rupees were slapped on the protesters even as no public property was burnt or damaged.
Some people were also charged with sedition and what not.
All these charges are only for burning a motorcycle, about which no one has any idea as to who did that.
How did the police identify these protesters?
The police randomly chose names. They even levelled charges on a man who died six months ago. They are acting whimsically.
God knows what they want to make India into. Even today, around 15 people are in jail. Around 1,500 people they say are unknown people who were involved in violence.
And the police says that 54 people are absconding.
The fact is, these people are running helter-skelter, but no one is there to hear their grievances.
Someone had to speak up against this injustice. And, therefore, I approached the Supreme Court.
What does the law say? Can a state government recover money from protesters who burnt public property?
As I told you, only a motorcycle was burnt in Amroha by some unidentified person.
Moreover, even if you violate Section 144 of the CrPC (Code of Criminal Procedure), you cannot be charged with sedition laws or Section 307 IPC.
How can you charge someone with these sections when not a single bullet was fired by anyone in public?
Therefore, I am putting all these questions to the court. The Constitution gives me this right and that is what I am doing.
Did you try to meet any BJP leader and pose these questions to them?
The BJP took out a morcha in Amroha in which their supporters openly shouted 'Police tum lathi maro hum tumhare saath hain (Police, beat them up, we are with you)'.
They were abusing us (anti-CAA protesters).
Why anti-CAA protesters are being singled out?
The BJP wants to communalise the anti-CAA protests.
When I planned to protest against the CAA, I was put under house arrest. The police was sitting in my house.
Among all states, the worst retaliation against anti-CAA protesters has come in UP. Is there any specific reason for that?
It is because Yogi Adityanath is ruling UP. The UP government is behaving in a vindictive manner against the protesters.
Given a choice, they will throw all anti-CAA protesters out of the country.
I feel I have started a fight against this injustice in a small way by going to court.
I feel if I do not speak up against this injustice now, Muslims of this country will become second class citizens in future.
They will be sent to detention camps near borders. Now that fear in people's hearts has disappeared and we are all ready to fight against injustice.
Only Muslims are protesting against the the CAA, other communities are few in number.
The BJP wants that to happen. They will get political benefit (by it).
They could not run the country (properly) so they are doing all these things.
They are selling companies like Air India and claiming that the country is progressing economically.
Yogi Adityanath keeps uttering 'Sab ka Saath, Sab ka Vikas', what about that?
You just saw him saying in an election rally in Delhi that 'we are giving goli to protesters in UP while he (Kejriwal) is feeding them biryani'.
You can understand his mentality.
He is the chief minister of the most populous state of India. What can you expect from such a chief minister?
Do you think things will change in UP in the future?
I am hopeful. I hope I will get a good judgment on this PIL.
The Supreme Court could have rejected my petition, but they went ahead and asked the UP government to reply.
This is a struggle for me now.
How much penalty do the people of Amroha need to pay to the UP government?
I don't know the exact number, but every person has to pay more than Rs 1 lakh.
On the top of it, they are also booked in serious cases.
What are these protests achieving?
You see, at least now this government is saying they will speak to the protesters.
Today the Constitution is not being respected and whatever Modi and Yogi say becomes the law.
Therefore I had no option, but to go to court. What else can people do except to protest against laws which are unconstitutional?
Modi himself said there will be no NRC.
These words only came after the protests started.
The world is watching our protest and everyone is supporting us even though the Indian media is not highlighting our plight.