'For Muslims, India is now a Hindu Rashtra, no matter what kind of Constitution is still in place,' argues Mohammad Sajjad.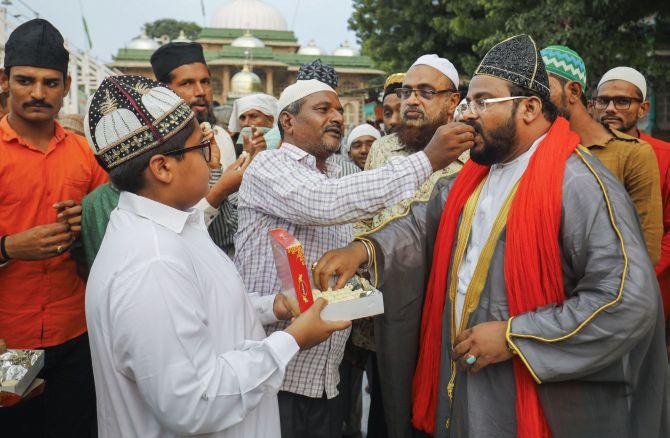 For Muslims in Independent India, two dates will be more important than many other important dates: December 6, 1992, already etched in memory as Black Sunday, and November 9, 2019.
True, there are many Muslims who were born after December 6, 1992, but they have grown up with its impact on their parents, neighbourhoods, kith and kin.
Things have been changing quite rapidly since then.
Yet, the growing educated middle classes -- however tiny -- have been subjecting themselves to self-introspection as to what extent did conservatives amidst them contribute to the resurgence of extremist majoritarianism.
They have been speaking out, writing, asserting against these conservative clergy as well as those misguided youth who had a propensity towards radicalisation.
In terms of gender reforms, unlike what happened in the Shah Bano case in 1986, the vocal middle class of Muslim men and women chastised, exposed, the clergy and the leadership who are hands in gloves with the clergy.
Despite all these, saffron majoritarianism kept gaining strength, and eventually emerged as the only hegemonic political force, with unbridled State power.
The worst roles in this regard have been played by some television channels.
This poisonous process had already been underway since the 1980s when some widely circulated Hindi daily newspapers communalised social spaces in the Hindi belt.
The vandalism at Ayodhya (December 6, 1992) and the consequent barbaric violence in may parts of India was in many ways a culmination of what these sections of the media have been doing.
Nonetheless, the demolition was undertaken by a frenzied mob, instigated and led by power-hungry political groups (notwithstanding claims by some of these to be mere cultural organisations).
It was not by a Constitution-bound government or institution.
Till that point of time, many political parties and notable individuals mustered the courage to stand up and speak out against such atrocities and aggression.
True, the security and investigative agencies mostly displayed either inaction in preventing the atrocities or played partisan roles.
The Muslim desperation is well articulated in Syed Mohammad Ashraf's Urdu short story, Kaabey Ka Hiran.
In the story, a Muslim family living in a Hindu locality feverishly hope that the unidentified man killed does not turn out to be a Hindu.
Else, they would be massacred.
The moment they discover that the deceased is a Muslim, the family heaves a sigh of relief and rejoices with halwa.
Because of fear, Muslims wilfully failed to gather and produce evidence before the slow moving courts.
This is how the aggressors of such violence mostly went unpunished.
The ruling parties, or its notable individuals, even though surreptitiously sympathising with the aggressors, issued some calming statements. At times paltry compensatory amounts were also offered to aggrieved individuals.
This is how Muslim communities learnt to live, consoling themselves, pretending to be living in a secular pluralist democracy with the citizenship rights of equality guaranteed by the Constitution.
On many occasions, even the highest institutions did disappoint them.
Scores of inquiry commission reports catalogue such failures and culpabilities.
Despite all these, reconciling with the many injustices done against them, Muslims still had faith in institutions, even more so in the higher judiciary.
Muslims knew the Ayodhya imbroglio (more than anything else) had helped the incumbent dispensation with unprecedented votes, support and power, to the extent that increasingly, institution after institution capitulated before the regime.
Starkly visible to helpless and hapless Muslims is the fact that the proportion of Hindus being outraged by the crumbling and crawling of institutions is rapidly depleting.
Not only the big institutions, even in social spaces, everyday lives, public spaces, on buses, trains, at parks, airports, in schools, colleges, offices, everywhere, hostilities against Muslims are manifest.
Such hatred is starker in the virtual space.
Muslims therefore had a sense of impending danger if the Ayodhya title suit was settled in their favour.
Staying inside their homes on November 9, 2019, they were praying for their safety and security.
Yet, given their faith in the apex judiciary, what most of them anticipated was that the Supreme Court would not find enough evidence to award the title suit to the Hindu side.
That the Supreme Court -- having conceded the criminality of December 6, 1992 -- eventually decided in favour of the very forces who demolished the Babri masjid is a huge shock to them.
They are bracing themselves to live with this reality of a transformed India.
This is what they mean when they say, 'move on'.
There are many good things in the observation part of this verdict, yet the deep flaws and contradictions which this verdict suffers from pushes the realisation that Muslims must reconcile with the fact that for all practical purposes they are now second grade citizens .
No political party has been able to muster enough courage to point out the brazen contradictions and flaws in the verdict.
The Sabrimala case being referred to a higher Supreme Court bench exposes the contrast even more starkly.
This option was ruled out on November 9, 2019.
For Muslims, India is now a Hindu Rashtra, no matter what kind of Constitution is still in place.
This is why a section of Muslims want to turn down the five acres of land (to be given possibly far away from the erstwhile disputed spot) as a token of silent protest against the deep flaws in the verdict.
There are still others who feel peace should be bought by accepting this piece of land.
Even these pacifists harbour the apprehension that even these five acres will not satiate the majoritarian appetite.
Many hot-headed bigots have a long list of monuments to reclaim. This list is not confined to Kashi and Mathura alone.
Only scared and subjugated Muslims can really satisfy them.
Such bigots are no longer a fringe.
That is why many Muslims oppose the idea of filing a review suit in the Supreme Court against the verdict of November 9, 2019.
The verdict, in its implications, has reduced the Ayodhya issue to a mere Hindu-Muslim issue.
Secular Indians may gather strength in the future to wage a fight against this Hindu Rashtra, and for retrieving secular India.
If at all that happens, the future of Muslim communities would lie in joining those forces and movements as citizens, and not as Muslims.
This situation reminds of the character played by Balraj Sahni in the 1974 film Garm Hawa.
The otherwise cornered, frustrated, hopeless character in the story eventually jumps onto a Left wing procession of the working class.
At this moment, even that metaphorical option is barely in sight.
Professor Mohammad Sajjad teaches history at the Centre of Advanced Study in History, Aligarh Muslim University.