Beauty is woven into the ghazal with such deep feelings of love that the focus is always on seeking oneness with the other, notes Gopi Chand Narang.
Illustration: Dominic Xavier/Rediff.com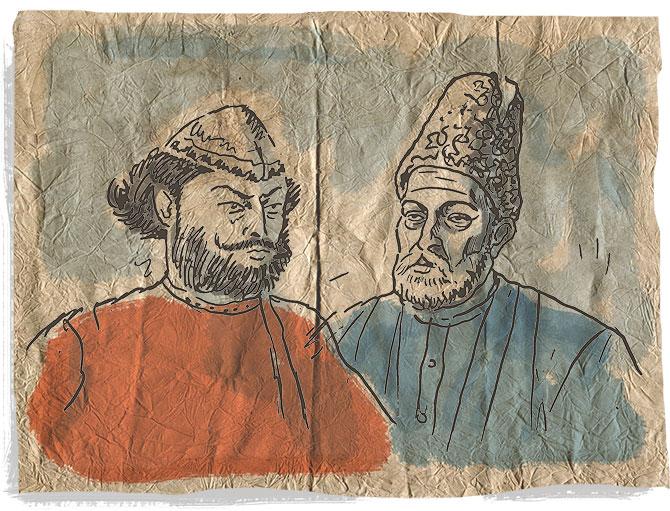 In this discussion of the characteristics and concept of love, we now come to the part that is really the zenith of Urdu verse and, at this junction, we meet the two giant pillars of the grand structure of the Urdu ghazal who stand tall and would remain so in the times to come: Mir Taqi Mir and Mirza Ghalib.
Their poetry goes to the very source of the idea of love.
They recognise love as the central binding force that keeps this universe going.
It does not mean that they do not talk of the beloved's tresses, enchantment or elegance. They describe beauty like no other poet has done before.
Yet it is woven into the ghazal with such deep feelings of love that the focus is always on seeking oneness with the other, and this effort is always of an enduring nature that has no end.
Tasavvuf is helpful in opening the doors of a spiritual or existential understanding and beyond.
But a great poet need not be a follower of any particular doctrine to do exactly that with the power of his words and his ideas.
The time when Mir and Ghalib lived was the time when tasavvuf had already become a part of people's thinking and refl ection.
Mir was born in a household where tasavvuf was already a way of life. His father lived like a dervish. Because of this, Mir had a chance to meet other dervishes.
His father used to tell him, 'ay pisar ishq bavarz, ishq ast k dariin kaarkhaana mutasarrif ast which meant: O my son, adopt ishq, it is the dynamic of ishq and only ishq that governs and runs this whole universe.
Ghalib was born in a prosperous family where Sufi ideas were well understood, but both Ghalib and Mir did not select any doctrine to be their guiding light in their lives.
They appreciated varied influences of tasavvuf, but it was not something that they fully embraced.
They looked upon love as a most powerful dynamic of life. Their concept of love respects basic human aspirations.
Both Mir and Ghalib are earthbound, but their reality is part of the universe where both the unreal and the real meet and fuse into one another.
To critique Mir's poetry from the worldly and other-worldly standpoint is unfair. He starts with the self -- his own self -- and what he experienced.
His deep suffering in love at a young age broke his heart and he became nearly insane.
With time he recovered but perhaps never fully so.
The way he expresses his pain passes on to the reader inasmuch as that one man's pain becomes the pain of everyone else.
Asar Lakhnavi said that Mir experienced feelings of love with great intensity and, as a poet, he wanted to convey those feelings through his words with equal intensity.
His heart melted and dripped one drop at a time and he wanted others to know how it felt.
Communicating to others his deep hurt was the speciality of his poetry.
His love story was earthy like every other love story, but the experience of love's failure became a part of his psyche and an inspirational force that he narrated at a very high aesthetic level.
Ghalib's idea of love, like that of Mir is also earthy, but the intensity of his feelings is different.
Mir looks upon love as a sacred fire. Ghalib's love is restrained and self-possessed.
There is a pain of separation and the pleasure of union, but it is well-modulated; nothing is out of control. The heart gets hurt and bleeds, but is under restraint.
Love is the most vital aspiration and impacts one's whole life.
It is emotional, but not uncontrollable and bordering on madness as with Mir; it is more material than spiritual.
But materiality does not fall a victim to lustfulness or pleasure-seeking. It is a part of personal dignity and a deep inspirational force.
Despite some differences, both Mir and Ghalib share a common foundation of love poetry and that is the awareness of love's dynamic nature and human dimension.
They are neither pleasure seekers like the poets of Lucknow nor mourners at love's grave like some earlier Delhi poets.
They do not fly high like the Sufi poets.
They make a conscious effort to stay as grounded as possible.
There is a difference of almost a century between the two.
Mir is mainly an 18th century poet who laid the foundation of the classical ghazal, while Ghalib belongs to the 19th century, almost around the end of the classical era of Urdu poetry.
Mir, Mohammad Taqi (1723-1810)
Mir Taqi Mir, recognised as Urdu's first truly great poet, was born in Agra -- a city he was forced to leave after his father's death when Mir's affair with a girl from within the family became known.
He spent many years in Delhi, years of great suffering, and then he moved to Lucknow in 1782.
He experienced first-hand the destruction of Delhi by the invading army of Ahmad Shah Abdali in 1748 that caused him great personal suffering.
Although Mir wrote his autobiography that covered a major portion of his life, it is believed that he left out many details, especially his love affair about which he wrote two masnavis.
Known as a poet of deep pathos and melancholy, Mir wrote extensively.
His complete works consists of six divans and nearly 14,000 couplets.
Each couplet written by Mir is like a carving in stone in which everything stands out as a fragment of perfection.
Ghalib, Mirza Asadullah Khan (1797-1869)
Generally acknowledged as Urdu's greatest poet, Ghalib lived through a most tumultuous period, a social and cultural transformation of society -- the failure of the 1857 rebellion, the end of the Mughal empire and the subjugation of India under British rule.
Ghalib moved from Agra, the city of his birth, to Delhi after his marriage at an early age where he spent the rest of his life.
He travelled to Kolkata in 1828 for the resolution of his pension case and this travel was one of the signature events of his life.
He had a glimpse during his stay in Kolkata of a new style of city planning, public parks, open vistas, street lighting, modern shipping and the use of telegraph for communication.
As a supporter of new ways of thinking, Ghalib broke with the tradition and as such he is considered to be 'the last of classicists and the first of the modernists'.
He was open in his thinking and opposed all forms of authoritarianism and oppression, religious bigotry and narrow thinking.
He supported a political system in which people had a voice.
These are the qualities that endear Ghalib to readers of different viewpoints -- from conservatives to progressives, from traditionalists to moderns
He was a friend of Sir Syed Ahmad Khan and he prodded Sir Syed to focus on the problems of the day rather than looking to the glories of the past.
He had a large number of disciples and his Urdu letters published after his death set a new standard of Urdu prose writing.
Ghalib wrote both in Urdu and Persian but his popularity rests on his Urdu divan which is the most loved and cherished book of Urdu verse.
---
Excerpted from The Urdu Ghazal: A Gift Of India's Composite Culture by Gopi Chand Narang, with the kind permission of the publishers, Oxford University Press.