'I could see the silhouettes of three men on the sixth floor.'
'I pointed them out to the NSG personnel standing beside me and suggested they take them out.'
'They did not have the clearance to fire.'
Imam A Siddique is a casting director and an image consultant with over 30 years of professional experience in advertising and broadcasting.
He is also an entertainer who had a signature style show on MTV India.
Many will also remember him from his stint during Bigg Boss Season 6.
On the 13th anniversary of the 26/11 terror attacks, he recounts his personal experience outside the Taj Mahal hotel in Mumbai on the night of the siege, to Rediff.Com Senior Contributor Roshmila Bhattacharya. Over to Imam...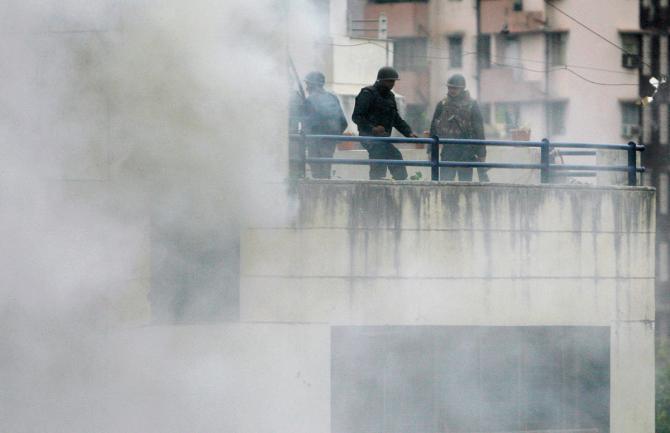 November 26, 2008. Around 10.30 pm, I was in my apartment located near the fourth Pasta Lane in Colaba.
Diagonally across the street, about 200 metres away, is Nariman House.
The TV set was on, with the volume lowered as usual. Occasionally, I would glance at the ticker.
Suddenly, I heard what sounded like fire crackers bursting. It wasn't unusual, when a wedding procession went past or to celebrate festivals. I wasn't alarmed.
Then, there was a huge explosion, followed by a chorus of voices. I jumped up and ran to my balcony. There were dead bodies on the street.
I ran back inside and looked at the silent TV. It was reporting a disturbance in Colaba and I panicked.
Locking the door behind me, I ran down. I saw the first grenade outside Nariman House.
Someone said there had been a shootout at Leopold Café. I knew the family and ran there.
The cops had sealed off the café, but I saw the owner's wife sitting outside Olympia Coffee House. She told me that some people had walked in and started firing randomly.
Some of her staff and guests had been killed and many injured.
She suffers from high blood pressure. I got her water and sugar.
When I asked her how else I could help, she told me that there was talk of trouble at the Taj Mahal Hotel and I should go there.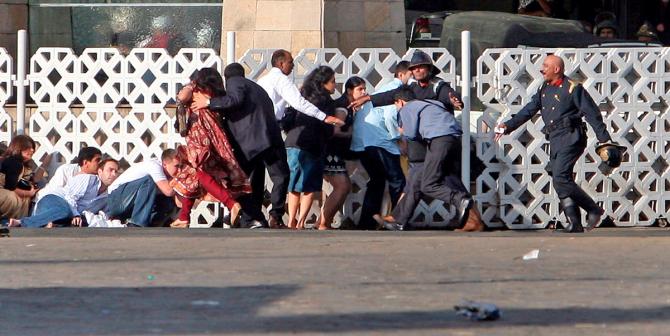 I ran off in the direction of the hotel, taking the same lane the terrorists had to reach it.
On the way, I saw a really distraught French couple and asked them what the matter was.
The gentleman gave me the cold shoulder, but the lady was more forthcoming, sharing that their 15-year-old daughter Laetitia was in a room on the fourth floor of the hotel's old wing. She was unreachable.
I can speak Marathi so I went to a police van and through the wireless informed the cops about Laetitia, giving them the floor and her room number.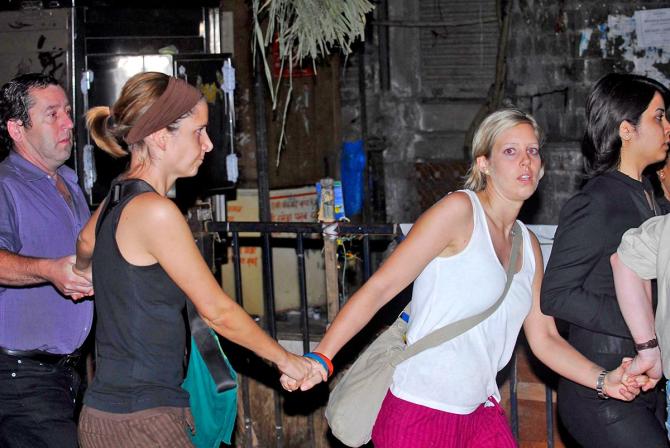 The area had been cordoned off. I was pushed back to the Gateway of India.
It was mayhem.
The terrorists who had taken siege were lobbing grenades, firing indiscriminately inside the hotel with the intention to kill.
As I watched the horror unfold, some of the rooms in the hotel's left wing were set ablaze.
From my vantage position, I could see the silhouettes of three men on the sixth floor, giving each other hi fives.
I pointed them out to the National Security Guards standing beside me.
I guessed they were the perpetrators of this madness and suggested they take them out. They did not have the clearance to fire.
Another explosion, more firing, more fires. I was pushed further back.
I did not budge all night.
Around 4.30 am, I saw the scariest sight of my life. Someone on the third floor of the Old Taj, had tied all the linen in the room, made a makeshift rope with bedsheets, curtains and towels.
He was attempting to climb down using this makeshift rope.
It gave way and he fell on the pavement below.
His scream chilled me to the bone.
I could see he was still alive, yet in all the commotion, no one was running to his assistance.
I went to where the Tops Security ambulance was parked.
I literally blackmailed two employees of the private security agency into rushing to his rescue.
I told them that I would call the owner otherwise and they would lose their job. They had seen me at their owner Divang Rahul Nanda's birthday party and reluctantly complied.
He had fallen behind the police barricade and both his hands had broken from the fall from 50 feet. He had fractured his legs.
The stretcher got stuck. We had to use a makeshift stretcher made from material used to make the rope to carry the gentleman to the ambulance.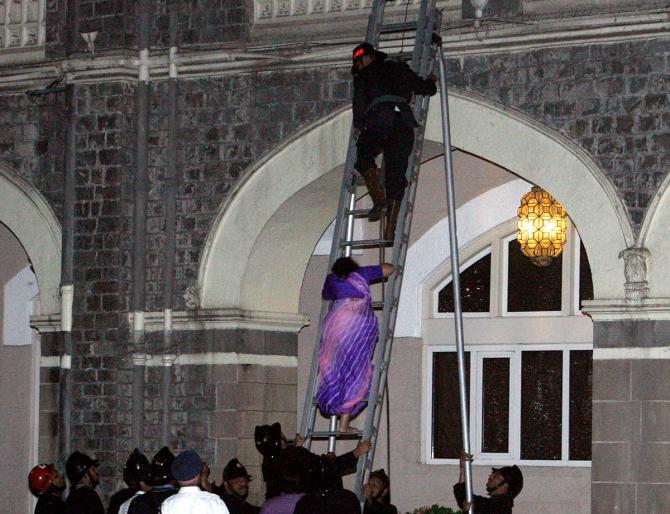 I knew we were risking our lives evey minute, standing there out in the open, with guns and grenades still going off, trying to help a foreign national who would be the terrorists' first target. But I knew I couldn't leave the man to die.
I am a man of faith, and where there is faith, there is no fear.
I learnt that he was William Pike, a British citizen. He refused to leave without his girlfriend, Kelly Doyle, who was still stuck in her room. So were many others.
I promised him I would get her out. We rushed him to Bombay Hospital.
I heard a child shout, "Elp... elp..." He pronounced the word like the French and reminded me of Laetitia.
I looked up, searching for Kelly, and saw a younger girl. She turned out to be Laetitia. It was that kind of a night.
I ran off to get the fire brigade to help bring them down. They went with the manual, wooden ladder first and were unable to reach. They switched to a snorkel hydraulic pipe and we managed to rescue Kelley and Laetitia whom I handed over to her parents.
After that they rescued more people.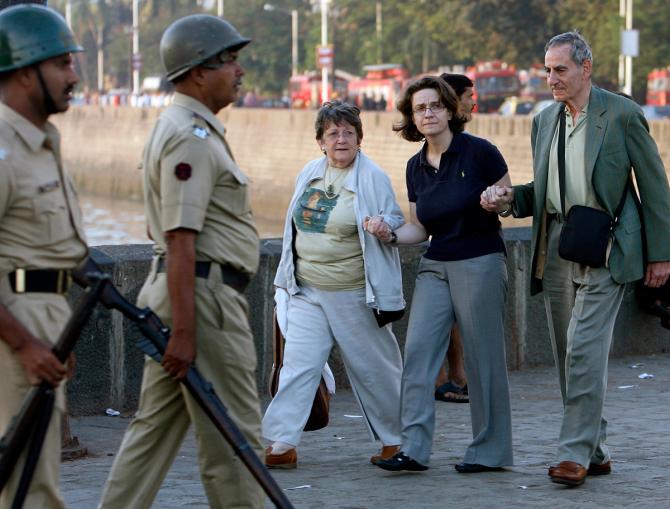 Kelly and I rushed to Bombay Hospital. She was told to organise blood for William.
I went with her to the Breach Candy Hospital blood bank. She used my cell phone to make multiple calls to William's father Nigel.
The next morning, at the hospital, I met Vicki Treadell, deputy high commissioner.
The British deputy high commission took over after that.
At Bombay Hospital I met another foreigner, a Norwegian, Line Kristin Woldbeck. She was walking around, dazed and drenched in blood.
Her boyfriend Arne Stromme and she had been dining with a friend at Leopold's when the terrorists struck. The friend was killed, Arne was shot.
I rushed to Charni Road market to buy clothes for both. I bought ready-made cotton kurta-pyjamas, salwar-kameez and kaftans.
I also bought towels, toiletries, footwear and a load of other stuff.
I then put both in touch with the international media, Norwegian journalists, to have their story told.
I had become the go to guy for the international media corps, stationed in and around Colaba at the time.
I made it to the cover of a Norwegian magazine later.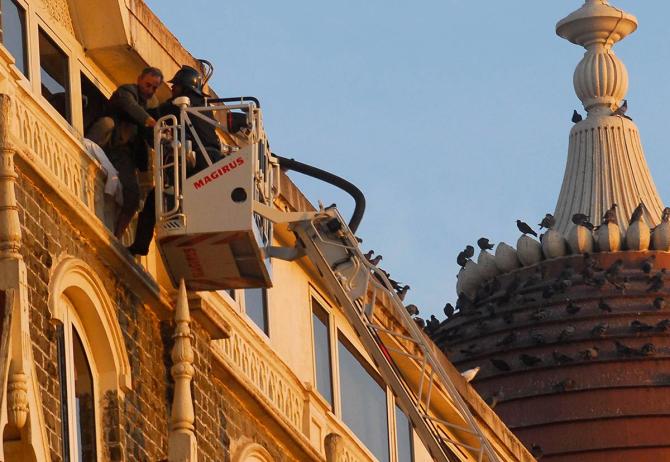 I had once reached out to William, asking if we could talk about the 26/11 experience together.
He replied with a terse "No." Later, his father told me that while the family would be forever grateful to me for saving his life, William was suffering from PTSD (Post Traumatic Stress Disorder) and had blocked off anything associated with the terrifying, life-threatening event.
I learnt later that his spine was broken and he was paralysed for life.
I can totally understand that. I was like a functioning zombie for weeks and months after the attacks.
It was all so fast... so surreal... that I still can't believe it happened the way it did.
I am just glad that I could be of some help to these foreign nationals.
When I saw William, the only thought that crossed my mind was Athithi devo bhava.
I subscribe to the Hindu philosophy of Vasudhaiva Kutumbakam, the Universal Human Family.
Five years later, on 25/11, my father passed away.
So today, the day has become more emotional, though there is no association between the two events.
I've been talking about this incident ever year, because I don't want the 26/11 terror attacks to fade away from memory, personal or public.
There is sadness... There is a sense of loss for the lives lost and destroyed. But there is also hope, hope for humanity and a better future.
Feature Presentation: Ashish Narsale/Rediff.com