The horror in numbers: November 26, 2008. 66 hours. 10 terrorists. 166 innocent people dead.
More than 600 other innocents wounded. Five years after the most daring terrorist assault on Mumbai, here are the most gripping, most heart-rending stories we did.
Please click on the locations on the map to read the best coverage of the 26/11 Mumbai terror attacks from our archives.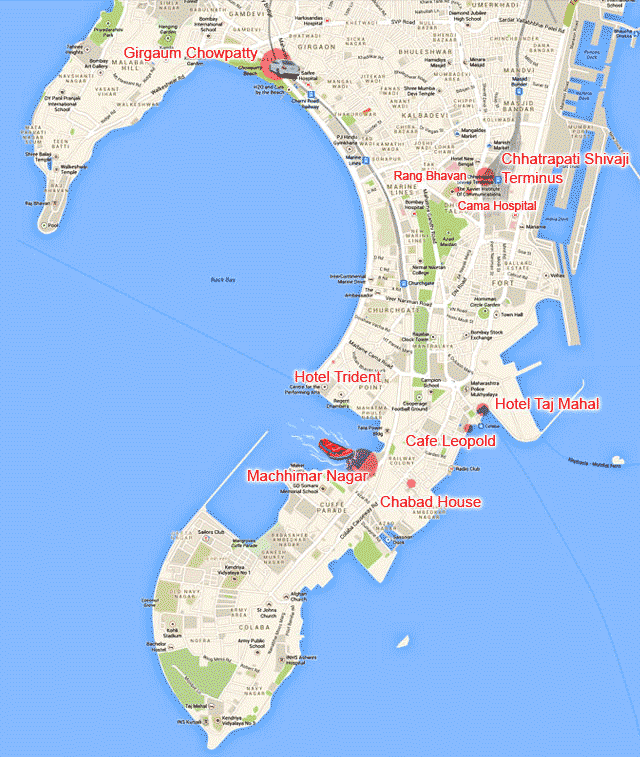 Also don't miss these Rediff 26/11 specials:
• 26/11: 'America sacrificed Mumbai to keep Headley playing'
• Images: 26/11, Those Three Days
• Light a candle for 26/11: Show you remember
• Exclusive! 26/11 probe panel member says terrorists may have landed earlier
• A goat, a knife and a matchbox: How Lashkar trained Kasab, others
• The unresolved puzzles of the 26/11 attacks
• Bruce Reidel: 26/11 could happen again, even bigger and worse
• The Voices of 26/11
• Exclusive: Rakesh Maria on Mumbai terror attack
• How the NSG has changed after 26/11
• 'Al Qaeda is a corporate entity'
• Headley's wife: 'I don't think my life will ever become normal'
• Former Mossad chief: 'Not enough to find out about an attack when it is in progress!'
• Israeli counter terrorism: 'India is a worthy target for global jihadis'
• 26/11 case investigating officer speaks out
• Special Coverage: 26/11, a year later
• Our Heroes: Saluting those who died in the line of duty, to protect India, to protect us
• Bernard Haykel: Mumbai is a model for future terrorist attacks
• Who's the real Zabiuddin Ansari?
• The way 26/11 unfolded
• Terror hits Mumbai's heart
• Video: Celebrating the spirit of Mumbai