When I recall that night inside the Taj Hotel room, of my encounter with the terrorists, I feel triumphant.'
The moment the bullets were fired at me in that unlit room, I had decided to go full throttle.'
'I was injured and was a sitting duck for the well-armed jihadis, but I decided that if I had to die, I shall die fighting, if I have to fail, I shall fail while daring greatly.'*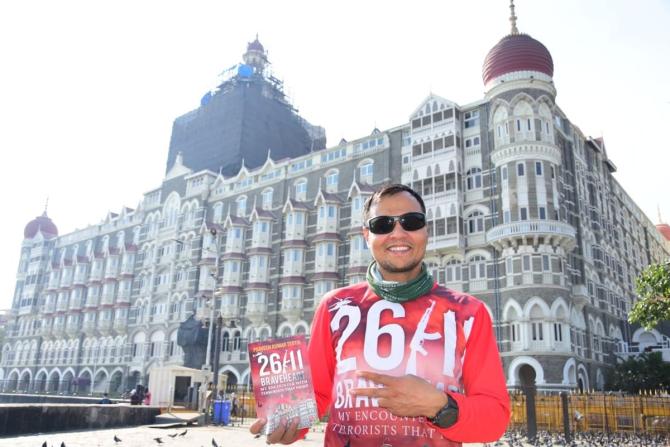 Ex-marine commando Praveen Kumar Teotia, who was awarded the Shaurya Chakra for his valour at the Taj Mahal hotel in the 26/11 terror attack, tells Rediff.com's Archana Masih how that night changed his life for the better.
---
"Life is not fair to anyone. It hits you hard. This is what life is all about," says ex-Marine Commando Praveen Kumar Teotia, who led a team of eight naval commandos inside the Taj Mahal hotel during the Mumbai terror attacks twelve years ago.
The then 23-year-old soldier was awarded the Shaurya Chakra for his act of valour that night.
He almost lost his life battling four terrorists single-handedly inside a dark room, the silence only broken by bursts of gunfire.
He lobbed the only live grenade he had, but it was defective and did not detonate.
"If it had exploded, the terrorists would have been killed in the early hours and the operation would not have lasted 60 hours," he says.
By the end of the mission, he had four bullet wounds in his torso and his left ear blown away, but the action saved 150 lives in the adjacent room.
The encounter had foiled the attempt of the terrorists from entering The Chambers, which among other guests included the Taj group's then managing director Raymond Bickson.
The terrorists left behind a red bag with 7 loaded AK-47s, grenades and ammunition that could have caused greater mayhem.
Teotia and the MARCOS were the first special forces team to take on the four terrorists inside the Taj until the National Security Guard arrived from New Delhi.
An hour after he entered the Taj, MARCO Teotia was rushed to INHS Ashwani, the naval hospital, with near fatal wounds.
'I had broken ribs and a punctured lung. My respiratory system had become a whirlpool of blood and gunpowder. The chances of surviving this attack looked bleak,' he writes in his just published book 26/11 Braveheart - My encounter with terrorists that night.
But the soldier survived and fought a courageous battle to rise up again.
He spent 19 days in the ICU and a month in hospital. The natural act of breathing was like lifting a mountain and he could barely walk.
His first victory was walking to the hospital ward's washroom on the 15th day. Then when no one from his unit in the Indian Navy came to pick him at the time of discharge, he mentions in the book that he had to board a BEST bus to the naval dockyard.
The task of crossing the road and walking the 1.5 km from where the bus dropped him took one-and-a-half hours.
It was one slow step after another.
Today, Praveen Kumar Teotia runs 10 kilometres every day and 21 kms every Sunday.
He participated in his first marathon in 2012 and has run 42 national and international marathons, including the Iron Man. The event consists of a 3.86-km swim, 180.25-km bicycle ride and a 42.2-km marathon run to be completed within 17 hours.
"If someone had come to pick me up at the hospital that day, I would not have been ever able to cross that busy road and cover the distance to the Ironman. This new Praveen would not have been born," he says over the phone from Lonavla, where he is running a commando camp for youngsters.
"I would have been forever dependent on someone. I would not have found myself and discovered my inner strength."
"I am a marathon coach, motivational speaker and commando trainer."
The national hero says a series of adverse and bitter experiences helped him shape his life.
He recounts one in the book that should make every Indian ashamed.
On medical leave for recuperation, he had a waitlisted ticket on the Rajdhani Express that would take him to Delhi en route to his village. Still weak, he could not stand for even five minutes, but no one was willing to share a berth.
Recounting that incident, he writes that his uncle who had come to drop him went from one compartment to another, requesting passengers if they would share a berth with a 26/11 hero, but no one volunteered.
Finally, an NRI family from South Africa offered him a berth.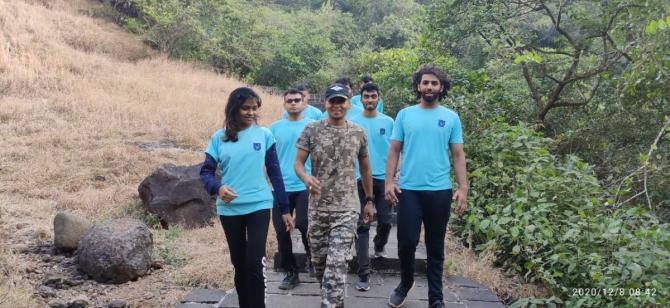 Another shameful incident happened on the first anniversary of 26/11.
No one had the decency of inviting him to the grand memorial function. "I went there on my own, but was not allowed entry into the function that had performances by Lata Mangeshkar and Amitabh Bachchan," he says.
"I then went to a group of youngsters who were lighting candles and I asked if they knew what happened inside The Chambers. They told me about the bravery of the NSG. I told them that the MARCOS also did commendable service and they said 'Who MARCOS'?"
"I followed them to the crowded Leopold Cafe and they ordered a pitcher of beer. I thought what deshbhakti is this that you come to pay homage and then celebrate over beer?"
"I have written about few of the many humiliations I encountered in the book so that I could show a mirror to the people of this country and make them see who they really are. How their claims about deshbhakti are a farce."
He had lost an ear and underwent three reconstructive surgeries the cost of which was borne by the Taj group. It took years for the pus and blood to stop oozing. He would take leave from naval duties to seek medical treatment after he was assigned desk jobs since he was deemed medically unfit to be a commando.
Praveen Teotia served the Navy for nine years after 26/11.
"When people ask me about 26/11, I tell them not to talk about what happened 12 years back."
"I have moved on and look ahead," he says.
"I am learning life every day. The meaning of life is something else, not limited to B for boss or yourself. People keep running after success when they can't even become human beings first," he says and adds that life can be lived better by following these mantras:
Everyone is young.
Live your life and move on.
Don't look back.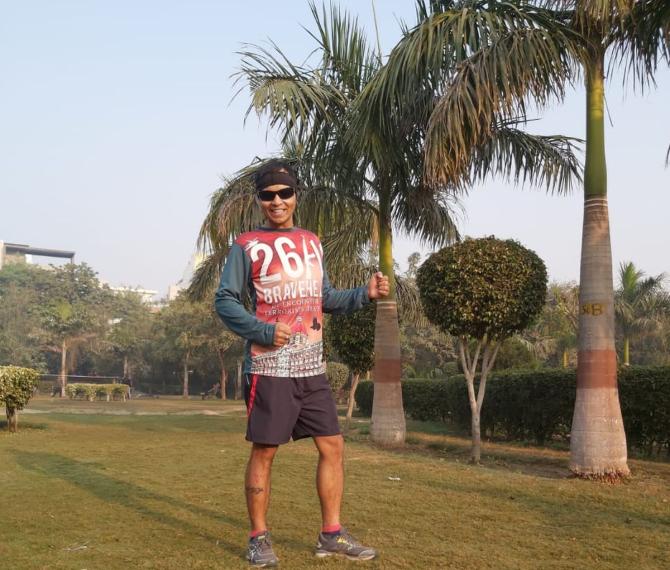 This year, he spent the 26/11 anniversary in his rented flat in Delhi with his wife and two children.
"The Shaurya Chakra is this nation's heritage that is bestowed upon me. I do not want to disrespect it by displaying or showing it off," he says about the gallantry award that he keeps safely inside a bag.
"Today if I am called to fight for the nation I can still go without a bullet-proof helmet," he says. The book mentions that the MARCOS were launched with helmets that were meant to ward off stones and without specialised bullet-proof jackets.
"I knew I was more trained in combat tactics than the terrorists. My training had taught me what to do even without a bullet-proof jacket. The terrorists too were without bullet-proof jackets," he says.
"For a soldier, it is about courage and the nation."
"Crores are spent on Martyrs Day and on lighting candles, but people don't respect living soldiers who are heroes," he says.
"What are you if you can't respect a soldier?"
Feature Presentation: Aslam Hunani/Rediff.com
*From the epilogue in Praveen Kumar Teotia's book 26/11 Braveheart - My encounter with terrorists that night.